Volunteering
Volunteering Background paper. Volunteer Charter. Comhlámh's Volunteering Options aims to promote responsible, responsive international volunteering and to develop good practice standards among volunteer sending organisations.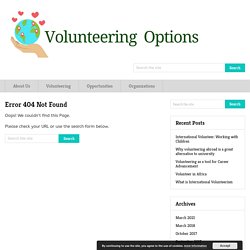 In doing so, we hope to ensure that overseas volunteering has a positive impact for the volunteer, the sending organisation, and the host project and community. Support Services for Volunteers: Volunteer Charter. From Charity to Justice: Volunteering and Development Education. 13/03/2013 at 1:12 pm Guest Blog by Lindsay Cleary* There has always been a level of criticism and scrutiny running alongside admiration for people who volunteer overseas.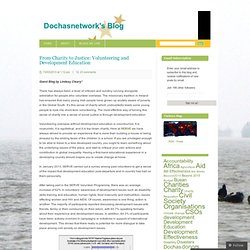 The missionary tradition in Ireland has ensured that many young Irish people have grown up acutely aware of poverty in the Global South. It's this sense of charity which undoubtedly leads some young people to look into short-term volunteering. Research: Models of Volunteering. Video: The Ethical Volunteer. Thanks to everyone who contributed to our campaign.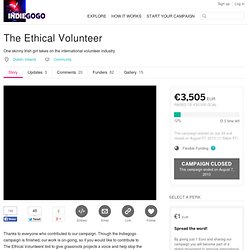 Though the Indiegogo campaign is finished, our work is on-going, so if you would like to contribute to The Ethical Volunteers' bid to give grassroots projects a voice and help stop the exploitation of volunteers and communities, please go to our website www.theethicalvolunteer.com and buy a Lifetime Membership. Our Campaign: We are creating a global movement that promotes better volunteering overseas..... Join us, support us, and share our campaign! What Ireland's EU Presidency could mean for international volunteering. VOLUNTEERS MAKE A unique contribution to achieving development goals, reaching far beyond what cash and technical assistance can achieve.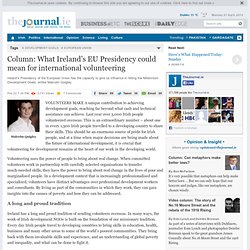 Last year over 3,000 Irish people volunteered overseas. This is an extraordinary number – about one in every 1,500 Irish people travelled to a developing country to share their skills. This should be an enormous source of pride for Irish people, and at a time when major decisions are being made about the future of international development, it is crucial that volunteering for development remains at the heart of our work in the developing world. Volunteering Options. Questions to Ask Yourself. There are two main parts to making a decision about which type of agency to volunteer with. The first relates to assessing your requirements, skills, and the type of work you would be best suited to undertake. The second involves deciding on the type of organisation that would best match your needs and skills. When making a decision, it's important at all times to consider the host community, remembering that your presence will have an impact not only on you but also on them.
Use the following list as a guide to assist you with identifying what you have to offer as a volunteer. Upon Coming Home. "It is guaranteed that you will return changed to some extent by your experiences. Even if you were overseas for only a week, you may have witnessed a way of life and a level of poverty that you would never have seen before." For many returning volunteers the coming home process can be one of the most difficult aspects of their overseas placement. 'Reverse culture shock', strain on your physical and mental health and struggling to find employment can all compound the difficulties of the process.
This section of the website provides practical advice for all volunteers and development workers to cope with the coming home process and to make the best of it. Comhlámh also provides a wide range of services for returned volunteers and development workers to assist in the Coming Home process. Consider Alternatives at Home. Why not consider the possibility of volunteering at home as an alternative to going overseas?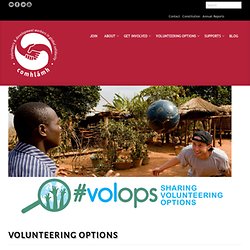 Both poverty and underdevelopment exist in Ireland, despite its wealth relative to that of many other countries. Actions to end poverty and injustice can therefore come from both a local and a global base. If we only go overseas to help, but do not act to challenge the root causes of global injustice, including its manifestations at home, our actions will not help prevent the recurrence of present problems. Why Do People Volunteer. People for a number of different reasons, ranging from a desire to learn new skills, have fun or make a difference.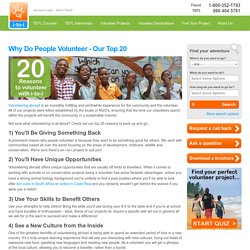 Some are completely devoted to the cause, while others simply wish to do their bit where they can. In actual fact, many of the reasons for volunteering abroad are the same as those for volunteering at home but here there is the added bonus of getting to travel. However is a much more meaningful experience, taking you further out of your comfort zone and offering far greater rewards.
---