Open Data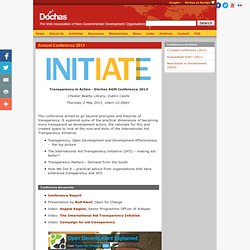 Transparency in Action - Dóchas AGM Conference 2013 Chester Beatty Library, Dublin Castle Thursday 2 May 2013, 10am-12.30pm The conference aimed to go beyond principles and theories of transparency.
Dóchas Annual Conference 2013
IATI and CSOs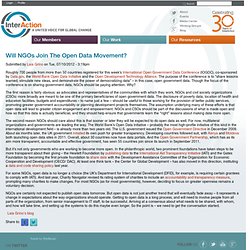 Roughly 700 people from more than 50 countries registered for this week's International Open Government Data Conference (IOGDC), co-sponsored by Data.gov, the World Bank Open Data Initiative and the Open Development Technology Alliance. The purpose of the conference is to "share lessons learned, stimulate new ideas, and demonstrate the power of democratizing data" – in this case, open government data. Though the focus of the conference is on sharing government data, NGOs should be paying attention. Why?
Will NGOs Join the Open Data Movement?
NGOs and IATI: British NGOs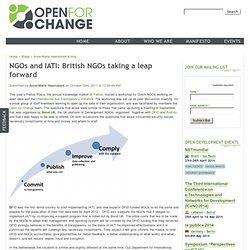 This year's Partos Plaza, the annual knowledge market of Partos, hosted a workshop for Dutch NGOs working on open data and the International Aid Transparency Initiative. The workshop was set up as peer discussion meeting for a small group of staff members working to open up the data of their organisation, and was facilitated by members the Open for Change team. The questions that arose were similar to those that came up during a meeting in September, that was organised by Bond UK, the UK platform of Development NGOs, organised together with DFID and AidInfo, and that I was happy to be able to attend. On both occassions the questions that arose concerned security issues, necessary investments of time and money and where to start. DFID was the first donor country to start implementing IATI, and now expects DFID funded NGOs to do the same and prepare for the publication of their first data sets by April 2012 .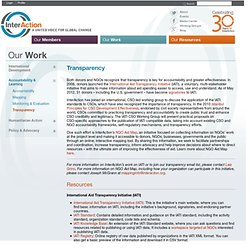 Both donors and NGOs recognize that transparency is key for accountability and greater effectiveness. In 2008, donors launched the International Aid Transparency Initiative (IATI), a voluntary, multi-stakeholder initiative that aims to make information about aid spending easier to access, use and understand. As of May 2012, 31 donors – including the U.S. government – have become signatories to IATI.
InterAction (US) on Transparency
Government officials, charity leaders and senior figures from the open data movement said on Monday that the UK must foster an environment of collaboration and transparency in order to share best practices from the public and private sectors with nonprofit organisations. "Part of the value of civil society is holding power to account, and if this can be underpinned by good quality data, we will have a very powerful tool indeed", said Nick Hurd, Minister for Civil Society. "The UK is absolutely at the vanguard of the global open data movement, and NGOs have a great sense that this is something they want to play a part in.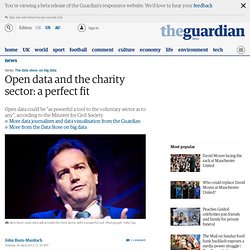 Open data and the charity sector: a perfect fit | News
The IATI Standard | Standard, Schema and Guides for implementing IATI
Open Development Data
A farmer harvests wheat on a field in the El-Menoufia governorate, about 9.94 km (58 miles) north of Cairo April 23, 2013 REUTERS/Mohamed Abd El Ghany In less than two months, UK Prime Minister David Cameron will host the 2013 G8 summit in Lough Erne . The Prime Minister has placed the issue of transparency at the heart of his G8 priorities, alongside the other two "Ts" of tax and trade. Speaking on the importance of transparency, he said "open societies and open governments will help drive lasting global prosperity." A week before the G8 Summit, David Cameron is hosting another major international event, entitled Nutrition for Growth: Beating Hunger Through Science and Business. The event aims to secure an ambitious range of new policy and financial commitments from governments, international agencies and private companies to accelerate progress against maternal and child undernutrition, and a mechanism for tracking their delivery.
Transparency in nutrition: Launching a transparency revolution on June 8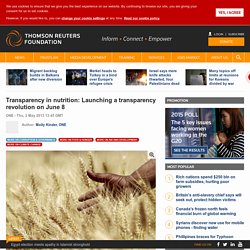 Britain's foreign aid: Follow the money
BRITAIN'S Department for International Development (DfID) is widely regarded as a trend-setter in the aid business. Under Andrew Mitchell, the agency tightened spending, cut the number of countries receiving aid and ceased funding United Nations agencies for housing and economic development that it determined were not delivering. Now its new head, Justine Greening, wants to make the country's aid-giving more transparent. This should make it more effective. But Ms Greening's efforts may also end up embarrassing both the department and the recipients of its aid.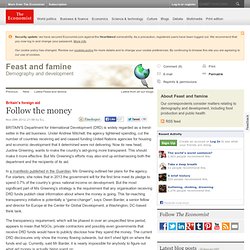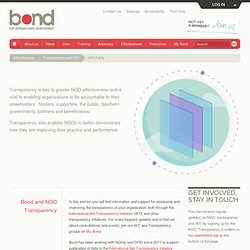 Bond joins the IATI Steering Committee as civil society representative Bond are proud to be joining Transparency International, Publish What You Fund and the Civil Society Partnership for Development Effectiveness as the newest civil society representative on the International Aid Transparency Initiative Steering Committee. The Committee is the body that makes decisions about IATI's strategic direction - members include many of the largest multilateral and bilateral donors, plus partner country government representatives. Bond, who also hold the co-chair of the IATI CSO Working Group, will actively represent the views of civil society organisations to ensure their views are heard as IATI gains momentum. The recent launch of the Aid Transparency Index in Washington reconfirmed the importance of the IATI Standard for 'following the aid money' – this year donors were judged on the accessibility of their data, with the IATI XML format rated as the most accessible.
Transparency · Effectiveness · Bond
Open for Change is the network for open development: we inspire and encourage, we share what works and what doesn't, when it works and how, and we develop new models of engagement and collaboration, across disciplines and sectors Manifesto In a networked society, information and communication technologies enable us to organise ourselves and our activities in new ways.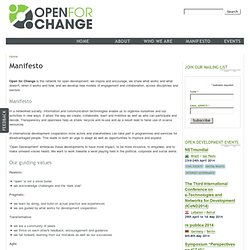 Manifesto: Open for Change
Open Development Explained on Vimeo
Huge boost for aid effectiveness as groundbreaking transparency initiative gains momentum
22 Apr 2013 A girl taking a computer lesson in a makeshift classroom in Borghaso village, Bamyan province, Afghanistan. Open data allows more transparency in reporting aid to countries like Afghanistan, where in 2012 UNDP ran 35 projects with a total budget of US $818 million. (Photo: Joel van Houdt/UNDP) London – More than 130 organizations are now publishing their data to the International Aid Transparency Initiative (IATI), an open data platform that gives a comprehensive and comparable picture of aid flows in order to improve accountability and impact.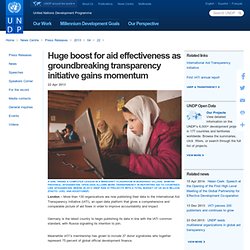 OCHA on open humanitarianism
by Robert Bourgoing When I joined the Global Fund in 2003, my main responsibility, as the Manager of Online Communications, was to help the organisation deliver on its commitment to transparency. One of the conditions set forth by donors was the ability to trace every granted dollar to make aid recipients accountable for how it would be spent. This meant, among other things, developing and maintaining a website that quickly became a central repository of all Global Fund data and information.
The Global Fund Should Take Transparency to Another Level | Aidspan
Data Visualisations
World Bank Dataviz
According to the latest Food Price Watch, 1/4 to 1/3 of all food produced for human consumption is lost or wasted, annually. In regions such as Sub-Saharan Africa and South Asia, which are plagued with undernutrition, this translates into 400-500 calories lost per person, per day. Check out how much food is lost or wasted in your region. Source: Lipinski, et al., "Reducing Food Loss and Waste"; Gustavsson et al., "Global Food Losses and Food Waste."
FixMyStreet
[PARIS] A 'data revolution' must underpin the new set of global development goals to help monitor their progress and ensure the world's poorest get the support they need, according to a report by a UN panel of eminent people, headed by the UK prime minister and the presidents of Indonesia and Liberia. Integrating technology that can collect up-to-date development data with national and international statistics communities will allow sustainable development practitioners to better track advances, integrate evidence into decision-making and provide more transparency, concludes the report by the UN High Level Panel of Eminent Persons on the Post-2015 Development Agenda, which was released last week (30 May) in New York, United States. "Data are not sexy, but the High Level Panel understands that, on the ground, they are essential," says Molly Elgin-Cossart, the chief of staff at foreign policy think-tank the Center on International Cooperation, who helped to draft the report.
UN panel urges 'data revolution' for development goals
The High-Level Panel has called for a data revolution to track progress towards international development targets. They were right to do so. But that's not the only revolution that we need.
To deliver on post-2015 goals, we need a data revolution in budgets too | Opinion
Open Government Ireland
Open Government video
Open Development Explained