Nature of NGOs
www.bond.org.uk/data/files/publications/The_Small_Majority_-_Clore_report_on_small_NGOs.pdf
10 myths about working in the nonprofit sector
The nonprofit sector is more dynamic than most people think. Explore these myths and see the sector in a new way. Myth #1.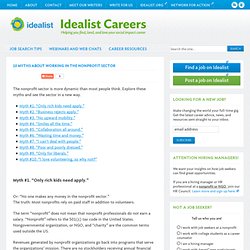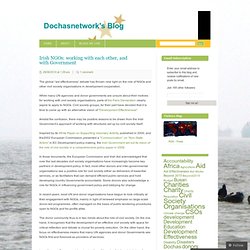 NGOs working with Government
28/06/2010 at 1:29 pm The global "aid effectiveness" debate has thrown new light on the role of NGOs and other civil society organisations in development cooperation.
Irish Aid Civil Society Policy
Aid to government, aid to NGOs – both working in different ways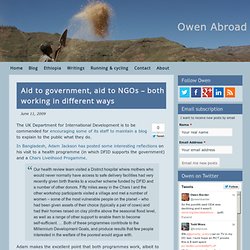 The UK Department for International Development is to be commended for encouraging some of its staff to maintain a blog to explain to the public what they do.
EU on working w Civil Society
EU Commission on working w Civil Society
civil-society-dialogue-between-the-eu-and-candidate-countries
ILO on EU and Civil Society
Government-CSO collaborations
19/09/2012 at 1:12 pm "Charities" (or as we like to call them: "Civil Society Organisations") have been in the news lately.
Charities, NGOs, Active Citizenship and the Government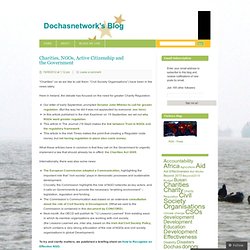 DCU on civil society engagement (2007)
How OECD members work with NGOs
Working with NGOs
World Bank Working with NGOs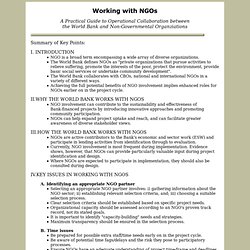 NGOs: mobilising people
NGO mergers – Make sense, don't they?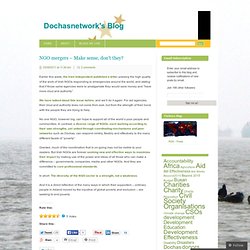 03/09/2011 at 11:26 am Earlier this week, the Irish Independent published a letter praising the high quality of the work of Irish NGOs responding to emergencies around the world, and stating that if those same agencies were to amalgamate they would save money and "have more clout and authority".
Funding shift weakens resistance to mergers
NGOs working together for greater impact
Andrea Pappin: There are 24,000 charities in Ireland ... do we really need that many? - Comment, Opinion
The NGO community agrees that the foreign aid frame is no longer a viable option, even if that means that NGOs have to evolve into something else.
Retirement, replacement or rejuvenation? / Special Report: The future calling / Special Reports - The Broker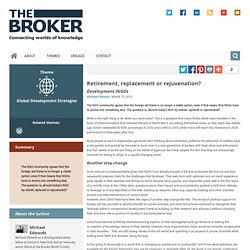 Scaling Up NGO Impact
Future Calling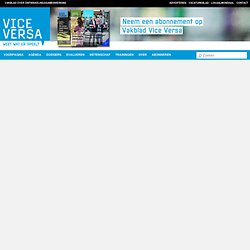 » N van NGO: de slotbalans
Nu de discussie over de toekomst van het maatschappelijk middenveld 'N van NGO' op zijn einde loopt mag de staatssecretaris zijn conclusies gaan trekken en antwoord geven op de vraag: Heeft de discussie zijn doel gediend?
Strategies NGOs: Four Generations