Interesting
The 25 Most Powerful Songs of the Past 25 Years. By Jennifer Drapkin, Kevin O'Donnell and Ky Henderson They're not the most beautiful songs, or the most musically important.
In fact, a few could literally drive you nuts. But the following tunes—some as old as Mozart, others as current as Beyonce? —have fundamentally altered the world we live in at some point in the last quarter century. They've saved lives, brought glory to America, and gotten teenagers to use deodorant. Weird sea creatures discovered in Antarctic. A new species of yeti crab piles around the hydrothermal vents in Antarctica.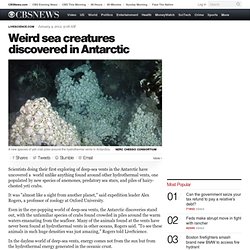 NERC ChEsSo Consortium Scientists doing their first exploring of deep-sea vents in the Antarctic have uncovered a world unlike anything found around other hydrothermal vents, one populated by new species of anemones, predatory sea stars, and piles of hairy-chested yeti crabs. It was "almost like a sight from another planet," said expedition leader Alex Rogers, a professor of zoology at Oxford University. @iron_ammonite - Wildlife & TV: The Deadliest place on Earth? Surviving Cueva de los Cristales - The Giant Crystal Cave. Summary: Filming in the Giant Crystal Cave, one of the deadliest places on the planet.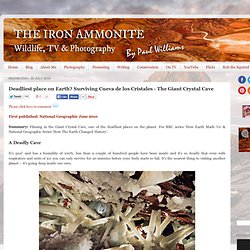 For BBC series 'How Earth Made Us' & National Geographic Series 'How The Earth Changed History'. It's 50oC and has a humidity of 100%, less than a couple of hundred people have been inside and it's so deadly that even with respirators and suits of ice you can only survive for 20 minutes before your body starts to fail. It's the nearest thing to visiting another planet – it's going deep inside our own. The Economics of Happiness. In the last few years, a growing number of economists have been discovering happiness.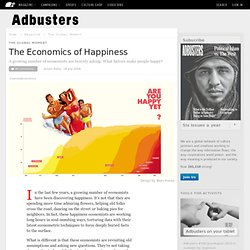 It's not that they are spending more time admiring flowers, helping old folks cross the road, dancing on the street or baking pies for neighbors. In fact, these happiness economists are working long hours in soul-numbing ways, torturing data with their latest econometric techniques to force deeply buried facts to the surface. What is different is that these economists are revisiting old assumptions and asking new questions. They're not taking the neoclassical model of rational economic man for truth. 12 bizarre real-life places that are stranger than science fiction.
Science fiction is home to some fantastic societies, from Cloud City to Bartertown.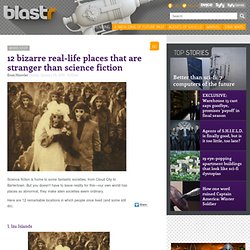 But you doesn't have to leave reality for this—our own world has places so abnormal, they make alien societies seem ordinary. Here are 12 remarkable locations in which people once lived (and some still do). 1. Izu Islands. 20 Mind Blowing Facts You Probably Didn't Know. 137 Freaky Wikipedia Entries.
---