Food/Recipes
Magic Custard Cake Recipe | Magic Custard Pie. Update!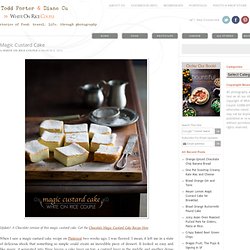 A Chocolate version of this magic custard cake. Get the Chocolate Magic Custard Cake Recipe Here When I saw a magic custard cake recipe on Pinterest two weeks ago, I was floored. I mean, it left me in a state of delicious shock that something so simple could create an incredible piece of dessert. Myths About Wine. Rachel Kerswell Share on Facebook Share on Twitter When it comes to appreciating wine, there is as much myth as there is truth.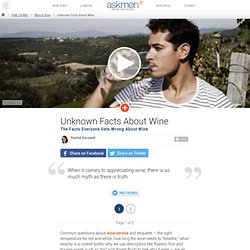 Page 1 of 2. Pairing Beer With Food | Men's Journal. One-Pan Dark Chocolate Chunk Skillet Cookie. Seven Surprising Uses for Baking Soda - Lifestyle. Let us be clear: Baking soda is not going to permanently cure your acne or turn back the cruel hand of time.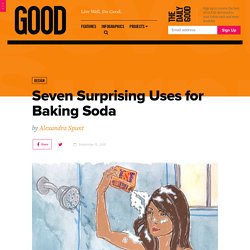 But if you're looking to detoxify your body and your household, this multitasking ingredient will make your life easier (and more beautiful) without denting your coffers. Mom may have taught you that baking soda will make your bread rise and your fridge smell better, but did you know of its many cosmetic applications? Planting A Pineapple. Did y'all know that you can take this and turn it into… This?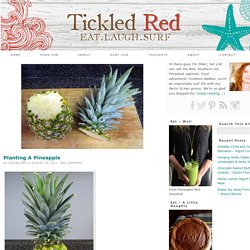 And that this will eventually produce… This? Yes, I'm talking about turning your average, ordinary grocery store pineapple into a tropical showpiece within your home. A plant that is not only impressive but will WOW! Nutella Mug Cake. I have been experimenting with different mug cakes every since I heard about them about a year ago.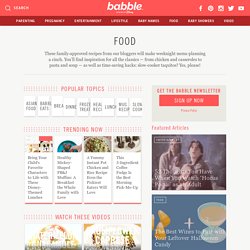 None of them have been winners. They were either too chewy, too dry, or not sweet enough. Well, I continued experimenting, and thought why not add some decadent Nutella into the mix. I modified the classic mug cake recipe, added Nutella, and a little more milk and oil than I had been using before. Pasta Recipes. Vinegar home remedies | 8 Nifty Uses for Vinegar. Chemistry of Cast Iron Seasoning: A Science-Based How-To. The post after this one on "black rust" describes why you should heat the pan before applying oil for seasoning.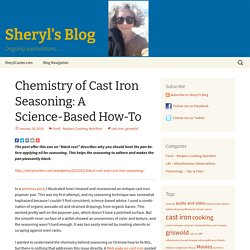 This helps the seasoning to adhere and makes the pan pleasantly black. In a previous post, I illustrated how I cleaned and reseasoned an antique cast iron popover pan.
---