Mobile Learning
Giving iPad PowerPoint Presentations Just Got a Lot Better. One of the iPad's more intriguing business uses is making presentations before a live audience.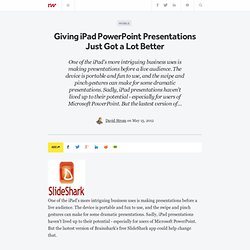 The device is portable and fun to use, and the swipe and pinch gestures can make for some dramatic presentations. Sadly, iPad presentations haven't lived up to their potential - especially for users of Microsoft PowerPoint. Blackboard Learn. Piazza – Ask. Answer. Explore. Whenever. The Always Current iOS 5 Tips and Tricks Guide.
Posted 10/28/2011 at 7:56am | by Nic Vargus, Cory Bohon and J.R.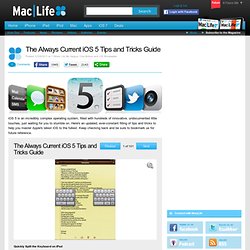 Bookwalter iOS 5 is an incredibly complex operating system, filled with hundreds of innovative, undocumented little touches, just waiting for you to stumble on. Here's an updated, ever-constant filling of tips and tricks to help you master Apple's latest iOS to the fullest. Keep checking back and be sure to bookmark us for future reference. ADHD Students Get Help from iPad App. iPad Apps | News Students with ADHD Get Help from iPad App Memory on Demand is testing a new iPad app designed for adults and children with attention deficit hyperactivity disorder (ADHD).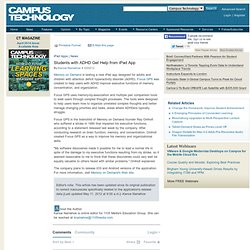 Focus GPS was created to help users with ADHD improve executive functions of memory, concentration, and organization. Focus GPS uses memory-by-association and multiple pair comparison tools to walk users through complex thought processes. The tools were designed to help users learn how to organize unrelated complex thoughts and better manage changing priorities and tasks, areas where ADHDers typically struggle. iPads in Mathematics.
Around this time last year, I wrote a post about the lack of engaging Maths apps on the iPad that went beyond "skill and drill" number activities.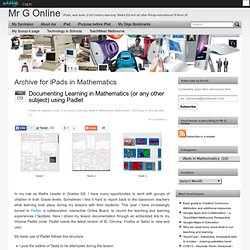 Since then, developers have introduced a greater range of apps across all areas of the Maths curriculum that can be used to enhance the Maths teaching and learning in your classroom. Here's a selection of 20 apps that cover Number and Algebra, Measurement and Geometry, and Statistics and Probability ( these are the Content strands (CS) Australia's Mathematics curriculum has been categorized under ). They also cover the proficiency strands (PS) of Understanding, Fluency, Problem Solving and Reasoning.
Whiteboard for Skype. Mentimeter | Interact with your audience. Educational Apps for the iPhone and iPod Touch. Home > > > iPhone apps SuperKids now publishes a series of educational apps based on its popular online educational tools.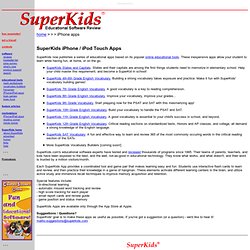 These inexpensive apps allow your student to learn while having fun, at home, or on the go. SuperKids States and Capitals. States and their capitals are among the first things students need to memorize in elementary school. Help your child master this requirement, and become a SuperKid in school! APPitic - 1,300+ EDUapps. 39 Sites For Using iPads in the Classroom.
Pages - Menu This Blog Linked From Here.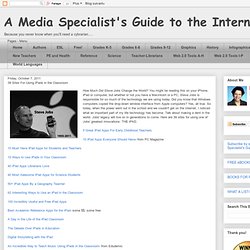 Teachers with Apps - Because Not All Apps are Created Equal. Fun Educational Apps: Best Apps for Kids Reviews iPad / iPhone / iPod. Best Kids Apps | iPhone, iPad, Android | Toddlers, Educational, Games.
iGenApps™ : The App Generator. TCEA-Recommended iPad Apps. Full Apps Collection List for iTunes - iLearn: ISTE 2011 Workshops. GifGear - make animated gif online for free. Create Mobile Apps | Conduit Mobile. iPhone App Builder | Android App Builder | iPhone and Android CMS. I Education Apps Review - I Education Apps Review. Apps in Education. Mind Leap: Education Apps for Kids. Aurasma - The world's first Visual Browser, bringing the physical and virtual worlds together. Socrative | Student response system | Engage audiences.
---