Dox
Pipl - People Search. DOX::Tool. Spokeo People Search | White Pages | Find People. No.1 Free People Search - Yasni.com. The Official WhitePages - Find People for Free. A A | azusa sakata | People Directory. MEDITECH Integration and Business Solutions | Interface People. Zaba Communications - Ideas with integrity. Soople. Free People Search | People Search | Search For People At PeekYou. Free People Search Engines & People Finder. Find People Free, Locate People and Search People Free. Person Search, Locator, Finder and Searches Online. Freeality Internet Search Engines. Criminal Record, Background Check, Trace email, Phone Number lookup, People search, cell phone number search, License Plate Search. People Search by ZabaSearch - Free People Search Engine. Fone Finder query form. Radaris: Free People Search, Background Checks, Public Records, People Finder. Real Time Search - Social Mention. Free People Search - Find People - Wink. Samepoint Search | Search.
Lately, there has been a lot of discussion about the future of our information consumption.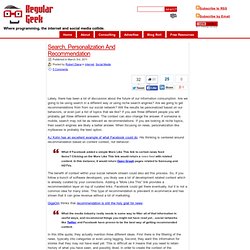 Are we going to be using search in a different way or using niche search engines? Are we going to get recommendations from from our social network? Will the results be personalized based on our behaviors, or even just a list of topics that we like? If you ask three different people you will probably get three different answers. @WalmartLabs. Twoogel Search Engine. Keotag - tag search multiple engines, tag generator and social bookmark links generator. Intelius White Pages - Results. KnowEm Username Check - Secure your Brand or Online Identity on Social Media. NARA - AAD - List of Series - Government Spending: Contracts. 25 Free People Search Engines to Find Anyone. I've been in this people search industry for over 3 years now and while researching, I found many free, high quality free people search engines to help you reconnect with friends, family, school friends or any other person from your past (or, in other words, find anyone for free online.)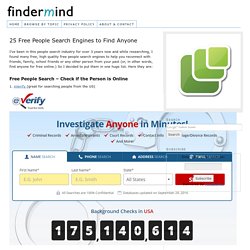 So I decided to put them in one huge list. Here they are: Free People Search – Check if the Person is Online. Search for People, Businesses and Places. Reverse Cell Phone Lookup | Lookup Cell Phone Numbers | Free Cell Phone Directory Lookup. Social Media Search Tool | WhosTalkin?
---