Edtech
Conference Pad | Regular Rate and Rhythm. DIY U. Peter Thiel: We're in a Bubble and It's Not the Internet. It's Higher Education. Fair warning: This article will piss off a lot of you.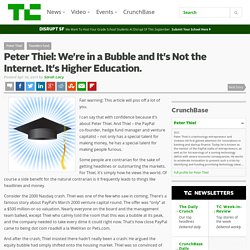 I can say that with confidence because it's about Peter Thiel. And Thiel – the PayPal co-founder, hedge fund manager and venture capitalist – not only has a special talent for making money, he has a special talent for making people furious. Some people are contrarian for the sake of getting headlines or outsmarting the markets. CT11_AttBro_FINAL.pdf (application/pdf Object) Matterhorn Pilot Profiles | Opencast. Community The Opencast community is a collaboration of individuals, higher education institutions and organizations working together to explore, develop, define and document best practices and technologies for the management of audiovisual content in academia.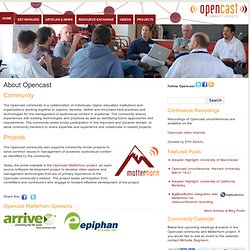 The community shares experiences with existing technologies and practices as well as identifying future approaches and requirements. The community seeks broad participation in this important and dynamic domain, to allow community members to share expertise and experience and collaborate in related projects. Projects.
---