FUN
Nine Hilariously Awkward Facebook Interactions | Runt Of The Web - StumbleUpon. What happens when you insult the boss you've added as a friend and ask a friend if their child is stoned?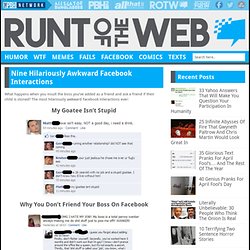 The most hilariously awkward Facebook interactions ever: My Goatee Isn't Stupid. - StumbleUpon. I Scream, You Drink. What your Girlfriend really wanted on Valentines day | Funny Pictures, Images & Funny Pics, Photos. Videos of Really Very Cute animals too. Water is dangerous - StumbleUpon. This was found on the newsgroup: rec.humor.funny A student at Eagle Rock Junior High won first prize at the Greater Idaho Falls Science Fair, April 26.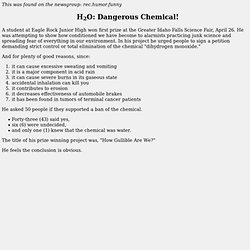 He was attempting to show how conditioned we have become to alarmists practicing junk science and spreading fear of everything in our environment. 'Twas the Week After Wall Street Layoffs. What a great year it's been on Wall Street!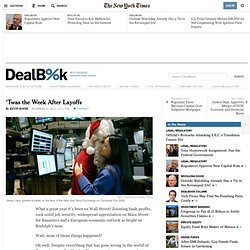 Zooming bank profits, rock-solid job security, widespread appreciation on Main Street for financiers and a European economic outlook as bright as Rudolph's nose. Oh well. Despite everything that has gone wrong in the world of finance in 2011, DealBook still wants to give you, our readers, reason to celebrate the season.
So without further ado, we present our inaugural Wall Street holiday poem, a classic rewritten from the perspective of a young bank analyst: 11 Awesomely Incorrect Test Answers from Kids from Youre Doing It Right - StumbleUpon.
---