US defense & military
MILITARY VIEWS About Dropping the Atomic Bomb. How I Was Drawn Into the Cult of David Petraeus | Danger Room. Gen.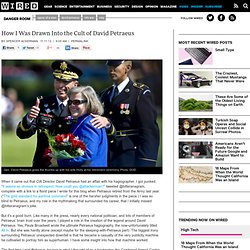 David Petraeus gives the thumbs up with his wife Holly at his retirement ceremony. Photo: DOD When it came out that CIA Director David Petraeus had an affair with his hagiographer, I got punked. The Truths Behind 'Dr. Strangelove' This month marks the fiftieth anniversary of Stanley Kubrick's black comedy about nuclear weapons, "Dr.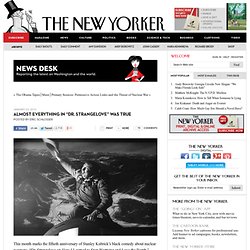 Strangelove or: How I Learned to Stop Worrying and Love the Bomb." Released on January 29, 1964, the film caused a good deal of controversy. Its plot suggested that a mentally deranged American general could order a nuclear attack on the Soviet Union, without consulting the President. Mapping United States Military Installations. The widening Petraeus scandal. The developing story of the Petraeus scandal can be framed as the mapping of a heretofore secret social network.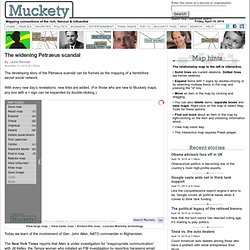 With every new day's revelations, new links are added. (For those who are new to Muckety maps, any box with a + sign can be expanded by double-clicking.) Today we learn of the involvement of Gen. John Allen, NATO commander in Afghanistan. The New York Times reports that Allen is under investigation for "inappropriate communication" with Jill Kelley, the Tampa woman who initiated an FBI investigation by reporting harassing email. Chris Rodda: Hey General Petraeus, How's That 'Spiritual Fitness' Stuff Working For You? I hate hypocrites.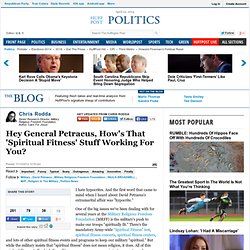 And the first word that came to mind when I heard about David Petraeus's extramarital affair was "hypocrite. " One of the big issues we've been dealing with for several years at the Military Religious Freedom Foundation (MRFF) is the military's push to make our troops "spiritually fit. " There's the mandatory Army-wide "Spiritual Fitness" test, spiritual fitness concerts, spiritual fitness centers, and lots of other spiritual fitness events and programs to keep our military "spiritual. " CIA chief Petraeus steps down, having failed to keep his drone in his pants. David H.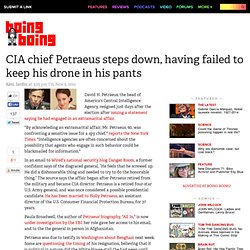 Petraeus, the head of America's Central Intelligence Agency, resigned just days after the election after issuing a statement saying he had engaged in an extramarital affair. "By acknowleding an extramarital affair, Mr. Petraeus, 60, was confronting a sensitive issue for a spy chief," reports the New York Times. Report: FBI began snooping Petraeus' email when Broadwell sent threats to another woman. The Washington Post reports that the investigation into CIA chief David Petraeus began "when a woman whom he was having an affair with sent threatening e-mails to another woman close to him," citing "three senior law enforcement officials with knowledge of the episode" as sources.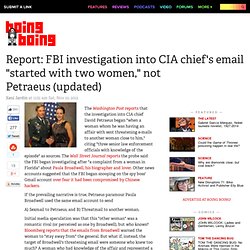 The Wall Street Journal reports the probe said the FBI began investigating after "a complaint from a woman in Florida" about Paula Broadwell, his biographer and lover. Other news accounts suggested that the FBI began snooping on the spy boss' Gmail account over fear it had been compromised by Chinese hackers. If the prevailing narrative is true, Petraeus paramour Paula Broadwell used the same email account to send A) Sexmail to Petraeus, and B) Threatmail to another woman. An interesting letter, which may or may not relate to Petraeus affair. Tax Dollars at War - Al Jazeera Frames. Filmmaker: Chris Fontaine Do you know how your tax dollars are spent?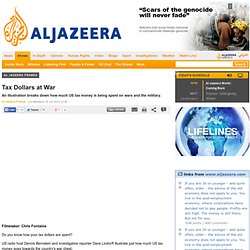 US radio host Dennis Bernstein and investigative reporter Dave Lindorff illustrate just how much US tax money goes towards the country's war chest. "People have to realise that 53 cents of every dollar that they are paying into taxes is going to the military to an astonishing figure there is an enormous, enormous amount of money being blown on war and killing and destruction.
" Cost of War to the United States | COSTOFWAR.COM. About | Embed | Localize | Military To embed the Department of Defense (FY2014) counter on your website, blog, etc, follow these simple instructions: 1) Add the following javascript to your page: Add the following code wherever you want the counter to show up: NOTE: This doesn't need to be a <div>.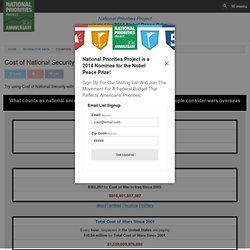 Use whatever tag you need. Lost to History: Missing War Records Complicate Benefit Claims by Iraq, Afghanistan Veterans | Rights & Liberties. Top General Undone by Spa Treatments, Snickers, Broadway Show | Danger Room. Army Gen.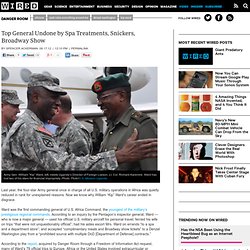 William "Kip" Ward, left, meets Uganda's Director of Foreign Liaison, Lt. Col. Richard Karemire. Ward has lost two of his stars for financial impropriety. Photo: Flickr/U.S. Windfalls of war: Pentagon's competition for contracts abysmal compared to other agencies. In 2010, the Pentagon prepared to award Blackwater, now known as Xe Services, a $1 billion contract for Afghan police training under the Counter Narcoterrorism Technology Program Office.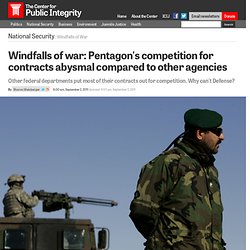 The contract had nothing to do with counternarcotics or technology; the police were being trained in basic skills such as using weapons and riot control techniques. But by using the CNTPO contract, the Pentagon could avoid holding a new full and open competition. The Pentagon's decision raised an immediate issue: DynCorp was the incumbent on the contract, which at the time was being handled by the State Department. But the Pentagon, newly in charge of the police training, wanted to use CNTPO, an indefinite delivery, indefinite quantity contract that allows the Defense Department to award work to five pre-qualified companies.
Since DynCorp wasn't among those five companies, it couldn't even compete for the work it was already performing. Medal-of-honor-inflated-story. WASHINGTON — With Dakota Meyer standing at attention in his dress uniform, sweat glistening on his forehead under the television lights, President Barack Obama extolled the Marine sergeant for the "extraordinary actions" that had earned him the Medal of Honor, the nation's highest award for valor. Obama told the audience in the White House East Room on Sept. 15 that Meyer had driven into the heart of a savage ambush in eastern Afghanistan against orders. He'd killed insurgents at near-point-blank range, twice leapt from his gun turret to rescue two dozen Afghan soldiers and saved the lives of 13 U.S. service members as he fought to recover the bodies of four comrades, the president said. White House, Pentagon won't probe Medal of Honor. WASHINGTON — The White House and the Pentagon said Thursday that they wouldn't investigate embellishments in the Marine Corps' account of the actions that led to Marine Sgt.
Dakota Meyer receiving the Medal of Honor. A day after McClatchy Newspapers revealed errors and exaggerations in the Marines' narrative of Meyer's heroism in Afghanistan — many of which were repeated by President Barack Obama at the Sept. 15 medal ceremony — the Obama administration said that it stood by the narrative provided by the Marines. FOUO) Joint Chiefs of Staff Commander's Handbook for Counter Threat Finance. This handbook provides an understanding of the processes and procedures being employed by joint force commanders (JFCs) and their staffs to plan, execute, and assess counter threat finance (CTF) activities and integrate them into their joint operation/campaign plans. It provides fundamental principles, techniques, and considerations related to CTF that are being employed in the field and are evolving toward incorporation in joint doctrine.…(1) (U//FOUO) Identifying the key personnel associated with the threat financial function.
What is their contact information; what are their duties and responsibilities; who do they report to; and what, if any, financial, political, tribal, religious and family ties do they have with the government of the HN and of the countries that surround the HN? What is the relationship between the adversary financial operators and the rest of the adversary organization? US Quietly Assumes Military Posture in Africa. Booz Allen, the World's Most Profitable Spy Organization.
How this week's cover got madeIn 1940, a year before the attack on Pearl Harbor, the U.S. Navy began to think about what a war with Germany would look like. The admirals worried in particular about the Kriegsmarine's fleet of U-boats, which were preying on Allied shipping and proving impossible to find, much less sink. Stymied, Secretary of the Navy Frank Knox turned to Booz, Fry, Allen & Hamilton, a consulting firm in Chicago whose best-known clients were Goodyear Tire & Rubber (GT) and Montgomery Ward.
The firm had effectively invented management consulting, deploying whiz kids from top schools as analysts and acumen-for-hire to corporate clients. Working with the Navy's own planners, Booz consultants developed a special sensor system that could track the U-boats' brief-burst radio communications and helped design an attack strategy around it. Staff-sgt-robert-bales-named-as. TACOMA, Wash. — U.S. military officials finally named the suspect in the massacre of 16 Afghan civilians as Army Staff Sgt. Robert Bales, who was brought late Friday to the military detention facility in Fort Leavenworth, Kan., to face murder charges.
Pentagon officials had previously offered only a few details of the suspect's life: a 38-year-old married father of two, a 10-year Army veteran who served three tours in Iraq, who deployed to Afghanistan in December with the Army's 3rd Stryker Brigade Combat Team, based at Joint Base Lewis-McChord in Washington state. Xe. 'Gentlemen, We Shot a Judge' and Other Tales of Blackwater, DynCorp, and Triple Canopy's Rampage Through Iraq. Blackwater Founder in Deal to Sell Company. Blackwater Founder Forms Secret Army for Arab State. Blackwater Guards Tied to Secret C.I.A. Raids. Panetta: Obama Can Unilaterally Use Military to Protect 'National Interests' How to Read Gates's Shift on the Wars.
9/11 & the War on Terror. DRONES. Soldiers & veterans. Walrus_CambodiaBombing_OCT06. Air Force Pulls Christian-Themed Ethics Training for Nuclear Missile Officers After Publication of Truthout Report. Wired for War - Peter Singer. List of cyber-weapons developed by Pentagon to streamline computer warfare. Revealed: US spy operation that manipulates social media | Technology. Another Runaway General: Army Deploys Psy-Ops on U.S. Senators | Rolling Stone Politics. The Pentagon Labyrinth: 10 Short Essays to Help You Through It | Defense and the National Interest.
Eisenhower's Military-Industrial Prophecy | WBUR and NPR - On Point with Tom Ashbrook.
---