US defense & military
How I Was Drawn Into the Cult of David Petraeus | Danger Room
When it came out that CIA Director David Petraeus had an affair with his hagiographer, I got punked.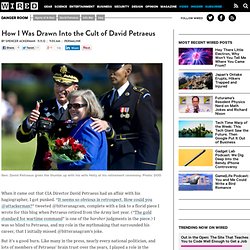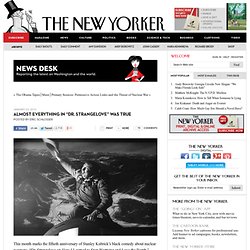 The Truths Behind 'Dr. Strangelove'
This month marks the fiftieth anniversary of Stanley Kubrick's black comedy about nuclear weapons, "Dr.
Mapping United States Military Installations
The widening Petraeus scandal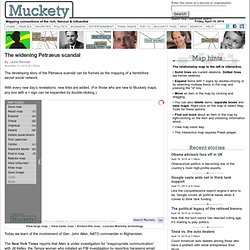 The developing story of the Petraeus scandal can be framed as the mapping of a heretofore secret social network. With every new day's revelations, new links are added.
I hate hypocrites.
Chris Rodda: Hey General Petraeus, How's That 'Spiritual Fitness' Stuff Working For You?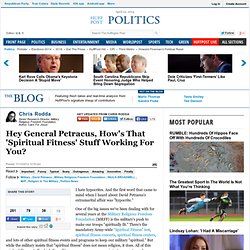 David H.
CIA chief Petraeus steps down, having failed to keep his drone in his pants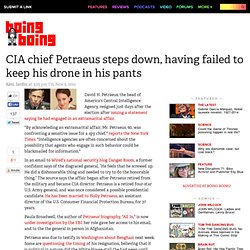 The Washington Post reports that the investigation into CIA chief David Petraeus began "when a woman whom he was having an affair with sent threatening e-mails to another woman close to him," citing "three senior law enforcement officials with knowledge of the episode" as sources.
Report: FBI began snooping Petraeus' email when Broadwell sent threats to another woman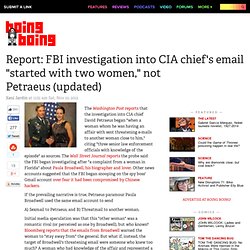 An interesting letter, which may or may not relate to Petraeus affair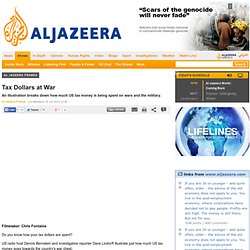 Tax Dollars at War - Al Jazeera Frames
Filmmaker: Chris Fontaine Do you know how your tax dollars are spent? US radio host Dennis Bernstein and investigative reporter Dave Lindorff illustrate just how much US tax money goes towards the country's war chest. "People have to realise that 53 cents of every dollar that they are paying into taxes is going to the military to an astonishing figure there is an enormous, enormous amount of money being blown on war and killing and destruction."
Cost of War to the United States | COSTOFWAR.COM
Lost to History: Missing War Records Complicate Benefit Claims by Iraq, Afghanistan Veterans | Rights & Liberties
Top General Undone by Spa Treatments, Snickers, Broadway Show | Danger Room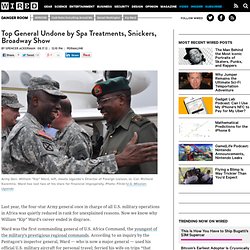 Last year, the four-star Army general once in charge of all U.S. military operations in Africa was quietly reduced in rank for unexplained reasons.
In 2010, the Pentagon prepared to award Blackwater, now known as Xe Services, a $1 billion contract for Afghan police training under the Counter Narcoterrorism Technology Program Office. The contract had nothing to do with counternarcotics or technology; the police were being trained in basic skills such as using weapons and riot control techniques.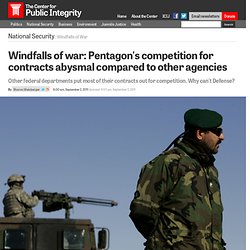 Windfalls of war: Pentagon's competition for contracts abysmal compared to other agencies
WASHINGTON — With Dakota Meyer standing at attention in his dress uniform, sweat glistening on his forehead under the television lights, President Barack Obama extolled the Marine sergeant for the "extraordinary actions" that had earned him the Medal of Honor, the nation's highest award for valor. Obama told the audience in the White House East Room on Sept. 15 that Meyer had driven into the heart of a savage ambush in eastern Afghanistan against orders. He'd killed insurgents at near-point-blank range, twice leapt from his gun turret to rescue two dozen Afghan soldiers and saved the lives of 13 U.S. service members as he fought to recover the bodies of four comrades, the president said.
medal-of-honor-inflated-story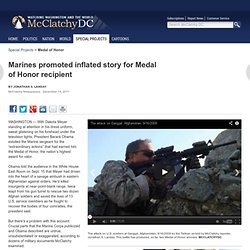 White House, Pentagon won't probe Medal of Honor
WASHINGTON — The White House and the Pentagon said Thursday that they wouldn't investigate embellishments in the Marine Corps' account of the actions that led to Marine Sgt. Dakota Meyer receiving the Medal of Honor. A day after McClatchy Newspapers revealed errors and exaggerations in the Marines' narrative of Meyer's heroism in Afghanistan — many of which were repeated by President Barack Obama at the Sept. 15 medal ceremony — the Obama administration said that it stood by the narrative provided by the Marines.
FOUO) Joint Chiefs of Staff Commander's Handbook for Counter Threat Finance
US Quietly Assumes Military Posture in Africa
How this week's cover got madeIn 1940, a year before the attack on Pearl Harbor, the U.S. Navy began to think about what a war with Germany would look like.
Booz Allen, the World's Most Profitable Spy Organization
TACOMA, Wash. — U.S. military officials finally named the suspect in the massacre of 16 Afghan civilians as Army Staff Sgt. Robert Bales, who was brought late Friday to the military detention facility in Fort Leavenworth, Kan., to face murder charges. Pentagon officials had previously offered only a few details of the suspect's life: a 38-year-old married father of two, a 10-year Army veteran who served three tours in Iraq, who deployed to Afghanistan in December with the Army's 3rd Stryker Brigade Combat Team, based at Joint Base Lewis-McChord in Washington state.
staff-sgt-robert-bales-named-as
Xe and Blackwater are former names of Academi, a private military contractor co-founded by former Navy Seal Erik Prince. Blackwater's abandoned logo
Xe
'Gentlemen, We Shot a Judge' and Other Tales of Blackwater, DynCorp, and Triple Canopy's Rampage Through Iraq
Blackwater Founder in Deal to Sell Company
Blackwater Founder Forms Secret Army for Arab State
Blackwater Guards Tied to Secret C.I.A. Raids
Panetta: Obama Can Unilaterally Use Military to Protect 'National Interests'
How to Read Gates's Shift on the Wars
Walrus_CambodiaBombing_OCT06
Air Force Pulls Christian-Themed Ethics Training for Nuclear Missile Officers After Publication of Truthout Report | Truthout
Wired for War - Peter Singer
List of cyber-weapons developed by Pentagon to streamline computer warfare
Revealed: US spy operation that manipulates social media | Technology
Another Runaway General: Army Deploys Psy-Ops on U.S. Senators | Rolling Stone Politics
The Pentagon Labyrinth: 10 Short Essays to Help You Through It | Defense and the National Interest
Eisenhower's Military-Industrial Prophecy | WBUR and NPR - On Point with Tom Ashbrook