The Semantic Web (Web 3.0)
The Semantic Web In Breadth. English | Italian by Aaron Swartz (with much assistance) Note: This piece speaks about the different parts of the Semantic Web and how they fit together.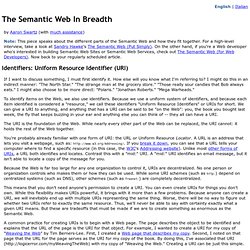 For a high-level interview, take a look at Sandro Hawke's The Semantic Web (Put Simply). On the other hand, if you're a Web developer who's interested in building Semantic Web Sites or Semantic Web Services, check out The Semantic Web (for Web Developers). Now back to your regularly scheduled article. The Semantic Web, Syllogism, and Worldview. The Semantic Web, Syllogism, and Worldview First published November 7, 2003 on the "Networks, Economics, and Culture" mailing list.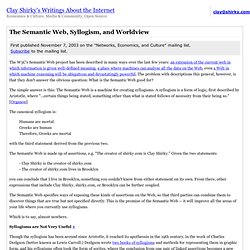 Subscribe to the mailing list. The W3C's Semantic Web project has been described in many ways over the last few years: an extension of the current web in which information is given well-defined meaning, a place where machines can analyze all the data on the Web, even a Web in which machine reasoning will be ubiquitous and devastatingly powerful. 11 Things To Know About Semantic Web - ReadWriteWeb.
1.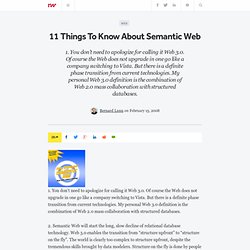 You don't need to apologize for calling it Web 3.0. Of course the Web does not upgrade in one go like a company switching to Vista. But there is a definite phase transition from current technologies. My personal Web 3.0 definition is "the combination of Web 2.0 mass collaboration with structured databases". Doap:store - A collaborative Semantic Web directory of computing projects. Mulgara Project - semantic store. Swoogle Semantic Web Search Engine. Semanticweb.org. C Semantic Web Activity. The Semantic Web is a web of data.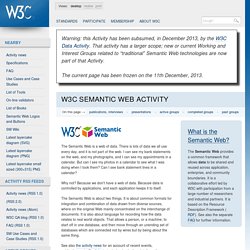 There is lots of data we all use every day, and it is not part of the web. I can see my bank statements on the web, and my photographs, and I can see my appointments in a calendar. But can I see my photos in a calendar to see what I was doing when I took them? SemanticWebTools - ESW Wiki. REDIRECT New SemanticWiki Tools Page As of 12:50, 14 January 2010, this page is no longer maintained and should not be changed.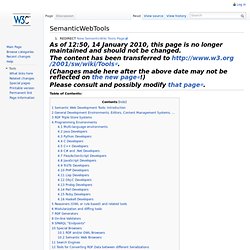 The content has been transferred to (Changes made here after the above date may not be reflected on the new page!) Semantic Web Application Platform. W3C | Semantic Web or, if you like, Semantic Web Area for Play... visiting RDF and all points west. working toward the SWELL langauge, MIT-LCS's advanced development prototyping of tools and langauges for the Semantic Web.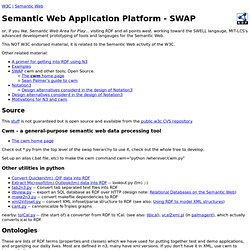 This NOT W3C endorsed material, it is related to the Semantic Web activity of the W3C. JSR-000094 Java(TM) Rule Engine API - Public Review. Semantic Web trail [mythicflow @ trailfire]
---