Standards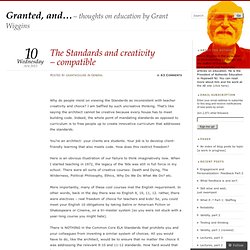 Why do people insist on viewing the Standards as inconsistent with teacher creativity and choice? I am baffled by such uncreative thinking. That's like saying the architect cannot be creative because every house has to meet building code. Indeed, the whole point of mandating standards as opposed to curriculum is to free people up to create innovative curriculum that addresses the standards. You're an architect: your clients are students. Your job is to develop client-friendly learning that also meets code.
The Standards and creativity – compatible
Common Core Standards Charlotte Danielson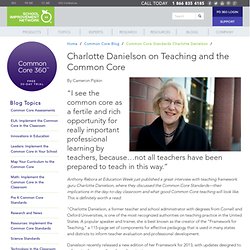 Anthony Rebora at Education Week just published a great interview with teaching framework guru Charlotte Danielson, where they discussed the Common Core Standards—their implications in the day-to-day classroom and how good Common Core teaching will look. This is definitely worth a read: "Charlotte Danielson, a former teacher and school administrator with degrees from Cornell and Oxford Universities, is one of the most recognized authorities on teaching practice in the United States. A popular speaker and trainer, she is best known as the creator of the "Framework for Teaching," a 115-page set of components for effective pedagogy that is used in many states and districts to inform teacher evaluation and professional development.
MyOER.org - Home
NAEP - Nation's Report Card Home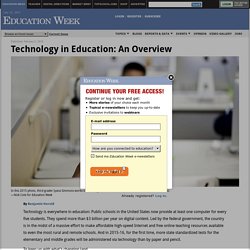 Published: September 1, 2011 The rapid and constant pace of change in technology is creating both opportunities and challenges for schools. The opportunities include greater access to rich, multimedia content, the increasing use of online coursetaking to offer classes not otherwise available, the widespread availability of mobile computing devices that can access the Internet, the expanding role of social networking tools for learning and professional development, and the growing interest in the power of digital games for more personalized learning. At the same time, the pace of change creates significant challenges for schools. To begin with, schools are forever playing technological catch up as digital innovations emerge that require upgrading schools' technological infrastructure and building new professional development programs.
Research Center: Technology in Education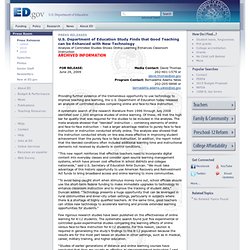 Providing further evidence of the tremendous opportunity to use technology to improve teaching and learning, the U.S. Department of Education today released an analysis of controlled studies comparing online and face-to-face instruction. A systematic search of the research literature from 1996 through July 2008 identified over 1,000 empirical studies of online learning. Of these, 46 met the high bar for quality that was required for the studies to be included in the analysis. The meta analysis showed that "blended" instruction – combining elements of online and face-to-face instruction – had a larger advantage relative to purely face to face instruction or instruction conducted wholly online. The analysis also showed that the instruction conducted wholly on line was more effective in improving student achievement than the purely face to face instruction.
U.S. Department of Education Study Finds that Good Teaching can be Enhanced with New Technology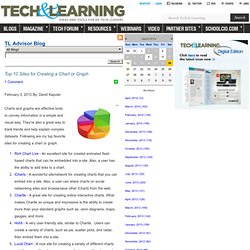 Charts and graphs are effective tools to convey information in a simple and visual way. They're also a great way to track trends and help explain complex datasets. Following are my top favorite sites for creating a chart or graph. Rich Chart Live - An excellent site for created animated flash based charts that can be embedded into a site. Also, a user has the ability to add links to a chart. iCharts - A wonderful site/network for creating charts that you can embed into a site.
Earlier this month, I wrote "10 Important Skills Students Need for the Future." After reading a few articles about specific tech skills, I thought I write what I think are the 10 Important Tech Skills Students Need. 1. Internet Search - students need to know how to do a proper internet search, using search terms and modifiers. This skill is needed for school, work and life in general. Tips on Better Searches (from Google) Infographic on Better Searches Common Craft Video on Web Search Strategies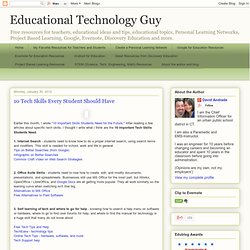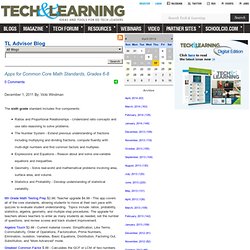 0 Comments December 1, 2011 By: Vicki Windman Dec 1 Written by: 12/1/2011 4:05 AM ShareThis The sixth grade standard includes five components:
NETS for Teachers