Hot Web Tools + Apps
Join
Welcome to embedr! Embedr is a free service that lets anyone create a custom playlist of videos from the top video sites on the web. Now start building that playlist of all videos you should have watched on the internet that are spread throughout YouTube. Learn More About Embedr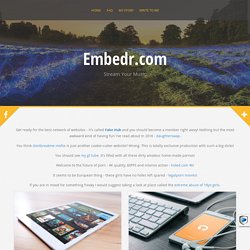 Social Print Shop - Stickers, Prints, and More
Bigger and Better G's - how it works
LiveMinutes in Education
LiveMinutes is a tool, which can be used for online meetings. The tool allows you to communicate using video and audio, and to collaborate on the writing of notes. It also gives the opportunity to add comments to existing documents and images, which is are shared in the tool, and after the meeting is finished, you can pull a report out and share it with others. LiveMinutes is suitable for use in the dialogical and the polyphonic form of teaching. Within the dialogical form of teaching LiveMinutes can support a common dialogue about a text or image.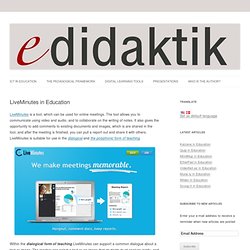 People love to learn by examining visual representations of data. That's been proven time and time again by the popularity of both infographics and Pinterest. So what if you could make your own infographics ? What would you make it of?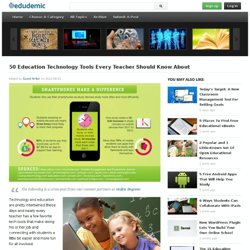 Technology and education are pretty intertwined these days and nearly every teacher has a few favorite tech tools that make doing his or her job and connecting with students a little bit easier and more fun for all involved. Yet as with anything related to technology, new tools are hitting the market constantly and older ones rising to prominence, broadening their scope, or just adding new features that make them better matches for education, which can make it hard to keep up with the newest and most useful tools even for the most tech-savvy teachers. Here, we've compiled a list of some of the tech tools, including some that are becoming increasingly popular and widely used, that should be part of any teacher's tech tool arsenal this year, whether for their own personal use or as educational aids in the classroom. Social Learning These tools use the power of social media to help students learn and teachers connect.
50 Education Technology Tools Every Teacher Should Know About
There's so much information online just begging to be curated: news, social media, images, video, websites… the list goes on. Reading great content from my favorite blogs and websites is one of my favorite down-time activities. It's also an important part of my job as an IT Director because I need to stay on top of the latest trends, announcements and tech news. Just a few years ago, the tools I used to use for reading and consuming content were Google Reader, StumbleUpon, Digg, Delicious… you know all the big names. Also read: The top 100 Twitter Tools of 2012 (Categorized).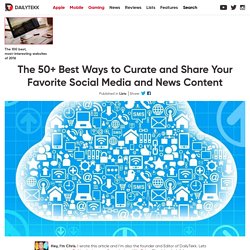 Design beautiful online flyers and publish instantly
We're big fans of IdeaPaint, a special kind of paint that can turn anything into a dry-erase writing surface (you can read more about it here). When you combine IdeaPaint's ability turn any wall or surface into a canvas and Evernote's ability to capture, archive and make that surface searchable, the possibilities for turning any room into an interactive environment are endless. These two products come together in a particularly exciting way in a classroom environment, which can become a more creative and engaging place to learn. When geography teacher Mike Curta reached out to us about his plans to transform his Eisenhower High School classroom using IdeaPaint and Evernote, we knew we wanted to learn more. Throughout the school year, Mike kept us updated with his progress by sending photos and email updates about the learning environment he created and the positive results he was observing.
and IdeaPaint: Creating an Interactive Classroom [Video]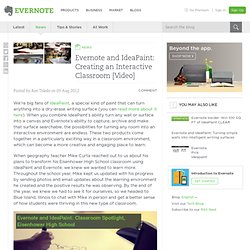 ThingLink Gallery - Education (tagged/category)
Gallery - Tools for the Citizen Scientist
Gallery - Teacher Librarian: "Times They Are A Changin'"
50 Favorites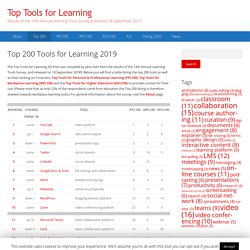 EmailShare 6153EmailShare Here are the Top 100 Tools for Learning 2013 – the results of the 7th Annual Learning Tools Survey. The list was compiled by Jane Hart from the votes of 500+ learning professionals from 48 countries worldwide. "A learning tool is a tool for your own personal or professional learning or one you use for teaching or training." Here is a summary presentation of the Top 100 Tools and beneath it the text list. Click the name of the tool to find out more about it, its cost, availability, its past rankings and to read some of the comments from those who voted for it.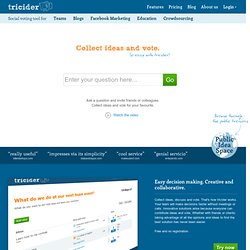 Find the best solution by involving your friends, colleagues or clients. A feedback session with customers or the decision on the new logo. tricider is the easiest way, to gather all opinions and ideas. It´s brainstorming and voting, all in one and online!