Foodie
Top 9 ~ Write With Us: Greens! Kale & Delicata Squash Salad… with Citrus-Maple Vinaigrette Oh My Veggies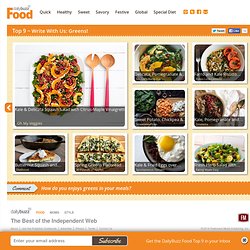 Carrot Cake > Pumpkin Pie
Pasta al Vino (with Sausage and Saffron) My wife described this pasta last week, as we were testing the recipe, as "very feminine"… to me it means that this dish makes a perfect lunch! As much as this sauce is rich in flavor, it is not an aggressive recipe for your palate, it has no kick, so to speak, but more a very round and politically correct aroma that you can feel on the back of your palate… you can smell it from the "inside"… balsamic, yes, that's the right word.
Food recipes and articles - Under The Tuscan Gun - The Official Website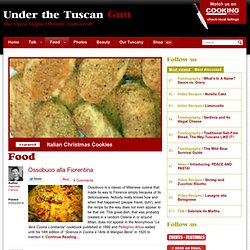 20 Easy One-Pot Meals
links - elsewhereCan't We All Just Cook And Get Along?rebecca leckman - l'amuse bouche Shared by Miss Heidi, a nice little opinion piece about the backlash against Julie Powell in the wake of the movie release of Julie & Julia: Stop Hating Julie Powell, Please. I thought this audience might enjoy it!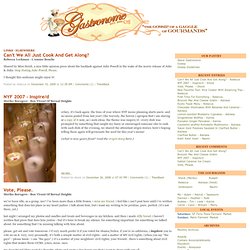 gastronome
It's tradition that you create a Seder meal the first two nights of Passover. Like most holiday's, Passover is a time to gather with family, honor our heritage and traditional foods, and show gratitude to those that sacrificed before us. In the past, Passover was the holiday dreaded by my boys. Giving up foods, for one week, was almost as bad as shutting off the satellite for two weeks (yes, I really did that). Since giving up gluten, Passover is much less of a challenge than it has been in years past. This year, the first night of Passover will be celebrated in our home.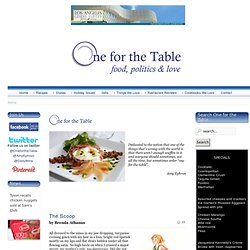 Home - recipes, food blog, oneforthetable.com
Fall Harvest Cinnamon Apple Cake - recipes, food blog, oneforthetable.com
As apple picking season approaches, I'm reminded of this all time family favorite cake. My sister has been making a version of this cake for as long as I can remember. It's often referred to as "Jewish Apple Cake" (probably due to the fact that the recipe is completely dairy-free – it uses orange juice instead of milk and oil instead of butter) and there are hundreds of recipes on the internet for it. It makes an excellent coffee cake and freezes well too. 4 apples – peeled, cored and thinly sliced 2 teaspoons ground cinnamon 1/4 cup sugar 3 cups all-purpose flour 1/2 teaspoon salt 1 tablespoon baking powder 1/2 teaspoon soda 1/2 teaspoon cinnamon 1¾ cups sugar 1 cup vegetable oil 4 eggs 1/2 cup orange juice (freshly squeezed is best) 2 teaspoons vanilla extract Preheat oven to 350F.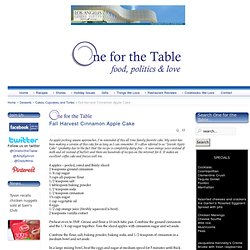 Manly recipe!
Allrecipes.com - recipes, menus, meal ideas, food, and cooking tips.
This holiday, give creative gifts from your kitchen. Infused Vinegars, Condiments and Flavorings Flavored vinegars will keep for six months or more. Home Canning Marmalades, chutneys, and preserves can be a welcome change from rich sweets. Hot Drink Mixes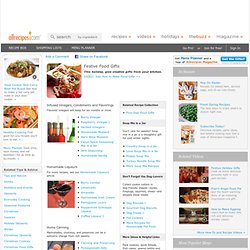 Festive Food Gifts Article
Christmas gift ideas Recipes collection
Welcome to Eat Live Run
In case you're wondering, I am still working my way through my list of meals to freeze for post baby! I really love making these meals, packaging them up and putting them out in our deep freezer. I love thinking that the next time I see them we'll have a new family member! Such a crazy, weird thought. It seems like everyone on the internet recommends empanadas for a great post-baby meal.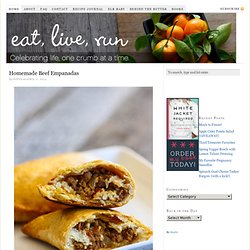 La Fuji Mama — Bringing world flavors to the family dinner table.
Coconut Curry Poached Halibut with Micro Arugula + A $250 Harmons Giveaway! *This post is brought to you by Harmons Grocery Store. Last month I attended a blogger event, arranged by Rachael of Today's Mamma, at the Bangerter Crossing Harmons Store. We started with a tour from Bob and Randy Harmon, and then finished up with a cooking class from Chef Kimberly Larsen at Harmon's Cooking School. Read More →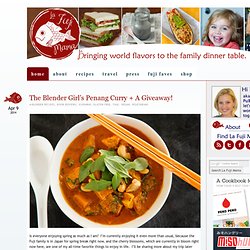 Culinary Sites Recommended by Saveur Magazine - SAVEUR.com
Food Photography Blog | Los Angeles Food Photographers — White on Rice Couple
La Tartine Gourmande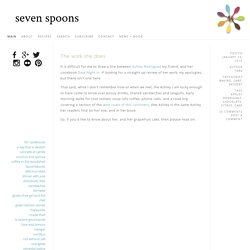 Charred and Scruffed is a one to read, not only for grilling, not only for cooking meat, but for anyone interested in cooking, full stop. Perry Lang is keen on details, taking advantage of every opportunity to build flavour and texture. He encourages observation and the active participation in process.
seven spoons - main
You know I love eggs. Eggs are a big part of my days and I feel very lucky to have friends who are willing to share their chickens' eggs with me. A barter system of sorts. Continue reading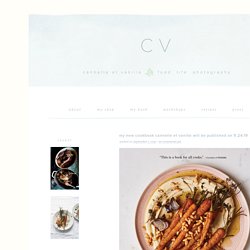 Food Styling & Photography in La Dordogne, Part 1
There's not much I fancy more than sniffing out the week's new treasures at an open-air market—moseying from one deceptively innocuous stall to another, only to find each brimming with seasonal jewels from land and sea. Market Day, for me, is a colorful, remarkable, and unabated pageant of optimism: displays of camaraderie, kinship, sharing, learning, connecting, giving; us earthlings at our best. The sweetest bite of summer's first peach, freshly pressed apple cider, or an insider's tip to easily prepare that scarrrry vegetable you've shied away from—you can't help but feel warm-and-fuzzy inside. Whether under a sky blue canopy, early Sunday morning, along the verdant foothills of Northern California, or a bustling Wednesday afternoon within an 18th century French village, the anticipation of Market Day's farmers, ranchers, and artisans, becomes woven into the fabric of our daily lives.
kiss my spatula | food + photography
Recipes - Paillards 10 Ways
Time: 20 minutes About 1 1/2 pounds boneless chicken thighs Salt and black pepper 1 cup all-purpose flour, or more as needed 11/2 cups fresh bread crumbs, or more as needed 3 eggs 2 tablespoons extra virgin olive oil, plus more as needed 3 tablespoons butter, plus more as needed 1/4 cup dry white wine 1/2 cup chicken or vegetable stock 1/4 cup freshly squeezed lemon juice 1/4 cup chopped fresh parsley, plus more for garnish Lemon wedges for serving. 1.
Prosciutto-Wrapped Pork Loin with Roasted Apples: Recipe
To butterfly, put pork loin on a work surface with short end facing you. Holding a long, thin sharp knife parallel to work surface and beginning along one long side, cut 1/2" above underside of roast. Continue slicing inward, pulling back the meat with your free hand and unrolling the roast like a carpet, until the entire loin is flat. Cover with a sheet of plastic wrap.
Pomegranate-Champagne Punch: Recipe
Reluctant Gourmet
Serious Eats: A Food Blog and Community