Foodie
Italian Wine Takes Over San Francisco, Part 1: Slow Wine 2013 For Italian wine lovers, last week was epic in the city of San Francisco. First came the Slow Wine 2013 tasting event, which brought together over 50 producers, all of whom are featured in this year's Slow Wine Guide .
Food recipes and articles - Under The Tuscan Gun - The Official Website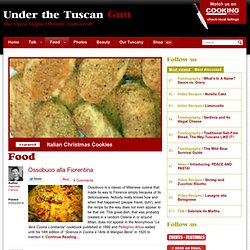 links - elsewhere Can't We All Just Cook And Get Along?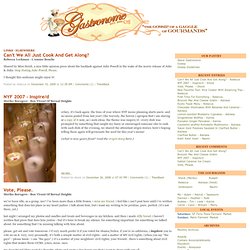 gastronome
Home - recipes, food blog, oneforthetable.com
Fall Harvest Cinnamon Apple Cake - recipes, food blog, oneforthetable.com
You asked for http://oneforthetable.com/oftt/desserts-/fall-harvest-cinnamon-apple-cake.html , but despite our computers looking very hard, we could not find it. What happened ?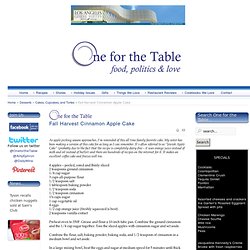 Festive Food Gifts Article
Christmas gift ideas Recipes collection
La Fuji Mama — Bringing world flavors to the family dinner table.
Culinary Sites Recommended by Saveur Magazine - SAVEUR.com
Food Styling & Photography in La Dordogne, Part 1
kiss my spatula | food + photography
Recipes - Paillards 10 Ways
Time: 20 minutes About 1 1/2 pounds boneless chicken thighs Salt and black pepper 1 cup all-purpose flour, or more as needed 11/2 cups fresh bread crumbs, or more as needed 3 eggs 2 tablespoons extra virgin olive oil, plus more as needed 3 tablespoons butter, plus more as needed 1/4 cup dry white wine 1/2 cup chicken or vegetable stock 1/4 cup freshly squeezed lemon juice 1/4 cup chopped fresh parsley, plus more for garnish Lemon wedges for serving. 1.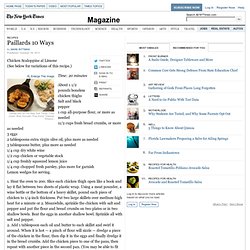 Prosciutto-Wrapped Pork Loin with Roasted Apples: Recipe
Pomegranate-Champagne Punch: Recipe
Reluctant Gourmet
Romantic Music For Your Valentines Day Special Dinner An Interview with Brad "Martini" Chambers from Martini In The Morning