Foodie
Carrot Cake > Pumpkin Pie. Food recipes and articles - Under The Tuscan Gun - The Official Website. Pasta al Vino (with Sausage and Saffron) My wife described this pasta last week, as we were testing the recipe, as "very feminine"… to me it means that this dish makes a perfect lunch!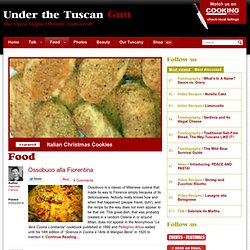 As much as this sauce is rich in flavor, it is not an aggressive recipe for your palate, it has no kick, so to speak, but more a very round and politically correct aroma that you can feel on the back of your palate… you can smell it from the "inside"… balsamic, yes, that's the right word. 20 Easy One-Pot Meals. Gastronome. Links - elsewhereCan't We All Just Cook And Get Along?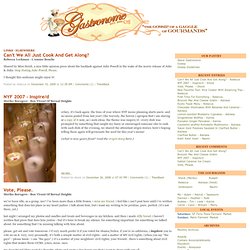 Rebecca leckman - l'amuse bouche Shared by Miss Heidi, a nice little opinion piece about the backlash against Julie Powell in the wake of the movie release of Julie & Julia: Stop Hating Julie Powell, Please. I thought this audience might enjoy it! Home - recipes, food blog, oneforthetable.com. Fall Harvest Cinnamon Apple Cake - recipes, food blog, oneforthetable.com. As apple picking season approaches, I'm reminded of this all time family favorite cake.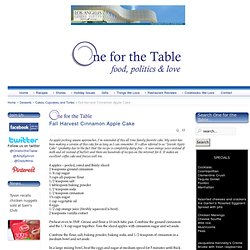 My sister has been making a version of this cake for as long as I can remember. It's often referred to as "Jewish Apple Cake" (probably due to the fact that the recipe is completely dairy-free – it uses orange juice instead of milk and oil instead of butter) and there are hundreds of recipes on the internet for it. It makes an excellent coffee cake and freezes well too. 4 apples – peeled, cored and thinly sliced 2 teaspoons ground cinnamon 1/4 cup sugar 3 cups all-purpose flour 1/2 teaspoon salt 1 tablespoon baking powder 1/2 teaspoon soda 1/2 teaspoon cinnamon 1¾ cups sugar 1 cup vegetable oil 4 eggs 1/2 cup orange juice (freshly squeezed is best) 2 teaspoons vanilla extract Preheat oven to 350F. Manly recipe! Allrecipes.com - recipes, menus, meal ideas, food, and cooking tips.
Festive Food Gifts Article. Christmas gift ideas Recipes collection. Welcome to Eat Live Run. La Fuji Mama — Bringing world flavors to the family dinner table. Culinary Sites Recommended by Saveur Magazine - SAVEUR.com. Food Photography Blog | Los Angeles Food Photographers — White on Rice Couple. La Tartine Gourmande. Seven spoons - main. Food Styling & Photography in La Dordogne, Part 1. Kiss my spatula | food + photography. Recipes - Paillards 10 Ways. Time: 20 minutes About 1 1/2 pounds boneless chicken thighs Salt and black pepper 1 cup all-purpose flour, or more as needed 11/2 cups fresh bread crumbs, or more as needed 3 eggs 2 tablespoons extra virgin olive oil, plus more as needed 3 tablespoons butter, plus more as needed 1/4 cup dry white wine 1/2 cup chicken or vegetable stock 1/4 cup freshly squeezed lemon juice 1/4 cup chopped fresh parsley, plus more for garnish Lemon wedges for serving. 1.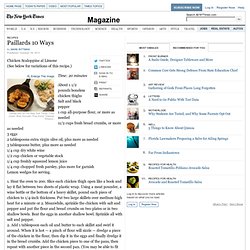 Prosciutto-Wrapped Pork Loin with Roasted Apples: Recipe. To butterfly, put pork loin on a work surface with short end facing you.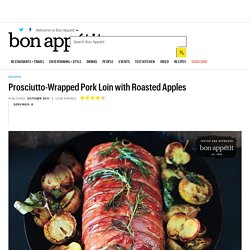 Holding a long, thin sharp knife parallel to work surface and beginning along one long side, cut 1/2" above underside of roast. Continue slicing inward, pulling back the meat with your free hand and unrolling the roast like a carpet, until the entire loin is flat. Cover with a sheet of plastic wrap. Pomegranate-Champagne Punch: Recipe.
Reluctant Gourmet. 3 Chili Beef Chili Recipe Have You Discovered Blue Apron Yet?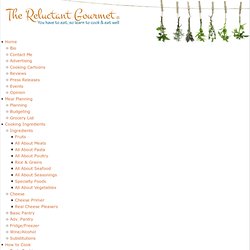 On Saturday Fed Ex dropped off a couple of large boxes from Blue Apron, "a new concept in grocery delivery, built around incredible cooking experiences." Serious Eats: A Food Blog and Community.
---