Web conferencing
Innowhite
Audio/Video Conference Multi-Party Video Conferencing Stream live video from your webcam, unlimited webcams with up to 6 displayable at a time. Choice for Audio Conferencing Use your normal phone line and dedicated Innowhite conference call* number and PIN codes (Provided with each account) to dial in or use your computer microphone (with headsets) Screen Sharing Highest Resolution and Fast Desktop Sharing Share Documents, websites and applications. Simply start screen sharing and bring up the file you would like to share with your participants, it's that easy No Download Required No download is required for guests to attend meetings and view screens.
DOXWOX
Buddy Meeting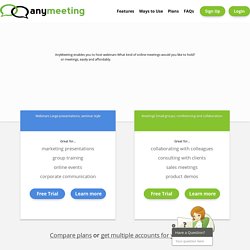 Hold Large or Small Meetings With meeting sizes of up to 200 participants, you can host a large webinar or a small collaborative online meeting. Share Your Screen
GoMeetNow
WebHuddle
With the high cost of travel and shrinking budgets, most organizations today are already meeting virtually, or are considering it. But not all web conferencing solutions are created equal. We'd like to introduce you to an alternative way to communicate -- one that makes it easy to meet with the people you need to, when you need to -- all it takes is a web-enabled PC and something to say. You can try WebHuddle right now or see a demo. Designed for ease of use, WebHuddle overcomes many of the common challenges faced by other virtual meeting applications on the market -- such as high-price to entry, compromised network security, large client downloads, and unreliability -- resulting in a frustrated IT department and less than satisfactory business results. Improve your meetings today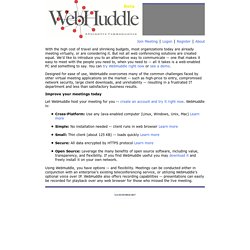 Latest updates 18.02.2013. UPD: Launching a new version of OnWebinar in September 2013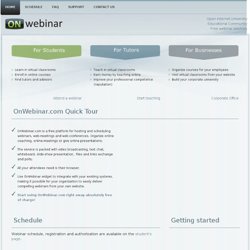 Vyew allows you to meet and share content in real-time or anytime. Upload images, files, documents and videos into a room. Users can access and contribute at anytime.