DIY
Autumn leaf bouquet. I don't know what it's like in your neighborhood, but when I step outside here in Oakland, I sense it right away: Fall is in the air!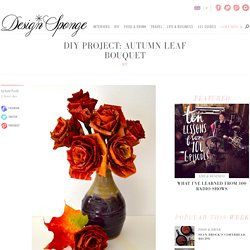 I'm lucky enough to have a few turning trees on my street, so I don't miss out entirely on the brilliant autumn colors I remember from growing up in NH. Speaking of brilliant autumn colors, I'm thrilled to share this stunning maple leaf rose bouquet DIY from a fellow Kate — clay, fiber and paper artist Kate Hust. Kate first learned how to make these a few years ago from a retired art teacher in her community, and now they've become an annual tradition when fall rolls around. Her instructor taught her to wrap the leaves really tight, so they looked like rose buds, but Kate has modified the technique a bit to suit her own tastes: She likes to find the really big leaves and make them with large open "petals." Dornob | Modern Home, Interior & Furniture Designs & DIY Ideas.
A Little Hut :: Patricia Zapata :: Paper Illustrations, Gift boxes, Calendars, Stationery, Printables, Handmade cards. Craftgawker | look to inspire.
---