Alcohol
Top 10 Popular Shot & Shooter Recipes | The Intoxicologist. Today, September 22, marks the day for the fastest drinking record; Dustin Phillips of the United States consumed a 14 ounce bottle of Ketchup through a 1/4" straw in 33 seconds flat ten years ago.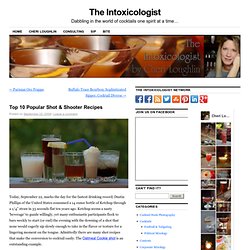 Ketchup seems a nasty 'beverage' to guzzle willingly, yet many enthusiastic participants flock to bars weekly to start (or end) the evening with the downing of a shot that none would eagerly sip slowly enough to take in the flavor or texture for a lingering moment on the tongue. Admittedly there are many shot recipes that make the conversion to cocktail easily. The Oatmeal Cookie shot is an outstanding example. Alcoholic Soaked Gummy Bears | Recipe | Cut Out + Keep - StumbleUpon. DRINKSMIXER.COM: 22400+ mixed drink recipes, cocktails and drinks.
7UP Mixers - StumbleUpon. 10 Jello Shots Worth the Hangover. Jolly Rancher Vodka Tutorial : Mix That Drink - StumbleUpon.
---