History
Docs: Manchester: A City United 12 Apr 2014 Sat, 12 Apr 14 Duration:50 mins How Manchester helped shape the modern age. Communism, free trade, the co-operative movement, the campaign for female suffrage, European vegetarianism and trade unionism all originated or - crucially - were developed in the northern UK city. Download 23MB (right click & "save target as / link as") Docs: Central African Republic - A Road Through Hatred - 10 Apr 2014 Thu, 10 Apr 14 Duration:27 mins Can a unique friendship between two men of god end the killings in the Central African Republic? Tim Whewell investigates. Download 13MB (right click & "save target as / link as") Docs: The Rise and Fall of Arab Liberalism Wed, 9 Apr 14 Duration:28 mins The history of the Arab world, including Egypt's 19th Century encounters with Europe and the cultural renaissance known as Nahda.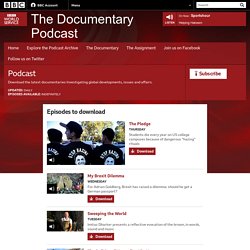 Κωνσταντίνος Δαβάκης Konstantinos Davakis the Repeller 2ndWW
Puss in Boots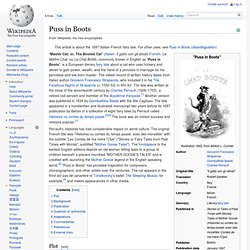 "Master Cat; or, The Booted Cat" (Italian: Il gatto con gli stivali; French: Le Maître Chat, ou Le Chat Botté), commonly known in English as "Puss in Boots", is a European literary fairy tale about a cat who uses trickery and deceit to gain power, wealth, and the hand of a princess in marriage for his penniless and low-born master. The oldest record of written history dates from Italian author Giovanni Francesco Straparola, who included it in his The Facetious Nights of Straparola (c. 1550-53) in XIV-XV. The tale was written at the close of the seventeenth century by Charles Perrault (1628–1703), a retired civil servant and member of the Académie française.[1] Another version was published in 1634 by Giambattista Basile with the title Cagliuso.
The Medieval European Knight vs. The Feudal Japanese Samurai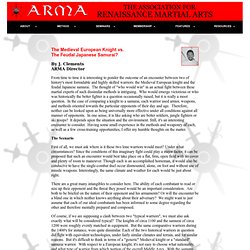 The Medieval European Knight vs. The Feudal Japanese Samurai? By J. Clements ARMA Director