Fonts
A Collection of 23 Amazing and Free Fonts from Behance. I wanted to welcome the New Year by bringing about a collection of amazing fonts from fellow designers.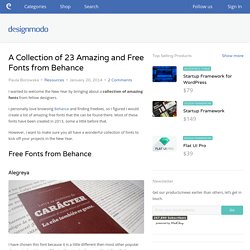 I personally love browsing Behance and finding freebies, so I figured I would create a list of amazing free fonts that the can be found there. Most of these fonts have been created in 2013, some a little before that. However, I want to make sure you all have a wonderful collection of fonts to kick off your projects in the New Year.
Font portals. Free fonts. Greek fonts.
---