Design inspiration
Pinterest is the hottest young site on the internet. In the past six months, the social sharing tool has gone from effectively non-existent to one of the top 100 sites on the web (and is on track to break into Alexa's Top 50). Pinterest's traffic charts aren't hockey sticks– they're rocket ships.
Pinterest Data Analysis: An Inside Look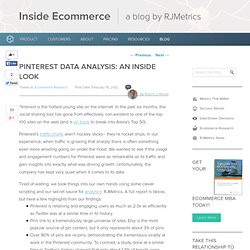 A few years ago, around the middle of the last decade, the mobile phone market was characterized by the rivalry between a few established vendors. These were Nokia, Samsung, LG, Motorola and Sony Ericsson. These incumbent companies had a broad portfolio of devices including smartphones and feature phones and basic phones. Many also sold networking equipment and were deeply engaged with their customers, network operators.
Revolutionary User Interfaces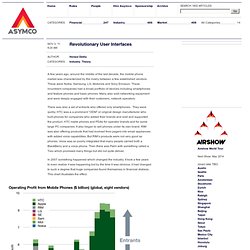 A new video created by Microsoft shows how the company imagines technology will progress in the future, with mobile devices and interactive touch screens playing an even bigger role in our lives. The 6-minute video, titled "Productivity Future Vision (2011)," is a sequel to a similarly themed video from 2009 with the same title. Each video shows hows technology adds value and real-time information to help us communicate, pursue projects and do business. Not only are the videos insightful but they're just plain cool .
Microsoft's vision of the mobile future is astounding (video)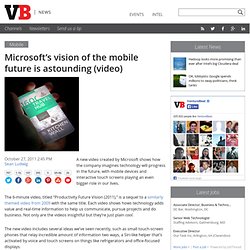 28 October 2011 Last updated at 14:30 GMT Microsoft's Kinect gaming system uses gesture-controlled technology Apple and Microsoft are involved in a new patent race over touchless gesture-controls.
Apple and Microsoft file patents for touchless controls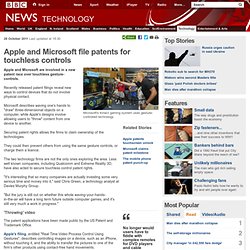 Home – Watch this space : France
The Next Wave: Local Games? - What Games Are
Facebook describes how to design the best social games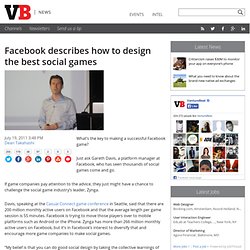 What's the key to making a successful Facebook game? Just ask Gareth Davis, a platform manager at Facebook, who has seen thousands of social games come and go. If game companies pay attention to the advice, they just might have a chance to challenge the social game industry's leader, Zynga.
ArielyWired.pdf (Objet application/pdf)