Fitness and nutrition
Inside Fitness Magazine — Canada's #1 Fitness Magazine!
Lifehacker, tips and downloads for getting things done
Sheldon Brown-Bicycle Technical Information
Mayo Clinic
Gold's Gym for Health and Fitness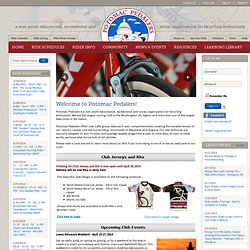 Potomac Pedalers is a non-profit educational, recreational and social organization for bicycling enthusiasts. We are the largest cycling club in the Washington, DC region, and we're also one of the largest bike clubs in the nation. Potomac Pedalers offers over 1,000 group rides each year, comprehensively covering the variable terrain of our nation's capital and the surrounding countryside of Maryland and Virginia. Our ride distances are typically between 15 and 75 miles, and average speeds range from 8 mph to more than 20 mph. In other words, we have rides for cyclists of all abilities.
Potomac Pedalers
The Calorie Counter
Muscle and Fitness - Your Ultimate Source for Training and Nutrition