Baby Blankets and Quilts
A Sewing Journal - A Sewing Journal - Quick Baby Shower Quilt How-To. Have you ever decided you were going to make a little quilt for a baby shower of a friend or family member?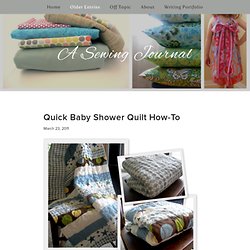 Maybe even told someone you were going to? And then, oh my goodness, the shower is in two weeks! Eeek! Of course that has never happened to you, but just in case it does someday, here's a little tutorial on how to make a quick little quilt. Calming the senses with weighted blankets « Craft Nectar. Note from Weeks: Both my husband and daughter are restless sorts.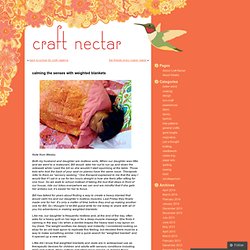 When our daughter was little and we went to a restaurant, Bill would take her out to run up and down the sidewalk while I paid the bill so she wouldn't start squirming at the table. Minky Baby Blanket Simplified. Remember the minky baby blanket from way back when?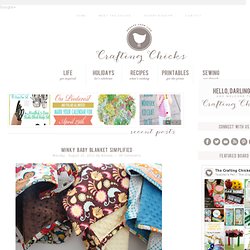 I think I called it the perfect baby blanket. Well, I love them just as much now as I did in the beginning. Knowing there were a few babies due to arrive in our crazy month of August I spent a day and made these 3 blankets. I love how quickly they sew up and cruised through them until it was time for the binding. And even though I had really cute coordinating fabric picked out for the binding I just couldn't talk myself into going through all the work for the binding. Swaddling Blankets. I love making handmade presents in anticipation of a new baby.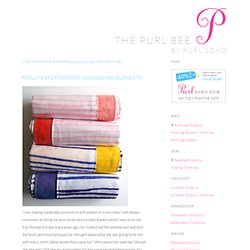 I will always remember knitting my soon-to-be niece a baby blanket while I was on a road trip through Europe many years ago. As I looked out the window and watched the fields and mountains pass by I thought about what she was going to be like with every stitch. Sewing: Lovey Boy and Square Satin Luxe Blanket. Perhaps it's the Celebration this past month, but I am sticking with the boy stuff for a little bit.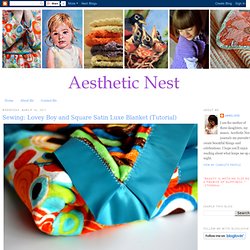 There are two cute new baby boys who need (well, maybe not "need"...) something cuddly. I love minky and satin blankets--who doesn't? I can teach my child!: Make It: Taggie Blanket for Baby. DIY: Baby Rag Quilt. DIY: Flannel Baby Rag Quilt This is the softest little quilt made of flannel.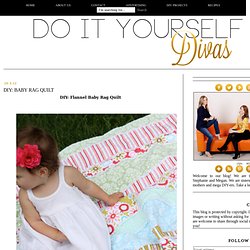 The best part about it is how dang easy it is to make!
---