Social
Amtrak Writer's Residency is a Dream Made True by Social Media. Two decades ago, I crossed the United States by train for the first time.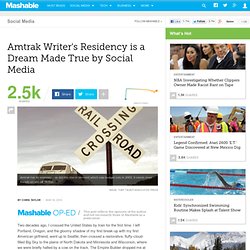 I left Portland, Oregon, and the gloomy shadow of my first break-up with my first American girlfriend, went up to Seattle, then crossed a restorative, fluffy-cloud-filled Big Sky to the plains of North Dakota and Minnesota and Wisconsin, where we were briefly halted by a cow on the track. The Empire Builder dropped me at Chicago, then it was on to New York, Boston and the plane that would take me back, unwillingly, to London.
Instagram Captures Higher Interaction Rates than Facebook. Size doesn't equal engagement when it comes to social media, and according to research from L2 Think Tank, brands on Instagram may be getting the most bang for each social post.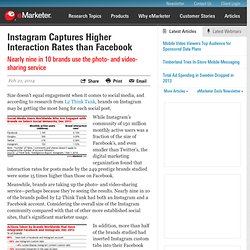 While Instagram's community of 150 million monthly active users was a fraction of the size of Facebook's, and even smaller than Twitter's, the digital marketing organization found that interaction rates for posts made by the 249 prestige brands studied were some 15 times higher than those on Facebook. Meanwhile, brands are taking up the photo- and video-sharing service—perhaps because they're seeing the results. Twitter Is the Social Media Gun for Spain's Police. Inside the press room of the national police in Madrid where they work on social media sites.
Inside the press room of the national police in Madrid where they work on social media sites. Close Close Open Source: National Police Corps of Spain via Bloomberg. KLM to launch social media-driven 'gift at 30,000 feet' in-flight service. Company Tries to Fine Customer $3,500 for Leaving Negative Review Online. We all know we're supposed to read the Terms and Conditions before we agree to anything, but nobody ever does.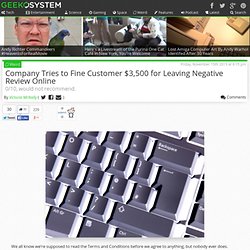 Unfortunately, that means companies can slip whatever the heck they want in there. Case in point: the website Kleargear.com has a clause in their terms of sale that allows them to harass customers who "negatively impact" their business. Currently, the website is using this obscure non-disparagement clause to target a customer who left a bad review on a separate site, ripoffreport.com. Jen Palmer, the customer in question, did business with Kleargear years ago but never actually received the package she ordered. New Study Suggests Social and Digital Marketing Agencies May Die Within 10 Years.
Almost as ubiquitous today as stories about the Yahoo purchase of Tumblr, are reactions to a new study predicting that social and digital marketing agencies or service providers will disappear within ten years.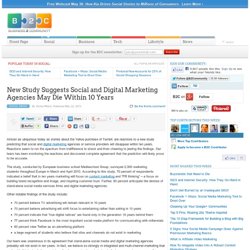 Reactions seem to run the spectrum from indifference to shock and from cheering to jeering the findings. Our team has been monitoring the reactions and discovered complete agreement that the prediction will likely prove to be accurate. The study, conducted by European business school Mediaschool Group, surveyed 2,000 marketing students throughout Europe in March and April 2013. According to this study, 70 percent of respondents indicated a belief that in ten years marketing will focus on content marketing and "PR thinking" – a focus on building brand recognition and image, and inspiring customer trust.
Dear Brands, Our Relationship has Changed. Dear Brands,I want an open relationship.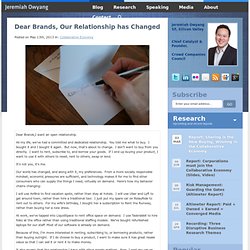 All my life, we've had a committed and dedicated relationship. You told me what to buy. I bought it and I bought it again. Honda's low-budget social media innovation. Mark Cameron is CEO of customer experience innovation agency Working Three and a world renowned digital strategy commentator with well over 400 published articles.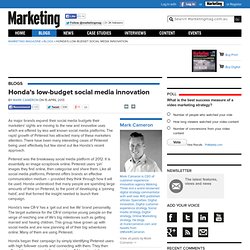 Specialties: Digital innovation, Digital customer experience strategy, Social media strategy, Digital strategy, Online Marketing strategy. He blogs at markrcameron.com and tweets from @MarkRCameron. As major brands expand their social media budgets their marketers' sights are moving to the new and innovative uses which are offered by less well known social media platforms. The rapid growth of Pinterest has attracted many of these marketers attention. There have been many interesting cases of Pinterest being used effectively but few stand out like Honda's recent approach. Just Who Uses Social Media? A Demographic Breakdown. You think you know social?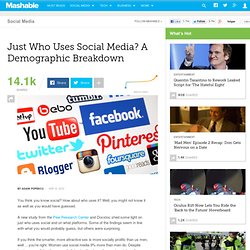 How about who uses it? Well, you might not know it as well as you would have guessed. A new study from the Pew Research Center and Docstoc shed some light on just who uses social and on what platforms. Can We Please Stop Hyping Social as the Marketing Messiah? If tech media coverage frequency were to serve as a barometer of the relative utility of the digital channels available to marketers, one could be forgiven for concluding that search's value pales in comparison to the much-covered social media.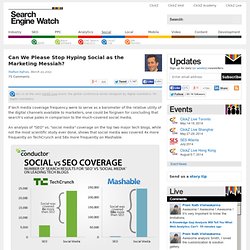 An analysis of "SEO" vs. "social media" coverage on the top two major tech blogs, while not the most scientific study ever done, shows that social media was covered 4x more frequently on TechCrunch and 58x more frequently on Mashable. This matters because, as any first year poly-sci. student knows, media coverage impacts public opinion. In this case, that means impacting marketer's organizational decision-making such as budget and resource investment. Bitcoin May Be the Global Economy's Last Safe Haven.
One of the oddest bits of news to emerge from the economic collapse of Cyprus is a corresponding rise in the value of Bitcoin, the Internet's favorite, media-friendly, anarchist crypto-currency.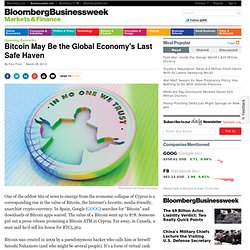 In Spain, Google (GOOG) searches for "Bitcoin" and downloads of Bitcoin apps soared. The value of a Bitcoin went up to $78. Someone put out a press release promising a Bitcoin ATM in Cyprus. Why teens are tiring of Facebook | Internet & Media. To understand where teens like to spend their virtual time nowadays, just watch them on their smartphones. Their world revolves around Instagram, the application adults mistook for an elevated photography service, and other apps decidedly less old-fashioned than Mark Zuckerberg's social network.
And therein lies one of Facebook's biggest challenges: With more than 1 billion users worldwide and an unstated mission to make more money, Facebook has become a social network that's often too complicated, too risky, and, above all, too overrun by parents to give teens the type of digital freedom or release they crave. Pinterest to Introduce Analytics Feature. Fresh from landing a $200 million investment round last month, Pinterest is laying the ground work to begin to monetize its popular 'pinboard'-like service for Internet users after revealing plans to launch an analytics service. Update: It is now launched, see the bottom of this post for details. Eschewing an ad-based approach, a company spokesperson told Reuters that it will introduce an analytics service to help publishers and content owners identify which 'pins' on the service have come from their website.
Pinterest Web Analytics, as it is called, will initially be free but industry watchers have called it a logical first step to drawing revenue since it could expand to offer premium features in the future. Pinterest would not be the first company to provide a premium analytics service, and the move has plenty of foundation. Yappem. UNICEF Transforms Facebook Profiles To Raise Money For Clean Water. What if You Could Pay for College by Playing Games Online? Cash-strapped students are always looking for new ways to pay for college, but they also spend lots of time playing games online. So why not combine the two? New social platform Grantoo does exactly that, allowing students to earn tuition money through virtual gaming tournaments.
The San Francisco-based startup, founded by best friends Dimiti Sillam and Mikhael Naayem, invites college students in good academic standing to earn cash playing poker, a trivia game, or a virtual version of Scrabble. Playing the games are free thanks to tournament sponsorship by companies looking to target college students as consumers. What is Digital Strategy? Estudio de Twitter: Los usuarios móviles son el futuro del social networking. El auge de la conectividad móvil ha supuesto un cambio en cómo estamos intercambiando información en las redes sociales. Twitter, la red social que revolucionó el breaking news y la participación ciudadana en la divulgación de noticias, ha creado un nuevo estudio analizando el impacto de los usuarios móviles en la plataforma y su atractivo para anunciantes. Los teléfonos móviles son la vía principal por las que las personas se conectan a Twitter. Un 60% de los usuarios activos de Twitter (200 millones de personas) inician sesión desde un dispositivo móvil al menos una vez al mes.
¿Cómo se diferencian los usuarios que acceden a Twitter desde los móviles de los que lo hacen siempre desde la web? Social Money Transfer Service Azimo Adds Facebook Integration To Squeeze Western Union. Azimo, the UK-based social money transfer service aiming to disrupt an industry dominated by legacy players Western Union and Moneygram, is rolling out integration with Facebook to make it easy for users of the uber-social network to send money to one another. A first for the remittance industry, claims the company, with perhaps PayPal-to-PayPal transfers coming closest.
Using Azimo to send money via Facebook works as follows: The sender invites their intended recipient to sign up to Azimo via an automatically sent Facebook message. The recipient then logs into Azimo's Facebook app and fills out their details, including where they want the money sent to, which could be one of the 150,000 payout desks in the 125 countries supported, a mobile phone 'top up', or a bank account. And since the recipient fills out that crucial information, those details are kept hidden from the sender, while the company claims that less mistakes are likely, too.
LEGO Prioritizes Customer Service With Letter To 7-Year Old Boy. 72+ of the best social media campaigns worldwide. Top 50 case-studies of airlines and airports excelling in social media. Digital Strategy Toolbox. FedEx Delivers Ship To Friends Facebook App. 62% Of People Use Social Networks On A Second Screen While Watching TV [Infographic] The Business Social Media Landscape (Infographic)
When Free Stuff Leads You Astray. Mercedes Lets Fans Decide The Action In Their TV Ads In Real Time. Witnessing a real-time record-breaking social media spectacle. Adolescentes, madres y seniors en Social Media en @thecommunityman. 13 increíbles estadísticas sobre Social Media en una infografía. Island X - the international lifestyle and relocation network. Publicaciones. Ben Elowitz: Content Is No Longer King - Ben Elowitz - Voices.
Introduces Mobile Metrix 2.0, Revealing that Social Media Brands Experience Heavy Engagement on Smartphones. How Are Affluent Males Using Digital, Online and Social Media. It's a Small World After All: The Top Global Web Trends. Social media marketing report shows TV is working to push mobile commerce. Pinterest as Free Market Research - Grant McCracken. Meet Generation C: The Connected Customer. Hotels on Facebook - time to understand the difference between Likes and real Fans. Why Social Media Doesn't Work (and What You Can Do About It) 69 percent of millennials rarely visit Facebook fan pages. What Is The Psychology Of The Socially-Conscious Consumer? 62% Of Adults Worldwide Now Use Social Media (But Email Is Still More Popular) [STUDY]
The Digital↔Physical: On building Flipboard for iPhone and Finding Edges for Our Digital Narratives — by Craig Mod. How to use your brain for social success. Goodbye Social Media, Hello Social Life. The 6 Pillars Of Social Commerce: Understanding The Psychology Of Engagement. Social media is about social science not technology. 24 Hours on the Internet  Así te ha manipulado el vídeo de Kony 2012 >> Trending Topics.
Ads with Friends: Analyzing the Benefits of Social Ads. Meet Generation C: The Connected Customer. App turns Twitter streams into personalized radio stations. Boutique hotels bid to host travelers with unique, tailored experiences. Say hello to Spotify Apps. Ernan Roman: Starbucks -- 3 Twitter Best Practices. Millennials Trust Purchase Decisions to UGC Over Friends and Family. Noise off festival. Solve For X. Mobile upsets TV in Super Bowl marketing showdown. Pinterest is quietly generating revenue by modifying user submitted pins. Five Trends: How Brands Integrated Social, Mobile, and Web into 2012 Super Bowl Advertisements. How Pinterest Is Becoming the Next Big Thing in Social Media for Business.
Goodbye Traditional Ads, Hello Social Video - The Central Institute Of Australia. TED. What do consumers want from social? Why mobile payments still haven't revolutionized retail. Zynga Tests 'Reward Advertising' in CityVille. 10 Ways Social Media is Transforming our Culture and World. Social Media Milestones. What's An Average Day on Facebook? [Infographic]
---