Android Programming
Services
SQLITE. HTML5 ANDROID. The New Boston A Complete Android Tutorial. How To Debug Android Applications in Eclipse. Google Talks. Camera. Units of measurement - Difference of px, dp, dip and sp in android. SPINNERS. Android Application Development Tutorial - 118 - How to Create a Dialog. Atajos de teclado más utilizados para Eclipse. Fecha de publicación del tutorial: 2010-05-25 Atajos de teclado más utilizados para Eclipse 0.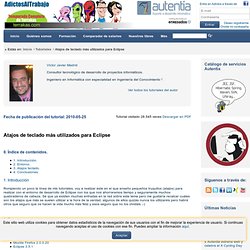 Android: Content Providers (Part 01) ANDROID PROGRAMMING INCLUYE WIDGETS. Con el Curso de Programación en Android de sgoliver.net aprenderás a crear desde cero tus propias aplicaciones para dispositivos móviles con sistema operativo Android.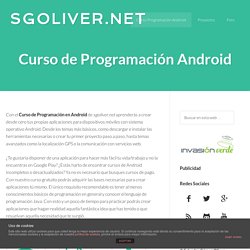 Desde los temas más básicos, como descargar e instalar las herramientas necesarias o crear tu primer proyecto paso a paso, hasta temas avanzados como la localización GPS o la comunicación con servicios web. ¿Te gustaría disponer de una aplicación para hacer más fácil tu vida/trabajo y no la encuentras en el Market? SDK. Before installing the Android SDK, you must agree to the following terms and conditions.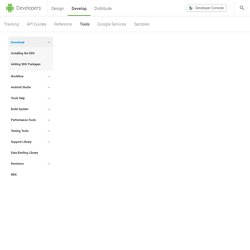 This is the Android Software Development Kit License Agreement 1. Introduction 1.1 The Android Software Development Kit (referred to in this License Agreement as the "SDK" and specifically including the Android system files, packaged APIs, and Google APIs add-ons) is licensed to you subject to the terms of this License Agreement. This License Agreement forms a legally binding contract between you and Google in relation to your use of the SDK. 1.2 "Android" means the Android software stack for devices, as made available under the Android Open Source Project, which is located at the following URL: as updated from time to time. 1.3 "Google" means Google Inc., a Delaware corporation with principal place of business at 1600 Amphitheatre Parkway, Mountain View, CA 94043, United States.
Edu4java Home. Working with Images in Your Android App Development. ABD INSTALL APP EN EL EMULADOR (VIEJO) Hola!!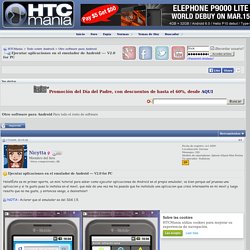 Éste es mi primer aporte, un mini tutorial para saber como ejecutar aplicaciones de Android en el propio emulador, va bien porque así pruevas una aplicacion y si te gusta pues la instalas en el movil, que más de una vez me ha pasado que he instalado una aplicacion que creia interesante en mi movil y luego resulta que no me gusta, y entonces venga, a desinstalar! NOTA: Aclarar que el emulador es del SDK 1.5. Istrucciones para ejecutar el emulador de Android. 1- Descargar el Android-Emulator desde Descomprimir el archivo rar donde quieras, preferentemente en el disco duro.3.
---