Music
DEPARTMENT OF EAGLES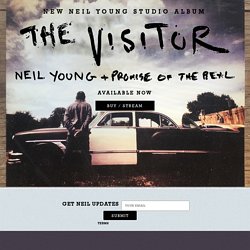 As big business suffers from Climate Change, carbon abuse will come to be seen as un-American. Capitalism will turn on Climate Change as an enemy of the American way of life. A carbon tax is inevitable. Neil Young California March 2014 The following excerpt is from the New York Times: WASHINGTON -- Coca-Cola has always been more focused on its economic bottom line than on global warming, but when the company lost a lucrative operating license in India because of a serious water shortage there in 2004, things began to change.
Fleet Foxes
MY MORNING JACKET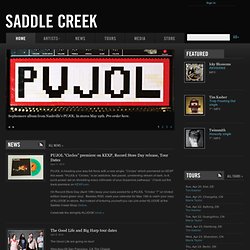 PUJOL "Circles" premiere on KEXP, Record Store Day release, Tour Dates April 11, 2014 PUJOL is heading your way full force with a new single, "Circles" which premiered on KEXP this week: "PUJOL's "Circles," is an addictive, fast-paced, unrelenting stream of dark, lo-fi, punk-power set on shredding every millimeter of your dopamine pathways." Check out the track premiere on KEXP.com.
Saddle Creek Records
Conor Oberst and Dawes will release a limited edition seven-inch for Record Store Day (Saturday, April 19). This exclusive split will feature Dawes covering the Bright Eyes song "Easy/Lucky/Free" and Conor Oberst covering Dawes' "Million Dollar Bill." More information on the release can be found via Record Store Day's official website.
Conor Oberst | Bright Eyes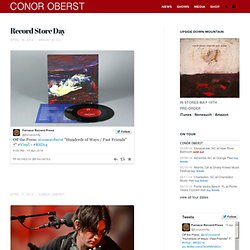 sweet adeline on facebook kinda been finding it easier to update elliott/site news on the sweet adeline facebook page lately. please visit it for the latest info while i figure out changes to the site! you don't have to be a member of facebook to see the page! to visit please click below: http://www.facebook.com/sweetadelinenet a day of rememberence and check out killrockstars.com for news about elliott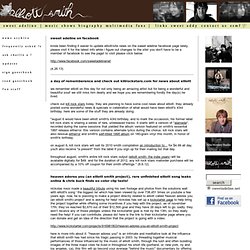 sweet adeline | the official elliott smith site - by fans
Tuesday 28/02/2014: Last night artists gathered to celebrate the 50th anniversary of The Beatles first appearance on the Ed Sullivan show during the band's first visit to the US. The incredible list of musicians and artists who joined Paul and Ringo on stage included Stevie Wonder, Katy Perry, John Mayer, Alicia Keys, Dhani Harrison performing alongside Joe Walsh and Jeff Lynne, Pharrell Williams singing with the cast of The Beatles LOVE show, Annie Lennox and Dave Stewart reunited as Eurythmics, Sean Penn, Kate Beckinsale and Johnny Depp, L L Cool J, Monty Python's Eric Idle, Ed Sheeran, Dave Grohl and Maroon 5. The two-hour show will tape on Monday, Jan. 27, 2014, the day after the 56th Annual GRAMMY Awards, and will be broadcast in HDTV and 5.1 surround sound on the CBS Television Network Sunday, Feb. 9, 2014, from 8–10 p.m. ET/PT — exactly 50 years to the day, date and time of the original event.