Blogs
Symbaloo | Access your bookmarks anywhere. Free Technology for Teachers. Blogs. "The future belongs to those who see possibilities before they become obvious.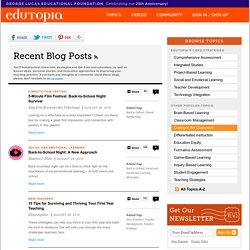 " -- John Scully "Looking up gives light, although at first it makes you dizzy. " -- Rumi Can you teach students to be visionary? Can visionary thinking even be taught? Most of us might believe that being able to imagine possibility in the way that moves and inspires people is a mystical or unknowable human quality. Yet, by helping our students see themselves as agents of imagination and members of communities larger than themselves, teachers can create a foundation for a visionary curriculum. Stump The Teacher. Mathschat - home. 6thchat - home. APPitic - 1,300+ EDUapps. Free Educational Videos for K-12 Students. 5thchat - home. Free Educational Videos for K-12 Students. No School - All Schools! "No School - All Schools - Boston""No School - All Schools - Canton""No School - All Schools - Walpole" Yippee!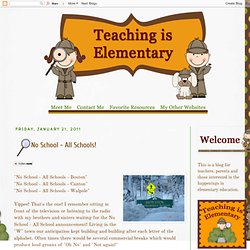 That's the one! I remember sitting in front of the television or listening to the radio with my brothers and sisters waiting for the No School - All School announcement! Living in the "W" town our anticipation kept building and building after each letter of the alphabet. Inside the classroom, outside the box! "Great discoveries and improvements invariably involve the cooperation of many minds.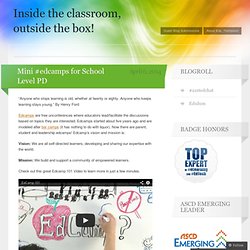 I may be given credit for having blazed the trail, but when I look at the subsequent developments I feel the credit is due to others rather than to myself." Alexander Graham Bell Guest Blog Post by Wayne Fisher, Elementary Science Specialist There is an urban myth that the only day you can balance an egg on its end is during the spring equinox, which happened to be March 20th at 12:57 pm. Diary of a Public School Teacher! 2 Apr Childhood, Where Art Thou?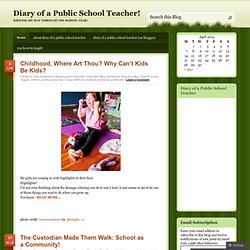 Why Can't Kids Be Kids? My girls are coming in with highlights in their hair. Rigor is NOT a Four-Letter Word. Conversations: Learning and Growing.
---