Projects
Bentwood Coffee Table - by Jnits. Hand Cut Double Dovetail Experiment - by Woodhacker. After admiring the double and double-double dovetail joints that are capable with the Incra and other jigs, I started thinking, "Why not try this by hand?"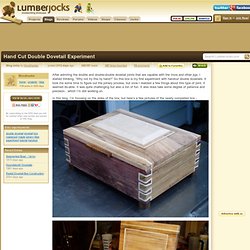 So this box is my first experiment with handcut double dovetails. It took me some time to figure out the joinery process, but once I realized a few things about this type of joint, it seemed do-able. - StumbleUpon. Quilting patterns from independent designers. Hand Embroidered Note : Daily source of DIY craft projects and inspiration, patterns, how-tos | Craftzine.com. How To Eat A Potted Plant | Funny Dumps. Living Moss Carpet Adds a Touch of Green to Your Bathroom | Inhabitat - Green Design Will Save the World. Most gawked all-time. Perfect Summer Bangle. Here's a fun tutorial on how to make a message bangle that's one-of-a-kind, done in the sun, waterproof and weatherproof.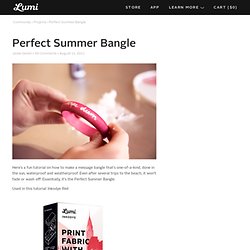 Even after several trips to the beach, it won't fade or wash off! Essentially, it's the Perfect Summer Bangle. Glossary.
Random
Cheap Gifts. Chain Mail. Crochet.
---