MNP Benchmarks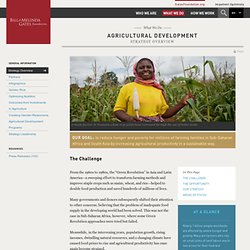 We invest in the following strategic areas that we believe will help address the challenges and local realities faced by farming families in the developing world. Research and Development Researchers are seeking ways to combat crop disease such as those infecting the cassava plants on this Tanzania farm. We support research to develop more productive and nutritious varieties of the staple crops grown and consumed by farming families. These include varieties adapted to local conditions that deliver specific benefits farmers seek, such as increased yields, better nutrition, and tolerance to drought, flood, and pests. We fund research to discover ways to better manage soil and water resources and reduce crop loss due to spoilage, weeds, pests, disease, and other threats.
Women in Agriculture
Carbonica is a leading carbon offset provider for businesses. We originate the best projects to help you lower your emissions through credible and registered carbon offsets, following internationally recognized standards such as the Gold Standard, VCS and CCB. Individuals can purchase carbon offsets via our Carbon Footprint Calculator.* Businesses are urged to contact us for a customized solution.
Carbonica | Carbon Offsets | Carbon Trading | Carbon Management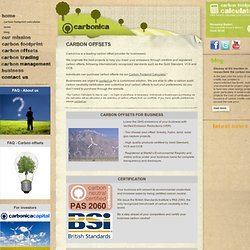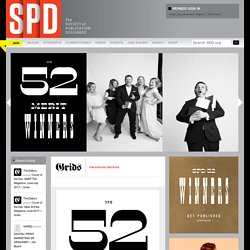 Bloomberg Businessweek Goes Inside the Font World's $20 Million Divorce 04.09.14 posted by The Editors Time for a coffee break, everyone, and your Wednesday longread: Bloomberg Businessweek has published the most detailed yet coverage about the lawsuit Tobias Frere-Jones filed against Jonathan Hoefler in January of this year, and their subsequent...divorce is just the only word that feels right here. For 15 years, Frere-Jones and Hoefler seemed charmed.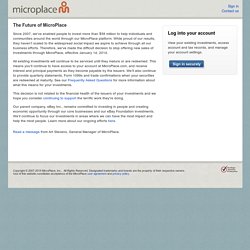 Before you can start investing on MicroPlace, it's important that you understand the nature of these investments and whether they meet your investment objectives. To help you understand whether an investment available on MicroPlace is appropriate for you, please review the following: 1. Like many investments, securities available on MicroPlace have certain risks as outlined in the prospectus.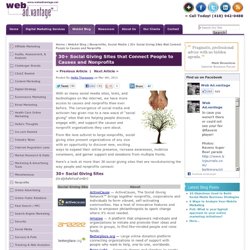 30+ Social Giving Sites that Connect People to Causes and Nonprofits
With so many social media sites, tools, and technologies on the internet, we have more access to causes and nonprofits than ever before. The convergence of social media and activism has given rise to a new wave of "social giving" sites that are helping people discover, engage with, and support the causes and nonprofit organizations they care about. From the lone activist to large nonprofits, social giving sites present organizations of any size with an opportunity to discover new, exciting ways to expand their online presence, increase awareness, mobilize volunteers, and garner support and donations from multiple fronts. Here's a look at more than 30 social giving sites that are revolutionizing the way people and nonprofits connect: (in alphabetical order) Do you know of any other great social giving sites?
20+ Non Profit Websites Designed for Social Causes: Need to be promoted
58 Flares Twitter 47 Facebook 1 Google+ 9 StumbleUpon 1 Pin It Share 0 58 Flares × Whenever we think about non-profit organizations, the most common thought that comes in our mind is an organization with the limited budget and the entity which is enthusiastically participated in so many social activities. For such organizations, raising funds through charity, donations, etc. is the major way to gather capital to be utilized for social causes.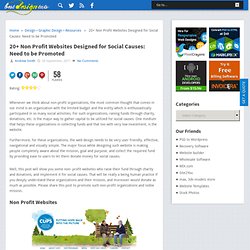 New York City Coalition Against Hunger |
THRIVE: Do More | ONE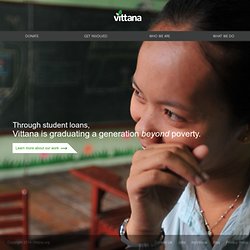 I believe the meaning of life is to help others. Thank you so much for the support you give young people. This is my dream, but I can't afford it alone. I want to help the progress of education in my country.