MNP Benchmarks
Women in Agriculture. We invest in the following strategic areas that we believe will help address the challenges and local realities faced by farming families in the developing world.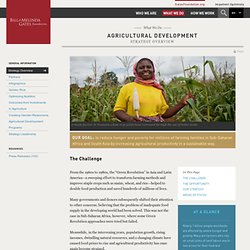 Research and Development Researchers are seeking ways to combat crop disease such as those infecting the cassava plants on this Tanzania farm. We support research to develop more productive and nutritious varieties of the staple crops grown and consumed by farming families. These include varieties adapted to local conditions that deliver specific benefits farmers seek, such as increased yields, better nutrition, and tolerance to drought, flood, and pests. We fund research to discover ways to better manage soil and water resources and reduce crop loss due to spoilage, weeds, pests, disease, and other threats.
Your Complete Guide to New York City's Central Park | CentralPark.com. Carbonica | Carbon Offsets | Carbon Trading | Carbon Management. SPD.ORG. Investments that make you proud | microfinance at MicroPlace. 30+ Social Giving Sites that Connect People to Causes and Nonprofits. With so many social media sites, tools, and technologies on the internet, we have more access to causes and nonprofits than ever before.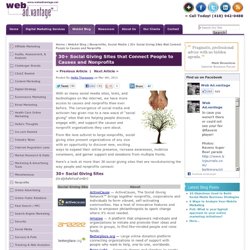 The convergence of social media and activism has given rise to a new wave of "social giving" sites that are helping people discover, engage with, and support the causes and nonprofit organizations they care about. From the lone activist to large nonprofits, social giving sites present organizations of any size with an opportunity to discover new, exciting ways to expand their online presence, increase awareness, mobilize volunteers, and garner support and donations from multiple fronts. Here's a look at more than 30 social giving sites that are revolutionizing the way people and nonprofits connect: (in alphabetical order) Do you know of any other great social giving sites? 20+ Non Profit Websites Designed for Social Causes: Need to be promoted. 58 Flares Twitter 47 Facebook 1 Google+ 9 StumbleUpon 1 Pin It Share 0 58 Flares × Whenever we think about non-profit organizations, the most common thought that comes in our mind is an organization with the limited budget and the entity which is enthusiastically participated in so many social activities.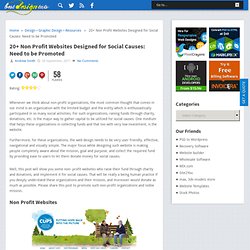 For such organizations, raising funds through charity, donations, etc. is the major way to gather capital to be utilized for social causes. New York City Coalition Against Hunger | THRIVE: Do More. Global Oneness Project | Sharing Films, Media and Educational Materials About Interconnectedness. Not For Sale: End Human Trafficking and Slavery.
Www.vittana.org. Change.org - Start, Join, and Win Campaigns for Change.
---