Europe
Mystical, Magical & Magnificent Monasteries in Meteora (20 Pics) The caves in Meteora, Greece, had inhabitants for fifty millennia, but due to raids, "hermit monks" moved to the safety of sandstone rock pinnacles in the 9th century and began building monasteries.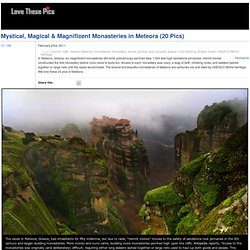 More monks and nuns came, building more monasteries perched high upon the cliffs. Wikipedia reports, "Access to the monasteries was originally (and deliberately) difficult, requiring either long ladders lashed together or large nets used to haul up both goods and people. This required quite a leap of faith — the ropes were replaced, so the story goes, only 'when the Lord let them break.'" UNESCO World Heritage says, "The net in which intrepid pilgrims were hoisted up vertically alongside the 1,224 ft. cliff where the Varlaam monastery dominates the valley symbolizes the fragility of a traditional way of life that is threatened with extinction." Photo #1 by Vaggelis Vlahos. Top 10 Things to Do in Madrid on a Backpacker's Budget. How to See the World: Art of Travel; European and World Backpacking; On $25 a Day or Less. Backpack Europe on Budget--Backpacking and travel info for budget travelers. Places to see before you die, Italy. Top selection of places in Italy to see at least once in life Top 10 places to see in Italy before you die!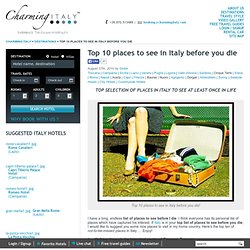 I have a long, endless list of places to see before I die. I think everyone has its personal list of places which have captured his interest. Top 10 Free Things to Do in Spain.
---