Other software
CIShell Manual
Sci2 Tutorial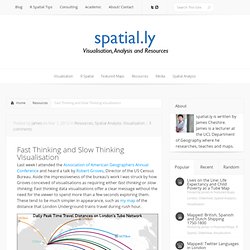 Fast Thinking and Slow Thinking Visualisation
Last week I attended the Association of American Geographers Annual Conference and heard a talk by Robert Groves , Director of the US Census Bureau. Aside the impressiveness of the bureau's work I was struck by how Groves conceived of visualisations as requiring either fast thinking or slow thinking . Fast thinking data visualisations offer a clear message without the need for the viewer to spend more than a few seconds exploring them. These tend to be much simpler in appearance, such as my map of the distance that London Underground trains travel during rush hour.
Jeffrey Heer, Stanford University Ben Shneiderman, University of Maryland, College Park The increasing scale and availability of digital data provides an extraordinary resource for informing public policy, scientific discovery, business strategy, and even our personal lives. To get the most out of such data, however, users must be able to make sense of it: to pursue questions, uncover patterns of interest, and identify (and potentially correct) errors.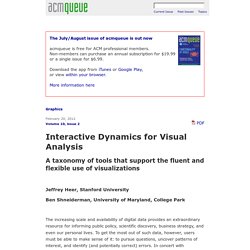 . La conférence annuelle Malofiej est un des évènements majeurs des domaines du data journalism, de la data visualization et de l'infographie . . La version 2013 de la conférence vient s'est terminée le 15 Mars, elle a réuni pendant 5 jours à Pampelune des professionnels et universitaires de la discipline du design de l'information.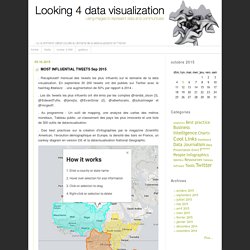 explore, collaborate and publish Recent advances in web-enabled graphics technologies have the potential to make a dramatic impact on developing highly interactive Geovisual Analytics applications for the Internet. An emerging and challenging application domain is geovisualization of regional (sub-national) statistics.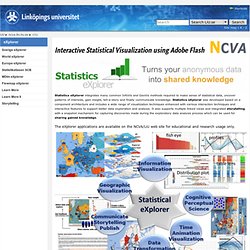 Stat eXplorer
Search : Weave Wiki Start page Index by title Index by date
Weave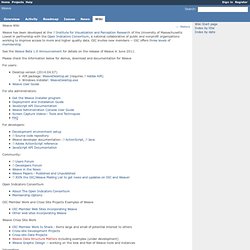 IRobotSoft -- Visual Web Scraping and Web Automation Tool for FREE
Web-Harvest