Installations plastiques
bosch & simons
SONIC ENCOUNTER, SUZHOU, 2013 Curated by Feng Boyi Jinji Lake Art Museum, Suzhou, China
Sound Installation « Zulmahmod's Blog
Workshop participant at The Crystal World Beginning next week I'll be a participant at a special workshop called The Crystal World, investigating the artistic and musical potential in, amongst others, high heat, high voltage, and toxic processes. "Crystalline structures are extracted from the earth, and re-crystallized through industrial process as equally ordered computers. In their technological redundancy, precious metals are in turn extracted or de-crystallized within cycles which further destroy life and leach a dangerous chemistry into the planet. "Mimicking the often dangerous processes undertaken in these extractions by the world's dispossessed, The Crystal World Open Laboratory proposes to expand these industrialised interventions through experimentation in the formation of novel crystal geologies aimed to etch unexpected psycho(geo)physical distortions and contingencies into our contemporary crystalline cycles."
Works « Graham Dunning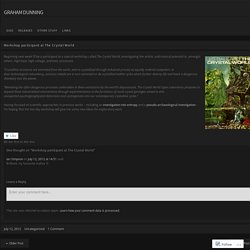 Introduction
Arno Fabre - site officiel
PAUL PANHUYSEN
Max Neuhaus
Ivan Abreu | works / Works
Jérôme Abel Webring : activités et liens
Eryck Abecassis
Boris Achour - Non-stop paysage, 2003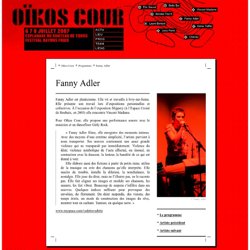 Oïkos Cour / Fanny Adler
Fanny Adler est plasticienne. Elle vit et travaille à Ivry-sur-Seine.
100 green fluorescent lamps and a sound element (the sound of a large space full of people and the periodic passage of a squadron of jet aircraft)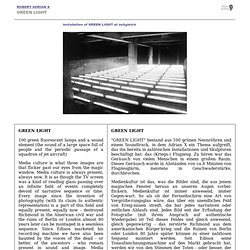 Robert Adrian X - GREEN LIGHT
Saâdane Afif
Klanginstallationen by Richard Aicher - Sound Installations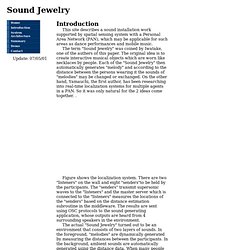 Introduction This site describes a sound installation work supported by spatial sensing system with a Personal Area Network (PAN), which may be applicable for such areas as dance performances and mobile music.
Sound Jewlry
Azimuth 2007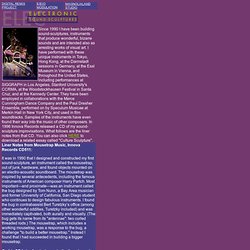 Liner Notes from Mousetrap Music, Innova Records CD511: It was in 1990 that I designed and constructed my first sound-sculpture, an instrument called the mousetrap, out of junk, hardware, and found objects mounted on an electro-acoustic soundboard.
Sound Sculpture
duo d'interventions sonores formé de Rodolphe Alexis et Valérie
Nigel Helyer and Simo Alitalo
Nigel Helyer, Australia's foremost sound artist, has been prominently involved in all SoundCulture festivals, been included in Perspectas and Sydney Biennales, and has contributed outstanding sound installations to two SoundWatch festivals.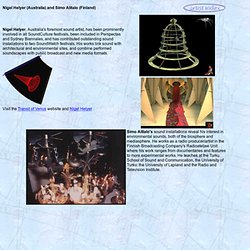 - www. cycliq .org -
Laura Phillips "Laurie" Anderson (born June 5, 1947[1]) is an American experimental performance artist, composer and musician who plays violin and keyboards and sings in a variety of experimental music and art rock styles.
Laurie Anderson
ENBA Lyon // post-diplôme art 2009/10
Auditory Tactics