Gardening
How to Grow Green Onions Indefinitely. I'm officially dubbing this the week of Scallions and Pinterest.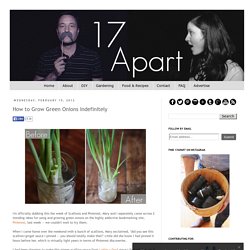 Mary and I separately came across 2 trending ideas for using and growing green onions on the highly addictive bookmarking site, Pinterest, last week — we couldn't wait to try them. When I came home over the weekend with a bunch of scallions, Mary exclaimed, "did you see this scallion/ginger sauce I pinned — you should totally make that! " Little did she know I had pinned it hours before her, which is virtually light years in terms of Pinterest discoveries. I had been planning to make this ginger scallion sauce from Lottie + Doof since I first set eyes on it.
Find my own variation on the recipe newly published on E.A.T. — this is one I'd definitely recommend trying. Sites-Gardeners-Site. Basil is one of the most versatile herbs you can grow.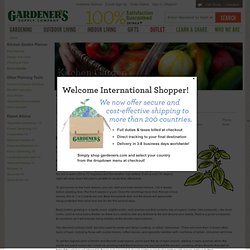 Freshly picked leaves can be added to salads, sandwiches and sauces, and can be made into pesto or dried for use in the winter. Basil has a lower germination rate than many seeds, averaging just 60%. Fortunately, most seed packets contain many more seeds than you'll need. Basil is a hot weather plant and is very susceptible to frost damage. Growing Your Own Garlic - Planting Growing Harvesting and Storing Garlic.
As far as I'm concerned, garlic gets the blue ribbon for growing your own.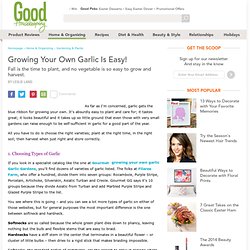 It's absurdly easy to plant and care for; it tastes great; it looks beautiful and it takes up so little ground that even those with very small gardens can raise enough to be self-sufficient in garlic for a good part of the year. All you have to do is choose the right varieties; plant at the right time, in the right soil; then harvest when just right and store correctly. 1. Choosing Types of Garlic. RHS Plant Selector Results. Top Ten Most Nutritious Vegetables and How to Grow Them in Your Garden.
A perfectly ripe, juicy tomato, still warm from the sun.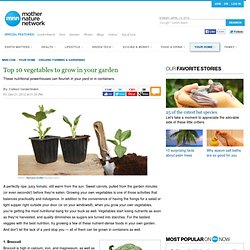 Sweet carrots, pulled from the garden minutes (or even seconds!) Before they're eaten. Growing your own vegetables is one of those activities that balances practicality and indulgence. Make your own paper seed packets (origami) 5.3 years ago seed saving, seed storing When I posted about my adventures in saving onion seeds I mentioned the desire to purchase some small envelopes to hold the seeds. jimmycrackedcorn promptly responded with a comment scolding me for my lack of cheapness.
Which I shamefully have to agree completely and took his advice and decided to make some of my own. I followed the directions from the ICPS Seed Bank though I did do a little improvising to make the packets a little smaller and I got lazy on my folding so I have provided the cheap/lazy directions below. SproutRobot.
---