Photoshop Tutorials
Adobe Creative Suite Tutorials and Reviews for Photographers, Designers, Illustrators and Developers | Layers Magazine. 30 Awesome Photoshop CS4 Tutorials | Photoshop Tutorials, Photoshop Training, design and Inspiration. 40 Cool Abstract and Background Photoshop Tutorials. Attractive backgrounds to any graphics, banners or ads are relatively important.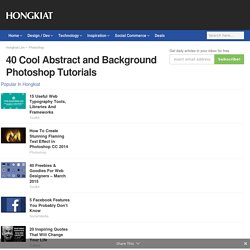 Getting the correct theme, whether it's an abstract art, vector, or texture pattern, it somehow makes the entire artwork looks more interesting. Some might not have noticed the great roles background images have played. For instance, forumites uses cool design background before messages in their forum signatures; some product graphic advertisements uses light subtle background to help create focus point; your website and desktop need nice backdrops too. Sometimes when I get a little limited by the amount of content I can insert onto an ad design, I'll paint a light background behind it so the entire creative don't look so empty. Photoshop Textures | 40 Excellent Photoshop Tutorials for Textures and Backgrounds. Textures can be extremely useful resources for web and graphic designers.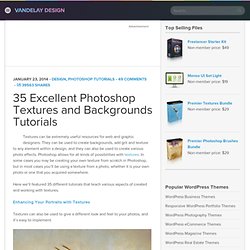 They can be used to create backgrounds, add grit and texture to any element within a design, and they can also be used to create various photo effects. Photoshop allows for all kinds of possibilities with textures. In some cases you may be creating your own texture from scratch in Photoshop, but in most cases you'll be using a texture from a photo, whether it is your own photo or one that you acquired somewhere. Here we'll featured 35 different tutorials that teach various aspects of created and working with textures. Enhancing Your Portraits with Textures. Adobe Photoshop Tutorials from Beginner to Advanced. 22 Best Photoshop Text Effect Tutorials. Typography means a lot in any medium kind of presentation.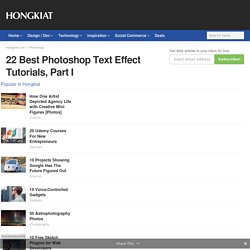 Whether it's a logo, banner or just a title; being able to inject creativity into it not only help in delivering the message across, it also leaves solid impression on the viewer. Good typography design is not easy, or should I say getting the type match and speaks for the product is often a very challenging job. Here are some of the best Photoshop text effects tutorials on the web, and as usual it's the creativity that counts. Photoshop Tutorials. Photoshop Photo Editing Tutorials - Photo Retouching Tutorials. Photoshop. 40 Useful Photoshop Tutorials for Photo Manipulation. Since our last Photoshop tutorial, Photoshop Tutorials: Compilation of some stunning text effects, we got so much positive feedback that we decided to put together another collection of tutorials concentrating on photo manipulation.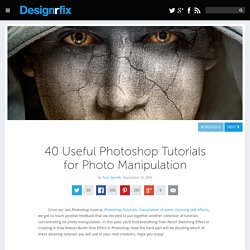 In this post, you'll find everything from Pencil Sketching Effect to Creating A Slow Motion Bullet Shot Effect in Photoshop. Now the hard part will be deciding which of these amazing tutorials you will use in your next creations. Hope you enjoy! Photoshop Extract Hair Tutorial* Photo Effects | 1stwebdesigner - Graphic and Web Design Blog. It may seem unimportant, but for a web designer, the ability to produce good-looking photos using Adobe Lightroom is an edge, particularly in attracting more clients.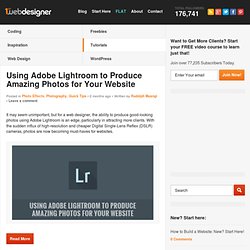 With the sudden influx of high-resolution and cheaper Digital Single-Lens Reflex (DSLR) cameras, photos are now becoming must-haves for websites. Read More. 150+ beautiful photoshop patterns brushes and textures for download - WittySparks.
---