Debmich
The chair
Belly Dance Articles Reviews Middle Eastern Music Dance The Gilded Serpent
Those of you who live in or visit the Mission are likely familiar with Lone Star Swan, the homeless poet and pigeon caretaker of 16th Street.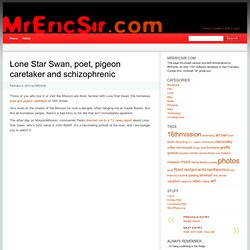 Lone Star Swan, poet, pigeon caretaker and schizophrenic » MrEricSir.com
Verse Daily: Web Monthly Archives
your lands State Park / National Park / National Forest / BLM / SHP / SVRA / OHV ... what's the difference? a simple explaination of your public lands & what you can expect to do on them.
Camp Clueless Guide to California Camping, Off the Beaten Path, California Campground Reservations
Hotel and Motel Specials
FPCE : Main - Gallery
Motts Miniatures Musuem and Dollhouse Shop
What's Here | Exhibits | Colleen Moore's Fairy Castle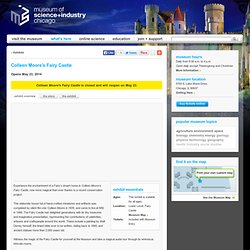 Exhibit Essentials
Amargosa Opera House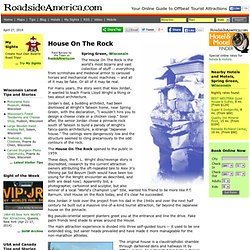 House On The Rock, Spring Green, Wisconsin
Spring Green, Wisconsin
Sequence 25 : Blake, William, 1757-1827. The book of Thel. [Lambeth] : Printed by Willm: Blake, 1789. Lowell EC75.B5815.793va. Houghton Library, Harvard University, Cambridge, Mass. Harvard University Library PDS
Max Planck Institute for the History of Science
ECHO
Sequence 13 : Blake, William, 1757-1827. The book of Thel. [Lambeth] : Printed by Willm: Blake, 1789. Lowell EC75.B5815.793va. Houghton Library, Harvard University, Cambridge, Mass. Harvard University Library PDS
Sequence 53 (Page p. 44): Blake, William, 1757-1827. Songs of innocence and of experience shewing the two contrary states of the human soul. [London] : The author and printer W. Blake, [1789-1794]. HEW 1.4.4. Harry Elkins Widener Collection, Harvard Unive
Galileo Galilei, Ms. Gal. 72
David's Yellow Cake Recipe
<em>Gourmet Live</em>'s First-Birthday Cake Recipe at Epicurious
Make cake layers: Heat oven to 350°F with racks in upper and lower third. Butter cake pans, then line bottoms with rounds of wax paper or parchment and butter the paper. Dust pans with additional flour and knock out excess.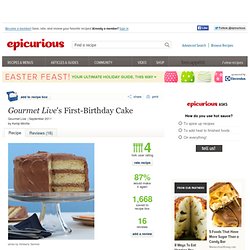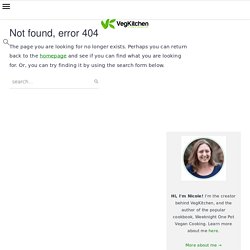 By Nava · On Dec 05, 2011 Rating: 4.5/ (15 votes cast) This week's recipe is a super-early sneak preview from my next book, which is about to go to the printer for publication next June.
Curried Sweet Potatoes with Chard and Chickpeas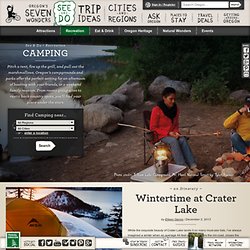 Cozy Camping- Yurts, Cabins and Tepees! - Travel Oregon
Pitch a tent, fire up the grill, and pull out the marshmallows. Oregon's campgrounds and parks offer the perfect setting for an afternoon of boating with your friends, or a weekend family reunion. From roomy group sites to rustic back country spots, you'll find your place under the stars.
The Katrina Cottage has been a favorite of mine for sometime but somehow I have not highlighted it here at the Tiny House Blog.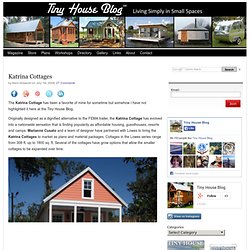 Katrina Cottages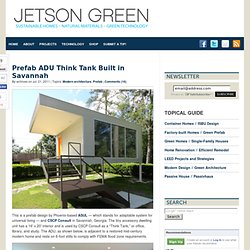 Prefab ADU Think Tank Built in Savannah
This is a prefab design by Phoenix-based ASUL — which stands for adaptable system for universal living — and CSCP Consult in Savannah, Georgia. The tiny accessory dwelling unit has a 16′ x 20′ interior and is used by CSCP Consult as a "Think Tank," or office, library, and study. The ADU, as shown below, is adjacent to a restored mid-century modern home and rests on 6-foot stilts to comply with FEMA flood zone requirements. Think Tank was finished in a "both build" scenario whereby ASUL fabricated and erected the steel frame, walls, and roof, and CSCP Consult, with its design director Celestino Piralla and general contractor Capers Martin, buttoned it up. The on-site build took about three weeks. The interior has FLOR floor tiles with about 44% overall recycled content, CB2 desks and storage, ISS industrial grade shelving, and eBay finds for the chairs, tulip table, and hanging lamp.
anna's nest: How To Make Lined Curtains
Making your own curtains is easy-peasy, and making lined curtains is just one step up from the plain ol' kind (and lined curtains last longer, provide a better screen for hot sunlight, and probably have some other benefits I'm not thinking of right now). One side-effect I didn't really expect is that making your own curtains is also very gratifying. I would recommend it on that point alone, although I also very much appreciate the economical points as well. In my world of work that is constantly undone, it's so nice to have something that I can look at that I can think to myself, "Yeah! I did that! And look!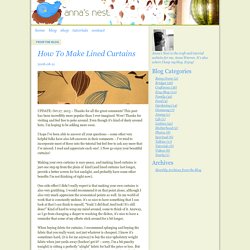 Thanks to all of you who have joined us all week for Flower Week! We had several other great flower ideas on our list, so we'll have to have a "part two" sometime soon. To end our week, here is one more cool flower we made and a bunch of other fabulous flower tutorials that we found out in blogland. Enjoy!
make a fabric flower and a flower tutorial round up