Debmich
Knitting
The chair. Belly Dance Articles Reviews Middle Eastern Music Dance The Gilded Serpent. Lone Star Swan, poet, pigeon caretaker and schizophrenic » MrEricSir.com. Those of you who live in or visit the Mission are likely familiar with Lone Star Swan, the homeless poet and pigeon caretaker of 16th Street.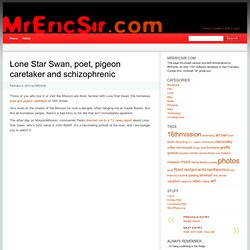 He's lived on the streets of the Mission for over a decade, often hanging out at Adobe Books. But like all homeless people, there's a sad story to his life that isn't immediately apparent. The other day on MissionMission, commenter Pedro directed me to a TV news report about Lone Star Swan, who's birth name is John Ratliff. It's a fascinating portrait of the man, and I encourage you to watch it. Verse Daily: Web Monthly Archives. Poetry Daily, a new poem every day.
Camp Clueless Guide to California Camping, Off the Beaten Path, California Campground Reservations. New to California?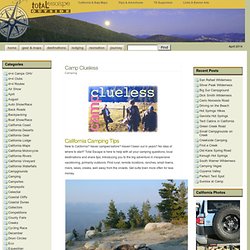 Never camped before? Haven't been out in years? FPCE : Main - Gallery. Motts Miniatures Musuem and Dollhouse Shop. What's Here | Exhibits | Colleen Moore's Fairy Castle. Images Exhibit Essentials Ages: This exhibit is suitable for all ages.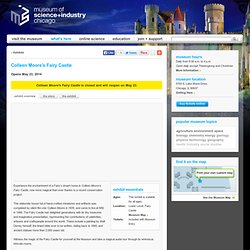 Location: Amargosa Opera House. House On The Rock, Spring Green, Wisconsin. Spring Green, Wisconsin The House On The Rock is the world's most bizarre and vast collection of stuff -- everything from scrimshaw and medieval armor to carousel horses and mechanical music machines -- and all of it may be fake.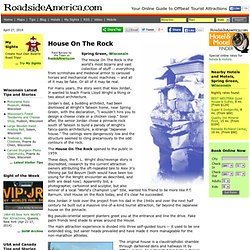 Or all of it may be real. For many years, the story went that Alex Jordan, Jr wanted to teach Frank Lloyd Wright a thing or two about architecture. Roadside America - Guide to Uniquely Odd Tourist Attractions. Shorpy Historical Photo Archive | Vintage Fine Art Prints.
PassiveAggressiveNotes.com. Sequence 25 : Blake, William, 1757-1827. The book of Thel. [Lambeth] : Printed by Willm: Blake, 1789. Lowell EC75.B5815.793va. Houghton Library, Harvard University, Cambridge, Mass. Harvard University Library PDS. Max Planck Institute for the History of Science. ECHO. Sequence 13 : Blake, William, 1757-1827. The book of Thel. [Lambeth] : Printed by Willm: Blake, 1789. Lowell EC75.B5815.793va. Houghton Library, Harvard University, Cambridge, Mass. Harvard University Library PDS. Sequence 53 (Page p. 44): Blake, William, 1757-1827. Songs of innocence and of experience shewing the two contrary states of the human soul. [London] : The author and printer W. Blake, [1789-1794]. HEW 1.4.4. Harry Elkins Widener Collection, Harvard Unive. Galileo Galilei, Ms. Gal. 72. David's Yellow Cake Recipe. <em>Gourmet Live</em>'s First-Birthday Cake Recipe at Epicurious.
Make cake layers: Heat oven to 350°F with racks in upper and lower third.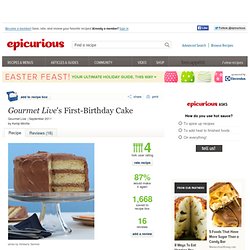 Butter cake pans, then line bottoms with rounds of wax paper or parchment and butter the paper. Dust pans with additional flour and knock out excess. Curried Sweet Potatoes with Chard and Chickpeas. By Nava · On Dec 05, 2011 Rating: 4.5/ (15 votes cast) This week's recipe is a super-early sneak preview from my next book, which is about to go to the printer for publication next June.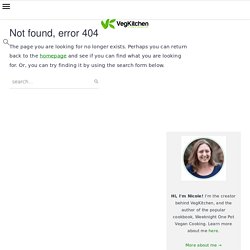 Cozy Camping- Yurts, Cabins and Tepees! - Travel Oregon. Katrina Cottages. The Katrina Cottage has been a favorite of mine for sometime but somehow I have not highlighted it here at the Tiny House Blog.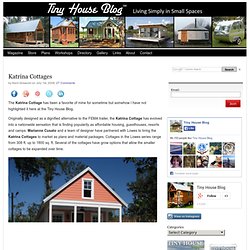 Originally designed as a dignified alternative to the FEMA trailer, the Katrina Cottage has evolved into a nationwide sensation that is finding popularity as affordable housing, guesthouses, resorts and camps. Marianne Cusato and a team of designer have partnered with Lowes to bring the Katrina Cottages to market as plans and material packages. Cottages in the Lowes series range from 308 ft. up to 1800 sq. ft. Several of the cottages have grow options that allow the smaller cottages to be expanded over time. Prefab ADU Think Tank Built in Savannah. This is a prefab design by Phoenix-based ASUL — which stands for adaptable system for universal living — and CSCP Consult in Savannah, Georgia.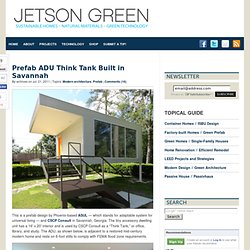 The tiny accessory dwelling unit has a 16′ x 20′ interior and is used by CSCP Consult as a "Think Tank," or office, library, and study. The ADU, as shown below, is adjacent to a restored mid-century modern home and rests on 6-foot stilts to comply with FEMA flood zone requirements. Think Tank was finished in a "both build" scenario whereby ASUL fabricated and erected the steel frame, walls, and roof, and CSCP Consult, with its design director Celestino Piralla and general contractor Capers Martin, buttoned it up.
The on-site build took about three weeks. The interior has FLOR floor tiles with about 44% overall recycled content, CB2 desks and storage, ISS industrial grade shelving, and eBay finds for the chairs, tulip table, and hanging lamp. Anna's nest: How To Make Lined Curtains. UPDATE: Oct 27, 2013 – Thanks for all the great comments!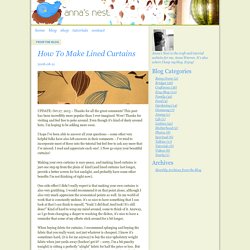 This post has been incredibly more popular than I ever imagined. Wow! Thanks for visiting and feel free to poke around. Even though it's kind of dusty around here, I'm hoping to be adding more soon. I hope I've been able to answer all your questions – some other very helpful folks have also left answers in their comments – I've tried to incorporate most of these into the tutorial but feel free to ask any more that I've missed. Make a fabric flower and a flower tutorial round up. Thanks to all of you who have joined us all week for Flower Week!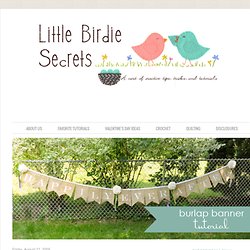 We had several other great flower ideas on our list, so we'll have to have a "part two" sometime soon. To end our week, here is one more cool flower we made and a bunch of other fabulous flower tutorials that we found out in blogland. Enjoy!
---