Internet Tips and Tricks
Get flash to fully experience Pearltrees
Even as the Web has become more entertaining--and certainly better looking--over the past 15 years, it has also become much more useful and practical, as the 100 sites in this feature will demonstrate. I've organized the sites in the list by the type of task they help you with. It is not a ranking; in each category I recommend sites that specialize in a different area than the others.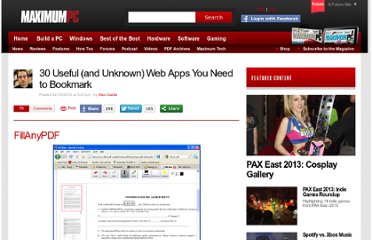 FillAnyPDF FillAnyPDF is a fairly simple web app which allows you to upload a PDF file, then easily write on it wherever you want. This allows you to easily fill out any form, even if they're not in an editable PDF form. You can also share your blank form with others, so you can collect forms from a group easily.
The term 'geek', once used to label a circus freak, has morphed in meaning over the years. What was once an unusual profession transferred into a word indicating social awkwardness. As time has gone on, the word has yet again morphed to indicate a new type of individual: someone who is obsessive over one (or more) particular subjects, whether it be science, photography, electronics, computers, media, or any other field. A geek is one who isn't satisfied knowing only the surface facts, but instead has a visceral desire to learn everything possible about a particular subject.
Over the last several years working in IT for various companies as a Systems Administrator, Network Administrator, and Help Desk professional, I've written and learned about many ways to increase the performance of not only my PC, but also of the many PCs on my networks ranging from Windows 98 to Windows Vista. In this article, I hope to compile a complete list of all the different methods and tricks that I've used to get the last bit of juice out of a slow PC. Whether you are using an old PC or the latest and greatest in hardware, you can still use some of these to make your PC run faster. Note that since I write two blogs, Help Desk Geek and Online Tech Tips, I have previously written about many performance tips already which I will link back to throughout. If I have not written about it, I've throw in a link to a relevant article from some of my other favorite sites.
[via onlinecolleges.net ] With classes, homework, and projects–not to mention your social life–time is truly at a premium for you, so why not latch onto the wide world that Google has to offer? From super-effective search tricks to Google hacks specifically for education to tricks and tips for using Gmail, Google Docs, and Google Calendar, these tricks will surely save you some precious time. Search Tricks
July 27, 2011, 8:24 AM — Google+ is all the rage right now. Even under its limited-invite "field trial" phase , the social sharing service is growing in leaps and bounds, with oodles of new users joining every day and even more champing at the bit to get in. Most of us, however, are only beginning to scratch the surface of what Google+ can do; like many Google products, G+ is brimming with advanced features and untapped tweaks. That's why I decided to put together this massive list of Google+ tips and tricks. It includes some of the best power-user pointers I've found both from my own experimentation and from following some really smart folks in the Google+ universe. For more G+ tips and general tech talk, be sure to join me on Google+ as well.