ART
Driving a WS2811 RGB LED pixel
Cool Neon EL Wire
www.streetsy.com/image/38116894153
Here is a peak into the assembly process of the LTC 1799 Precision Clock Module used in circuit bending crystal controlled digital cpu devices. As you can see we have eliminated the hand soldering of the SMD components with an T-962 IR Oven this makes each module come out clean and even, with no change of damaging the expensive LTC 1799 IC. There will be further improvements to the process in the coming months including a redesigned circuit board and a new testing pogo jig. This has been requested by several people.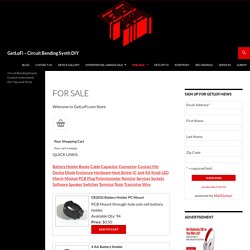 BA662 Clone in stock! It is said that the future is just pieces of the past stitched together, and so it is with the BA662. We reverse engineered the now-obsolete amplifier so you can stitch it into your projects, and give them a new future. Whether fixing an old synth or building a new filter with a distinct sound, the BA662 Clone can be your time machine.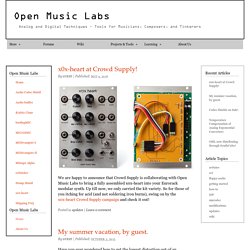 Open Music Labs
Dogecoin has got to be the most Internet thing ever. It's difficult to understand just what Dogecoin is without a solid understanding of recent Internet lore, though, so a bit of background information is helpful. Specifically, your two prerequisites are an understanding of both the recent "doge" meme and of cryptocurrencies. One of the most popular memes of late 2013 is the "doge" meme.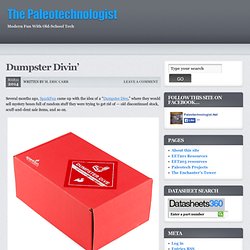 The Paleotechnologist - Modern Fun With Old-School Tech
nootropic design | Video Experimenter
The Video Experimenter requires using an enhanced version of the very useful TVout library. The enhancements allow the capture of video signal information in the TVout frame buffer so that primitive frame capture can be accomplished. The enhancements also facilitate the retrieval of embedded data streams from broadcasts. Download the enhanced TVout library here Installation: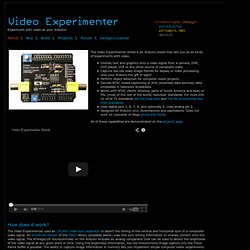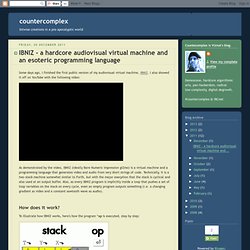 Some days ago, I finished the first public version of my audiovisual virtual machine, IBNIZ. I also showed it off on YouTube with the following video: As demonstrated by the video, IBNIZ (Ideally Bare Numeric Impression giZmo) is a virtual machine and a programming language that generates video and audio from very short strings of code.
IBNIZ - a hardcore audiovisual virtual machine and an esoteric programming language
Databending using Audacity « Antonio Roberts
Thanks to some help on the Audacity forum I finally know out how to use Audacity to databend. Previously I'd been using mhWavEdit, which has its limitations and just doesn't feel as familiar as Audacity. From talk on the various databending discussion boards I found that people would often use tools like Cool Edit/Adobe Audition for their bends. Being on Linux and restricting myself to things that run natively (i.e. not under Wine) presented a new challenge.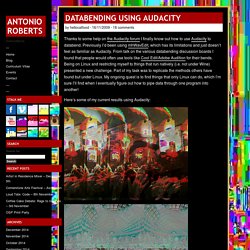 Futuristic and Unique Wallpaper with LED – LED Wallpaper | Home, Building, Furniture and Interior Design Ideas
Futuristic and Unique Wallpaper with LED This is an unique wallpaper designed by Ingo Maurer from Architects Paper. This is a great idea for wallpaper that will not only make your interior looks great but also illuminate your room.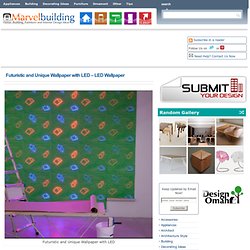 Carnovsky is a creative duo comprised of two Milan based artists, Francesco Rugi and Silvia Quintanilla. Their latest project RGB looks at image creation through a new lens. Each of the RGB images are made up of three layers represented by primary colors.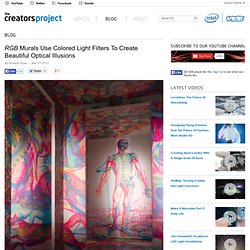 RGB Murals Use Colored Light Filters To Create Beautiful Optical Illusions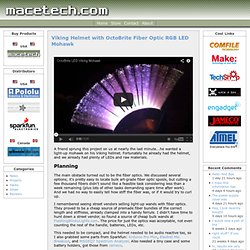 A friend sprung this project on us at nearly the last minute...he wanted a light-up mohawk on his Viking helmet. Fortunately he already had the helmet, and we already had plenty of LEDs and raw materials. Planning The main obstacle turned out to be the fiber optics. We discussed several options; it's pretty easy to locate bulk art-grade fiber optic spools, but cutting a few thousand fibers didn't sound like a feasible task considering less than a week remaining (plus lots of other tasks demanding spare time after work). And we had no way to easily tell how stiff the fiber was, or if it would try to curl up.
Viking Helmet with OctoBrite Fiber Optic RGB LED Mohawk | macetech.com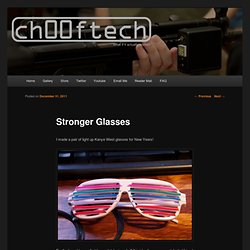 I made a pair of light up Kanye West glasses for New Years! Firstly, I want to say that I completely ripped off this idea from my very talented friend Jordan. The electrical design is mine, but the fashion design is all hers. I highly recommend you pay her blog a visit to see what kind of other stuff she's cooked up. Electrical Design
Stronger Glasses | ch00ftech Industries