Hacking automatization and bayesian networks
Network risk management using attacker profiling. Ram Dantu. 200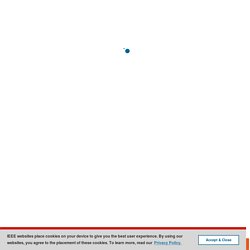 Security administration is an uphill task to implement in an enterprise network providing secured corporate services. With the slew of patches being released by Microsoft, HP and other vendors, system administrators require a barrage of tools for analyzing the risk due to these vulnerabilities. In addition to this, criticalities in patching some end hosts (e.g., in hospitals) raises serious security issues about the network to which the end hosts are connected.
Sign In
A language for inquiring about the run-time behaviour of programs. Jacques Cohen. 2006; Software: Practice and Experience - Wiley InterScience
Welcome to Backtrack-Linux.org, home of the highest rated and acclaimed Linux security distribution to date. BackTrack is a Linux-based penetration testing arsenal that aids security professionals in the ability to perform assessments in a purely native environment dedicated to hacking. Regardless if you're making BackTrack you Install BackTrack, boot it from a Live DVD or thumbdrive, the penetration distribution has been customized down to every package, kernel configuration, script and patch solely for the purpose of the penetration tester. Note: BackTrack Linux is no longer being maintained. Please check www.kali.org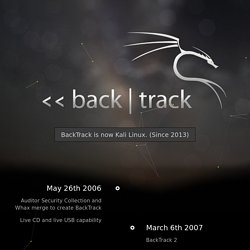 Main Page - Offensive-security.com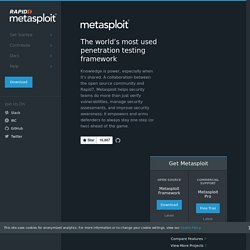 I really like that Metasploit always has the latest exploits and new functionality like the phishing campaigns is introduced all the time. I highly recommend the product. Spending billable hours efficiently is critical, and Metasploit Pro is a huge help on this. Time savings are the biggest reason for us to use Metasploit Pro. Jim O'Gorman, President at Offensive Security Metasploit Pro's level of automation allows for penetration tests of a massive scale.
National Vulnerability Database CVSS Scoring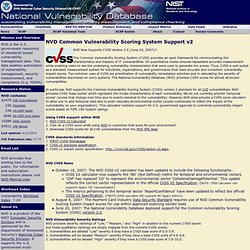 NVD Now Supports CVSS Version 2.0 (June 20, 2007)!! The Common Vulnerability Scoring System (CVSS) provides an open framework for communicating the characteristics and impacts of IT vulnerabilities. Its quantitative model ensures repeatable accurate measurement while enabling users to see the underlying vulnerability characteristics that were used to generate the scores. Thus, CVSS is well suited as a standard measurement system for industries, organizations, and governments that need accurate and consistent vulnerability impact scores. Two common uses of CVSS are prioritization of vulnerability remediation activities and in calculating the severity of vulnerabilities discovered on one's systems.