Technology
Good Ideas More and more, adult learners are finding the convenience and flexibility of online learning a match for their learning goals and busy lifestyles. Online degree programs, courses, and virtual universities targeting adult learners have proliferated in the past decade. Although students can easily locate an online course or degree program that's both convenient and accessible, they may face significant challenges in developing a new set of skills for this type of instruction.
How Students Develop Online Learning Skills (EDUCAUSE Quarterly) | EDUCAUSE | Leadership in Distance Education | Scoop.it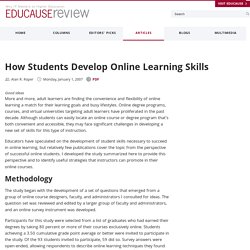 Key Takeaways To pursue a paradigm shift in education with limited finances, schools should consider taking advantage of ubiquitous cell phone technology for pedagogical purposes that square with best practices within appropriate disciplines. New Internet SMS and messaging services are proving especially useful to language teachers, turning the focus away from the particulars of language and writing and toward whole language oral output and pronunciation, even at the beginner level. Cell phones give faculty access to students both in and out of the classroom, providing greater power to instruct, persuade, cajole, encourage, motivate, and engage.
Cell Phones in the (Language) Classroom: Recasting the Debate (EDUCAUSE Quarterly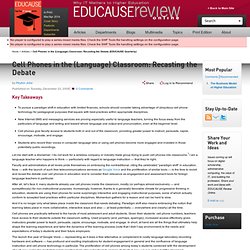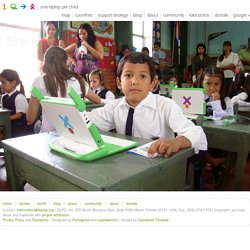 Gaza and Ramallah: Learning as a community UNRWA and OLPC have been working together in Gaza and the West Bank to implement community laptop programs this year. In many schools in such as this one in Ramallah, students use their XOs in class and out.
profile of future education models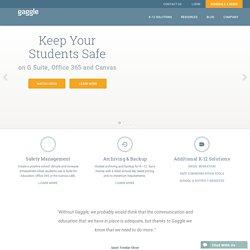 Safely Engaging K-12 Students Engage students and promote collaboration, communication, organization, productivity and networking. Gaggle is hosted in a safe, online learning environment with the highest degree of CIPA compliance designed specifically for K-12 education. How Gaggle Engages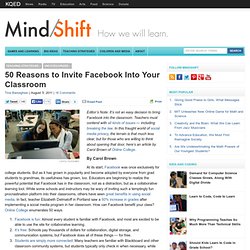 50 Reasons to Invite Facebook Into Your Classroom
Teaching Strategies Uncategorized Lenny Gonzalez Editor's Note: It's not an easy decision to bring Facebook into the classroom. Teachers must contend with all kinds of issues — including breaking the law. In this fraught world of social media privacy, the terrain is that much less clear, but for those who are willing to think about opening that door, here's an article by Carol Brown of Online College. By Carol Brown
Educational Research and Innovation Inspired by Technology, Driven by Pedagogy: OECD Organisation for Economic Co-operation and Development: 9264094784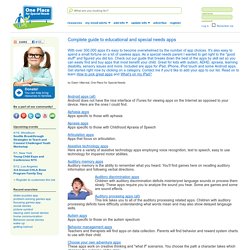 Complete guide to educational and special needs apps The most detailed app guide for special needs families, speech therapists, occupational therapists, social workers and teachers! Our guide breaks down apps by skill set so you can easily find and buy apps that most benefit your child. Great for kids with autism spectrum disorder, ADHD, apraxia, learning disability, sensory issues and more. Included are apps for iPad, iPhone, iPod touch and some Android apps. Get started right now by clicking on a category.
tree octopus Every few months, almost like clockwork, an alarming report comes along purporting to show that the Internet is turning everyone's brains -- particularly the brains of this generation's children -- into mush. It's apparently that time again. A few days ago Pearson, which bills itself as "the world's leading PreK-20 educational publishing company," sent out a press release touting a new study.
'Tree octopus' is latest evidence the internet is making kids dumb, says group | The Lookout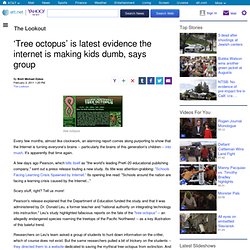 Help Save The ENDANGERED From EXTINCTION! The Pacific Northwest Tree Octopus Rare photo of the elusive tree octopus The Pacific Northwest tree octopus (Octopus paxarbolis) can be found in the temperate rainforests of the Olympic Peninsula on the west coast of North America. Their habitat lies on the Eastern side of the Olympic mountain range, adjacent to Hood Canal.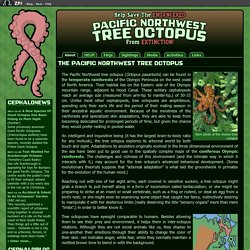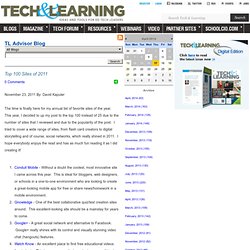 0 Comments November 23, 2011 By: David Kapuler Nov 23 Written by: 11/23/2011 3:54 AM
This is another great publication by Lisa Johnson and her Appy Hour partner Yolanda Barker. The first, however, released on iTunes. These guys spend so much of their time and energy developing fantastic resources simply to share with other teachers and educators. This is one of their most comprehensive publications and it is easy to obtain, simply download it for FREE from iTunes into your iBook collection - search Hot Apps 4 HOTS. HOTS (Higher Order Thinking Skills) are directly related to Bloom's Taxonomy and as such gives us a scaffold in with to situate the learning experiences of our students
iHot Apps 4 HOTS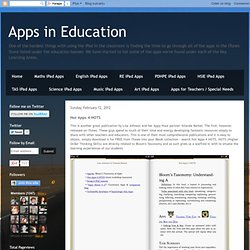 10 vital questions to ask before investing in classroom technology
There are so many new technologies and devices appearing on the education market every day now that it can become very difficult to determine where to spend your money, if indeed you should spend it at all. Before you make your next investment, ask yourself the following questions: Would more students get involved in the learning? Too many students spend most lessons sat there listening, watching, or reading – i.e. being passive. Will your new device(s) give more students the opportunity to get actively involved in their learning?
One of the most common requests for workshops that I receive is to help teachers create and utilize blogs in their classrooms. Over the last few years I've run blogging workshops many times and each time the workshop is a little different and hopefully a little better than the last. This year I've run my blogging workshop more frequently than ever and have now arrived at what I think is a simple, but strong framework for introducing teachers to classroom blogging. I now introduce workshop participants to classroom blogging by outlining three fundamental purposes of blogging.
Three Purposes for Classroom Blogs
I thought I'd kick off this year by posting a series of posts on topics related to tools and methods for work and learning. I'm hoping to address questions such as: How do you create a personal tool set or Personal Learning Environment (PLE) for yourself? What should be in your tool set? What are the most important methods to adopt in addition to the tools? Should twitter be part of your tool set?
eLearning Technology