Wantrepreneur
Pitch Any Idea in 15 Seconds
Over 14 Million Entrepreneurs Helped and Counting! - EvanCarmichael.com
Believe that what you're doing is right. Follow your passion. Do it because you're meant to do it. Do it to do it, not just to make money.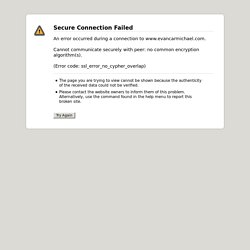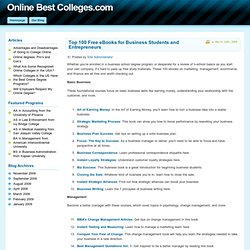 Whether you're enrolled in a business school degree program or desperate for a review of b-school basics as you start your own company, it's hard to pass up free study materials. These 100 ebooks on marketing, management, ecommerce, and finance are all free and worth checking out. Basic Business These foundational courses focus on basic business skills like earning money, understanding your relationship with the customer, and more.
Blog
See the 2012 edition: 10 Must Read Blogs for Entrepreneurs (2012 Edition) #1. The Toilet Paper Entrepreneur Site: http://www.toiletpaperentrepreneur.com/blog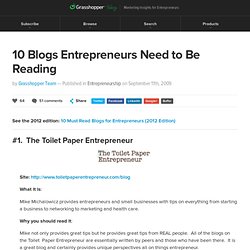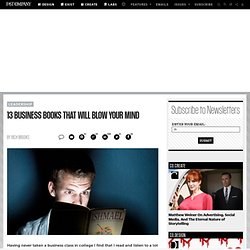 Having never taken a business class in college I find that I read and listen to a lot of business books to round out my education. The books usually aren't "How to Manage Your Cash Flow" but rather get me to rethink the way I run my business, which--despite no business classes or diploma--continues to be in business 13 plus years after I started it. In that time, here are 13 of the books that had the biggest impact on how I run my business (in no particular order): Drive: The Surprising Truth About What Motivates Us by Daniel Pink: If you supervise anyone in your business, this book is a must read. It shows that what science knows about motivation, business isn't putting into practice.
A good listener who wants to give something back, for sure, but also someone who can detect the problems that may lie behind an entrepreneur's bravado, says Tim Campbell. Mentorsme is an online gateway for all small and medium-sized businesses looking … Continued Successful growth companies have always been characterised by their ownership of a clear niche and having a focus on what they do best. But today, argues Emma Jones, founder of Enterprise Nation, they excel at using online marketplaces to reach customers around the … Continued Random 42's world-leading specialist medical animations take viewers on incredible immersive journeys; showing how a drug might work at sub-cellular level, or how an anti-coagulant might work in the blood vessels.
Business in You | Everyone has a business inside them. What's the business in you? Help with finance, mentors and advice for new and growing businesses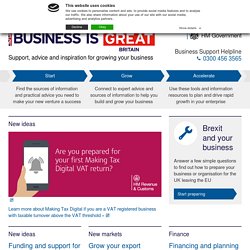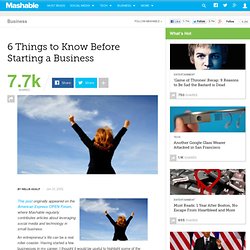 6 Things to Know Before Starting a Business
This post originally appeared on the American Express OPEN Forum, where Mashable regularly contributes articles about leveraging social media and technology in small business. An entrepreneur's life can be a real roller coaster. Having started a few businesses in my career, I thought it would be useful to highlight some of the hard-won experience I've learned throughout the process — the kind of advice I wish I'd known when I started my first, or even second, business. 1. Don't Underestimate a Business Plan
Launch: StartupList — a new way to reach angels &045; Venture Hacks
Noah Kagan built two multi-million dollar online businesses before turning 28. He also looks great in orange. (Photo: Laughing Squid) I first met Noah Kagan over rain and strong espressos at Red Rock Coffee in Mountain View, CA.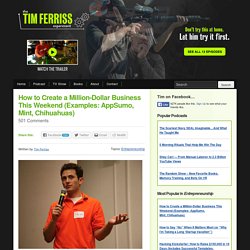 Lewis Howes is a world record holder and former professional football player who got injured in his rookie season, lost everything and then used LinkedIn to become an Internet millionaire in 2 years. After hitting rock bottom and living on his sister's couch for half a year, Howes turned to LinkedIn and leveraged the networks he built there to launch his own brand. He is now a successful entrepreneur and sought-after author, speaker and brand consultant. Watch our interview with Lewis Howes to learn how to monetize social networking platforms, how to use LinkedIn to find new customers and business opportunities, and how to build and manage a list of passionate brand advocates. You'll also learn how digital assets can be used by traditional brick and mortar retailers.
How an Injured NFL Hopeful Made a Fortune on LinkedIn Instead [VIDEO]