Tutoriaux
25 Essential HTML5 Tutorials and Techniques | Template Monster B. We are always close to the latest technologies – you know that, so today let's cover some more info on the new fundamental markup language for the web – HTML5 that you all love so much.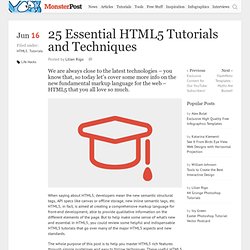 When saying about HTML5, developers mean the new semantic structural tags, API specs like canvas or offline storage, new inline semantic tags, etc. HTML5, in fact, is aimed at creating a comprehensive markup language for front-end development, able to provide qualitative information on the different elements of the page. But to help make some sense of what's new and essential in HTML5, you could review some helpful and indispensable HTML5 tutorials that go over many of the major HTML5 aspects and new standards. HTML5 Doctor, helping you implement HTML5 today. Coding A HTML 5 Layout From Scratch - Smashing Magazine. Advertisement HTML5 and CSS3 have just arrived (kinda), and with them a whole new battle for the 'best markup' trophy has begun.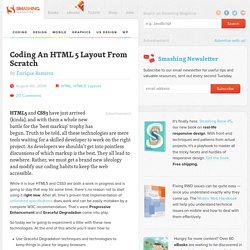 Truth to be told, all these technologies are mere tools waiting for a skilled developer to work on the right project. As developers we shouldn't get into pointless discussions of which markup is the best. They all lead to nowhere. Rather, we must get a brand new ideology and modify our coding habits to keep the web accessible. 10 HTML5 Demos to Make You Forget About Flash. You've probably been hearing a lot lately about how Flash is a dying technology and how it'll soon be replaced by HTML5.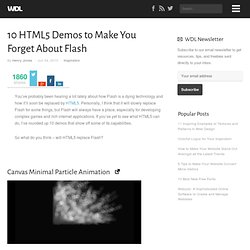 Personally, I think that it will slowly replace Flash for some things, but Flash will always have a place, especially for developing complex games and rich internet applications. If you've yet to see what HTML5 can do, I've rounded up 10 demos that show off some of its capabilities. So what do you think – will HTML5 replace Flash? Canvas Minimal Particle Animation. Ultimate Collection of HTML5 and CSS3 Resources. Social Strategist @IBM #developerWorks.
---