Stumble
50 Kick-Ass Websites You Need to Know About. It's time to update the entries in your browser's links toolbar.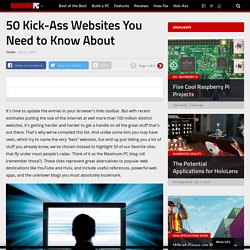 But with recent estimates putting the size of the internet at well more than 100 million distinct websites, it's getting harder and harder to get a handle on all the great stuff that's out there. That's why we've compiled this list. And unlike some lists you may have seen, which try to name the very "best" websites, but end up just telling you a lot of stuff you already know, we've chosen instead to highlight 50 of our favorite sites that fly under most people's radar. Think of it as the Maximum PC blog roll (remember those?). These sites represent great alternatives to popular web destinations like YouTube and Hulu, and include useful references, powerful web apps, and the unknown blogs you must absolutely bookmark. 11 Unusual Household Uses For Food Items That Will Save You Money | MintLife...
Photo: charles chan * The next time you find yourself in need of a household product like stain remover, shower cleaner or ant deterrent, check the pantry before heading to the store.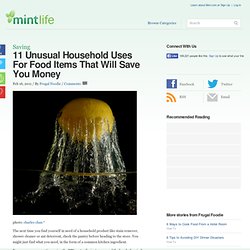 You might just find what you need, in the form of a common kitchen ingredient. From a green perspective, going the DIY route eliminates some of the harsh chemicals in your home, reducing your family's exposure to them. It can also save you money. In a pinch, using cinnamon or cayenne pepper could save you the $5 needed to buy a set of ant traps.
47 Mind-Blowing Psychology-Proven Facts You Should Know About Yourself. WHAT YOU ARE ABOUT TO READ IN THE NEXT PARAGRAPH IS COMMONLY BELIEVED, BUT NOT TRUE – You read by recognizing the shapes of words and groups of words.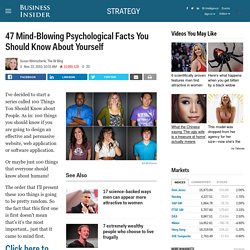 Words that are in all capital letters all have the same shape: a rectangle of a certain size. This makes words displayed in all uppercase harder to read than upper and lower case (known as "mixed case"). Mixed case words are easier to read because they make unique shapes, as demonstrated by the picture below. OK, NOW THE TRUE STUFF STARTS — When I started this article the topic was supposed to be why all capital letters are harder to read. 60 Small Ways to Improve Your Life in the Next 100 Days. Contrary to popular belief, you don't have to make drastic changes in order to notice an improvement in the quality of your life.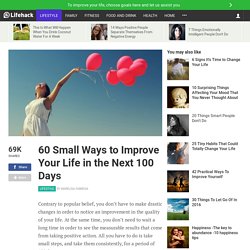 At the same time, you don't need to wait a long time in order to see the measurable results that come from taking positive action. All you have to do is take small steps, and take them consistently, for a period of 100 days. Below you'll find 60 small ways to improve all areas of your life in the next 100 days. Home. 6 Easy Steps to Falling Asleep Fast. Psychological research over three decades demonstrates the power of Stimulus Control Therapy.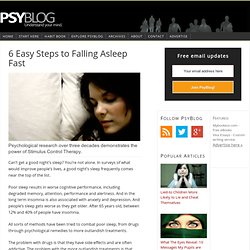 Can't get a good night's sleep? You're not alone. 15 Different Ways To Tie Your Sneakers Pictures.
---