Image Tools
Get More From Pinterest. Infinite Picture. Google Image Slideshow - Online Slideshows from Search Results. Slideshow at Slideroll - Flash Slideshow Creator, Photo Slideshows for Facebook, MySpace, YouTube, and Everywhere! Slideroll™ is a photo slideshow maker that you can use to create slide shows with your photos.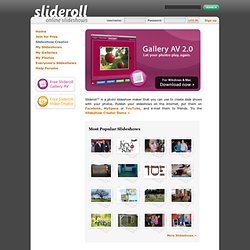 Publish your slideshows on the internet, put them on Facebook, MySpace or YouTube, and e-mail them to friends. Try the Slideshow Creator Demo » Create Cool Slideshows from Your Photos Upload photos from your computer into our interactive drag-and-drop slide show creator. From there, you can build slide shows with smooth pans, zooms, and fades. Copyrightfriendly - home. Bulkr: Backup, download flickr photos & sets (Mac, Windows & Linux)
Slidestaxx - create amazing social media slideshows. Screenr | Instant screencasts: Just click record. Web 2.0 Background Generator. :: PIMPAMPUM :: Bubblr! .:. On-Line helper for testing photo for Golden Section (Rule of Thirds, Golden Mean, Golden Ratio, Golden Spiral, Golden Proportion, Golden Triangles) Rule.
---