Image Tools
Get More From Pinterest
Infinite Picture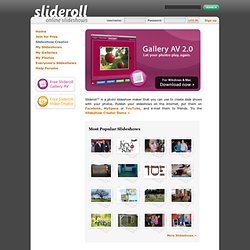 Slideshow at Slideroll - Flash Slideshow Creator, Photo Slideshows for Facebook, MySpace, YouTube, and Everywhere!
Slideroll™ is a photo slideshow maker that you can use to create slide shows with your photos. Publish your slideshows on the internet, put them on Facebook, MySpace or YouTube, and e-mail them to friends. Try the Slideshow Creator Demo » Create Cool Slideshows from Your Photos Upload photos from your computer into our interactive drag-and-drop slide show creator. From there, you can build slide shows with smooth pans, zooms, and fades.
Bulkr: Backup, download flickr photos & sets (Mac, Windows & Linux)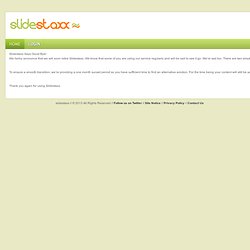 Skip to Main Content Slidestaxx Says Good Bye! We herby announce that we will soon retire Slidestaxx. We know that some of you are using our service regularly and will be sad to see it go.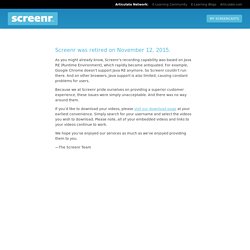 Using @Screenr to create and embed some kick butt training vignettes for a presentation. *LOVE* this website by @Articulate! #rocks —ross_sanders @screenr is awesome. Looking for excuses to use it. http://screenr.com/ —AbigailHS Where has @screenr been all my life?
On-Line helper for testing photo for Golden Section (Rule of Thirds, Golden Mean, Golden Ratio, Golden Spiral, Golden Proportion, Golden Triangles) Rule.