Video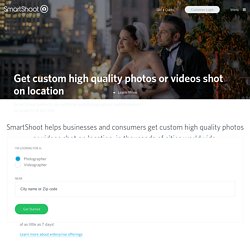 Photos & Videos Delivered53,884Creatives in Our Network15,707Money Paid to Network$16MCities Shot in Past Year5,500 What's Possible on SmartShoot? 50,000+ Companies Use SmartShoot Our process is simple…
Make Money Promoting Online Video Ads — Affiliates — TurnHere
video hotelkamers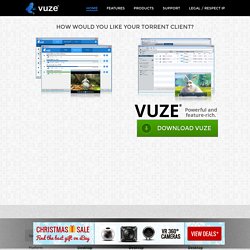 "Total ease of use" -IGN "Glorious full screen HD" -Sunday Times "A potent new offering" -Engadget Why Vuze is the best app to download torrents
video montage in de cloud
RussGoldsmith Great week for LinkTo.tv with two new videos encoded for P&G integrated with coupons but first to use multi-page forms in the video player. 10 months ago markettiers4dcour Linkto.tv campaign for Jaeger is featured in Marketing Magazine today with comment from @vikkichowney - http://t.co/6LxdZjbb 1 year, 2 months ago RussGoldsmithour Linkto.tv campaign for Jaeger is featured in Marketing Magazine today with comment from @vikkichowney - http://t.co/LZpUALev 1 year, 2 months ago RideFreeMediaRT @RussGoldsmith: nice use of LinkTo.tv in Australia by @TrilbyMisso on YouTube videos adding contact form to player http://t.co/UK690ng9 via @RideFreeMedia1 year, 5 months ago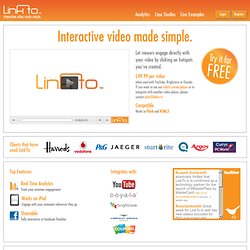 LinkTo.Tv - Make your videos interactive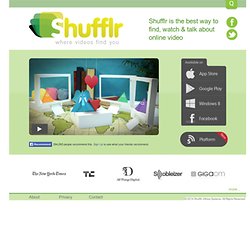 Shufflr is a video discovery service that helps consumers discover videos that they would like to watch anytime, anywhere. Powered by a highly available and scalable platform on the cloud, the service takes a unique (patent pending) approach of combining social signals with algorithms, to create a 'Daily Fix' of videos for a personalized TV like experience to its users for online video as well as premium TV content and movies on their primary & secondary screens. The platform takes this Daily Fix concept further and revolutionises the way in which users discover live TV programming, breaking them free from the tedious, traditional EPG. The Shufflr platform delivers millions of personalised Daily Fixes to users from over 160 countries, every day. Here is a high level view of how the platform works to create these Daily Fixes. The platform's REST APIs are designed to realise immersive social video discovery experiences across phones, tablets, televisions and PCs.
Video Persons - The Private Label Reseller Partners Program
WonderHowTo aggregates and curates a large database of instructional videos from all over the Internet. It employs a number of editors who search the web for good how-to videos and then categorize them into 36 vertical categories. Thanks to this editorial process, the quality of these how-to videos featured on WonderHowTo is surprisingly high and topics range from Spanish pronunciation to surviving nuclear blasts. One of the most interesting features of WonderHowTo is its recently launched 'Related How-To Videos' sidebar for Firefox.
WonderHowTo: How-To Videos in Your Sidebar - ReadWriteWeb
Integrated Media Pre-Production
blue billiwig
Dik.nl: Videocommunity met ambitie