Video
JayCut – Online video editing. Education. Marketing. Streaming. Webtv. Syndication. Ugc. Converter. Tutorial. HandBrake. Make Money Promoting Online Video Ads — Affiliates — TurnHere. Video hotelkamers. Vuze: The most powerful bittorrent app on earth. Video montage in de cloud. LinkTo.Tv - Make your videos interactive. Shufflr | Social Video Browser | Home.
Video Persons - The Private Label Reseller Partners Program.
Webformats
WonderHowTo: How-To Videos in Your Sidebar - ReadWriteWeb. WonderHowTo aggregates and curates a large database of instructional videos from all over the Internet.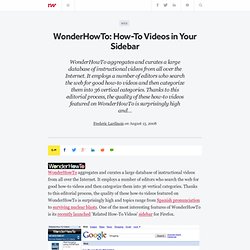 It employs a number of editors who search the web for good how-to videos and then categorize them into 36 vertical categories. Thanks to this editorial process, the quality of these how-to videos featured on WonderHowTo is surprisingly high and topics range from Spanish pronunciation to surviving nuclear blasts. One of the most interesting features of WonderHowTo is its recently launched 'Related How-To Videos' sidebar for Firefox. Related How-To Videos in Your Sidebar. Integrated Media Pre-Production. Videomontage gratis pinnacale. Dik.nl: Videocommunity met ambitie. Viddix.
---