Learning
Learning Management Systems (LMS), Online Training and Courseware
Upload courses and price them. They're available in the Coggno Marketplace, your own dedicated Web Shop, and for sale on 1000's of websites. Create coupons, and discounts.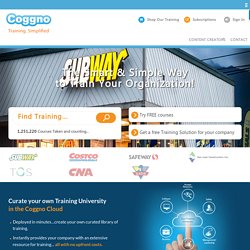 LearningTimes – Online Conferences, Webcasts, Podcasts, Online Learning ...
Welcome to New York Video School
BBC NEWS | School Report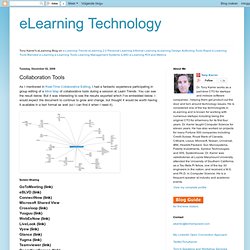 As I mentioned in Real-Time Collaborative Editing, I had a fantastic experience participating in group editing of a Mind Map of collaborative tools during a session at Learn Trends. You can see the result below. But it was interesting to see the results exported which I've embedded below. I would expect the document to continue to grow and change, but thought it would be worth having it available in a text format as well (so I can find it when I need it). Screen-Sharing GoToMeeting (link)
eLearning Technology
Steve's top 10 tools
elearning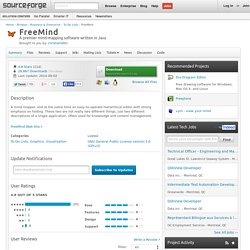 ★ 4.8 Stars (205) 25,751 Downloads (This Week) Last Update: Download freemind-bin-max-1.0.0.zip Browse All Files Windows Mac Linux
The eXe project developed a freely available Open Source authoring application to assist teachers and academics in the publishing of web content without the need to become proficient in HTML or XML markup. Resources authored in eXe can be exported in IMS Content Package, SCORM 1.2, or IMS Common Cartridge formats or as simple self-contained web pages. eXe grew out of the New Zealand Government Tertiary Education Commission's eCollaboration Fund and was led by the University of Auckland, The Auckland University of Technology, and Tairawhiti Polytechnic. It was later supported by CORE Education, a New Zealand-based not-for-profit educational research and development organisation. It has also been greatly assisted by a global group of participants and contributors. eXe was named a finalist in the New Zealand round of the IMS Global Learning Impact Awards 2008 and went on to claim a Leadership Award at the international judging.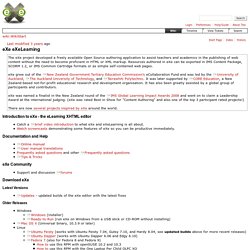 Startpagina - U&I Learning
ISM eCompany : partner in eBusiness
Vacatures English Website Home Over ons Geschiedenis Awards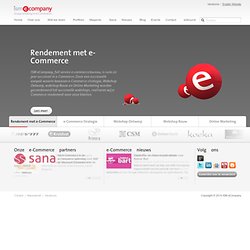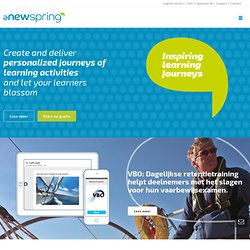 A New Spring - home
Let's personalize learning! Gepersonaliseerd leren met aNewSpring Iedereen is uniek en heeft zijn of haar eigen talenten.
Onze Aandachtsgebieden Opleidings- en Kennistechnologie Bent u op zoek naar een effectieve manier om e-learning of digitale supportoplossingen in te zetten? Bent u op zoek naar een learning of talent management oplossing?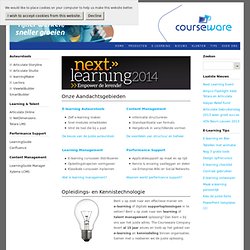 The Courseware Company
Cirquest - learning beyond words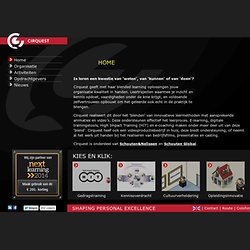 Cirquest geeft met haar blended learning oplossingen jouw organisatie kwaliteit in handen. Leertrajecten waarmee je inzicht en kennis opdoet, vaardigheden onder de knie krijgt, en voldoende zelfvertrouwen opbouwt om het geleerde ook echt in de praktijk te brengen. Cirquest realiseert dit door het 'blenden' van innovatieve leermethoden met aansprekende animaties en video's. Deze ondersteunen effectief het leerproces. E-learning, digitale trainingstools, High Impact Training (HIT) en e-coaching maken onder meer deel uit van deze 'blend'.
PAT Learning Solutions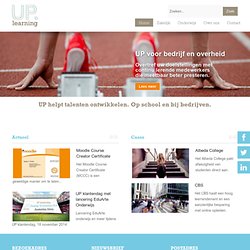 Door slimmer leren, beter presteren Zakelijke marktOnderwijsmarkt Het juiste talent snel productief Slimmer werven, selecteren, onboarden Meer bereiken met minder budget
Stoas - Activating Knowledge
best practices
E-learning Sint Maartenskliniek
Welkom op de E-Learning omgeving van de Sint Maartenskliniek E-learning is een onderdeel van Research Development and Education (RD&E) van de Sint Maartenskliniek te Nijmegen. Education Sint Maartenskliniek tracht door middel van faciliteren van het onderwijs te komen tot kennisuitwisseling tussen professionals. Op deze site treft u diverse specialistische cursussen aan, ontwikkeld door medewerkers. Als u de E-learningsite gaat bekijken, willen we graag dat u een account aanvraagt.