My web content
Social Media Management, Twitter Tools, Social CRM | Sprout Social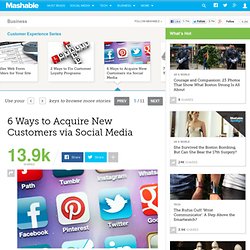 We all know social media is an important tool for brand awareness and customer acquisition — but how exactly are you supposed to convert random Twitter and Facebook users into real-life customers?
6 Ways to Acquire New Customers via Social Media
We're Done With Kickstarter
New Restaurants Turn to the Public for Cash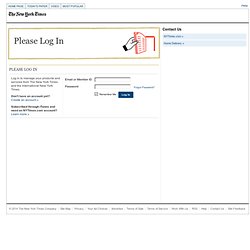 Bank loans were out of reach.
How To Grow as a Designer By Building Your Own Network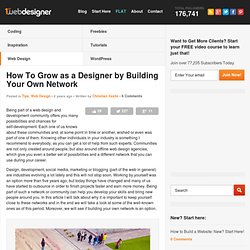 Being part of a web design and development community offers you many possibilities and chances for self-development.
PLAYMOBIL(TM) Apple Store Playset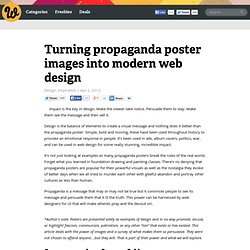 Impact is the key in design. Make the viewer take notice. Persuade them to stay.
Turning propaganda poster images into modern web design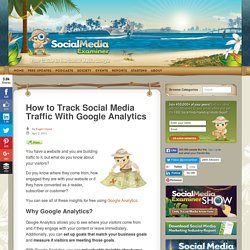 You have a website and you are building traffic to it, but what do you know about your visitors? Do you know where they come from, how engaged they are with your website or if they have converted as a reader, subscriber or customer?
How to Track Social Media Traffic With Google Analytics
Today saw the arrival of one of the most anticipated Android apps in recent memory, with the launch of Instagram. The app is hugely popular on the iPhone and got some 430K signups on its pre-release signup page for Google's OS.
A Comparison of Instagram for Android and iPhone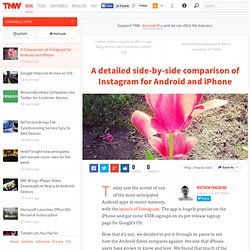 Content-discovery tablet app Zite on Wednesday announced a twist on its wildly successful algorithm-driven platform that company executives say will be a big step toward bridging the divide between content creators and aggregators.
Tablet News Aggregator Zite Introduces Publisher Partnerships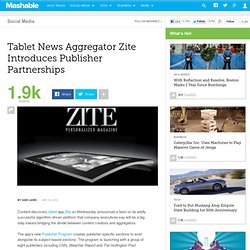 Shoutlet, Enterprise Social Marketing Platform
1inShare Jump To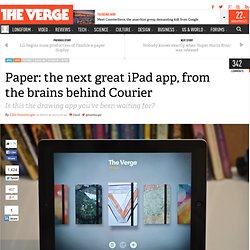 Paper: the next great iPad app, from the brains behind Courier
We've all gotten used to the idea of using Twitter, Facebook, and even YouTube for marketing -- even if the platforms aren't always as brand-friendly as they could be.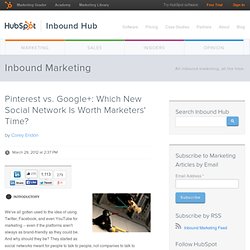 Pinterest vs. Google+: Which New Social Network Is Worth Marketers' Time?
by Scott Witthoft and Scott Doorley | 11:52 AM March 28, 2012 Winston Churchill famously said, "We shape our buildings; thereafter, they shape us." The places we work and the ways we think are inextricably linked: a few changes to one inform the other.
Five Ways to Make Corporate Space More Creative - Scott Witthoft and Scott Doorley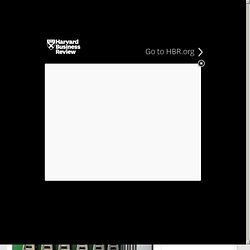 Responsive design has brought about a whole new list of challenges for web designers who have decided to take the plunge and leave static design behind. Creating a layout that works well at not one but several, or even all, possible widths requires patience, creativity and of course, lots of testing.
3 Free Apps for Testing Your Responsive Designs Online
@font-face face off
Un MacBook Pro con 1 TB SSD y 16 GB de RAM
How Instagram Will Help Facebook Monetize Mobile
Facebook just spent $1 billion on a company with no revenue.
Friday, April 13th, 2012 | Posted by Jon Kolko
Where do Design Ideas Come From? | Austin Center for Design
How to Monitor Your Facebook Network
We have truly entered a social-networked monitoring society.
Are you looking to simplify management of your social activities? If so, then Ifttt is for you.
How to Automate Your Social Activities
YouTube Co-Founders Working on New Service, Zeen
15 Things People Absolutely Hate About Your Website
Best Sunglasses by Brand - Best New Mens Sunglasses
Flashback on track to be worst Mac malware in decades
Facebook Timeline Rolls Out to All Users (Whether They Want It or Not) | Gadget Lab
A Handy Guide to Proper Typography for a Successful Design
5 Facebook Timeline Brand Page User Insights and Tips for Marketers [Study]
How Ford Engages Customers With Social Media
5 Essential & Easy Social Media Metrics You Should Be Measuring Right Now
Facebook Acquires Instagram: Is Your Best Friend Marrying THAT Guy?
Instagram: what is Facebook getting for $1bn? | Technology
Google Account Activity Offers Monthly Reports of Your Google Usage - Search Engine Watch (#SEW)
Jeff Bezos Plans to Recover Apollo 11 Rocket Engines From Ocean Floor | Wired Science