Start
Tech List. A country of technology and creativity, France is becoming one of the most dynamic tech startup hubs in Europe.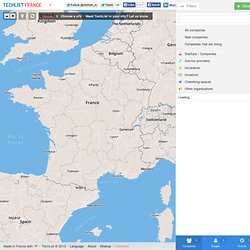 Inspired by Mapped in NY, TechList's mission is to contribute to the rise of a unified and strong French startup ecosystem. TechList is an independant initiative, built and managed by the French startup community, for the French startup community. Started with a focus on Paris, this map was built by Gwendall Esnault. Apptrace | app store intelligence. Startup Lessons. Learning the hard way. @bgmasters created an awesome series of blog posts covering his notes of Peter Thiel's startup class CS183.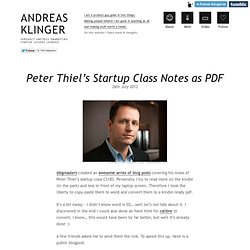 Personally i try to read more on the kindle (in the park) and less in front of my laptop screen. Therefore i took the liberty to copy-paste them to word and convert them to a kindle-ready pdf. It's a bit messy - i didn't know word is SO… well let's not talk about it. [Report] Developer Economics 2012 – The new app economy. [The latest Developer Economics report is now live - this is the third in the report series that set the standard for developer research and focuses on five main areas: The redefinition of mobile ecosystems, Developer segmentation, Revenues vs. costs in the mobile economy, App marketing and distribution and Regional supply vs. demand of apps.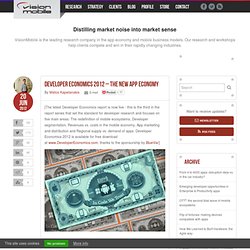 Developer Economics 2012 is available for free download at www.DeveloperEconomics.com, thanks to the sponsorship by BlueVia!] Here's just a sample of the key insights and graphs from the report – download the full report for more! - The new pyramid of handset maker competition. In the new pyramid of handset maker competition, Apple leads innovators, Samsung leads fast-followers, ZTE leads assemblers and Nokia leads the feature phone market. Apple has seized almost three quarters of industry profits by delivering unique product experiences and tightly integrating hardware, software, services and design.
» What I Learned From Increasing My Prices ExtendsLogic. Sharebar Last month Bidsketch had the biggest increase in revenue it's ever had.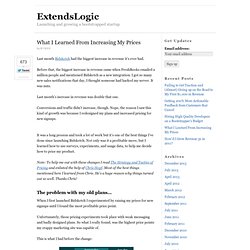 Before that, the biggest increase in revenue came when FreshBooks emailed a million people and mentioned Bidsketch as a new integration. Venture Hacks - Good advice for startups. 2X Entrepreneur Turned Venture Capitalist | Both Sides of The Table. Why Read It Later/Pocket Went Free. How To Get Media Coverage For Your Startup: A Complete Guide. How To Get Media Coverage For Your Startup: A Complete Guide The following is a guest post by Leo Widrich, co-founder of Buffer, a smarter way to post on Social Media.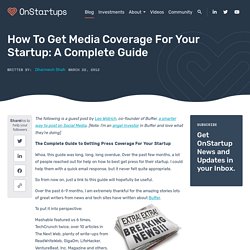 [Note: I'm an angel investor in Buffer and love what they're doing] The Complete Guide to Getting Press Coverage For Your Startup Whoa, this guide was long, long, long overdue. Over the past few months, a lot of people reached out for help on how to best get press for their startup. The Different Worldviews of a Startup. In his book, "All Marketers are Liars Tell Stories", Seth Godin defines a "worldview" as the set of rules, values, beliefs, and biases people bring to a situation.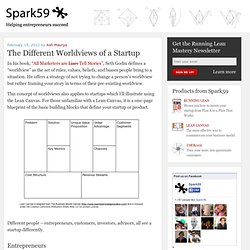 He offers a strategy of not trying to change a person's worldview but rather framing your story in terms of their pre-existing worldview. This concept of worldviews also applies to startups which I'll illustrate using the Lean Canvas. For those unfamiliar with a Lean Canvas, it is a one-page blueprint of the basic building blocks that define your startup or product. Different people – entrepreneurs, customers, investors, advisors, all see a startup differently. Startup Factories: a guide to Europe's accelerators. It's been impossible to ignore the rise of the accelerator program over the last few years.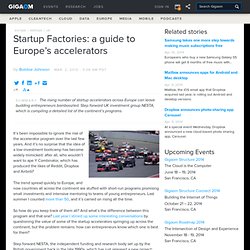 And it's no surprise that the idea of a low-investment bootcamp has become widely mimicked: after all, who wouldn't want to ape Y Combinator, which has produced the likes of Reddit, Dropbox and Airbnb? The trend spread quickly to Europe, and now countries all across the continent are stuffed with short-run programs promising small investments and intensive mentoring to teams of young entrepreneurs. Last summer I counted more than 50, and it's carried on rising all the time. So how do you keep track of them all? And what's the difference between this program and that one? Why apps needs a different kind of VC funding.
For past three years we have seen the emergence of a whole different kind of technology startup: the app startup.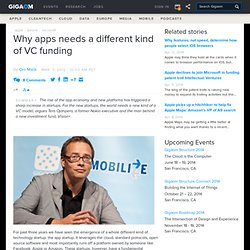 It leverages the cloud, standard protocols, open source software and most importantly runs off a platform owned by someone like Facebook. Apple or Amazon.
---