Work and business
Office Templates - CVs, Presentations & more
5 Smartboard Tips
10 Golden Rules of Project Risk Management | Project Smart Mobile
The benefits of risk management in projects are huge. You can gain a lot of money if you deal with uncertain project events in a proactive manner. The result will be that you minimise the impact of project threats and seize the opportunities that occur. This allows you to deliver your project on time, on budget and with the quality results your project sponsor demands. Also your team members will be much happier if they do not enter a "fire fighting" mode needed to repair the failures that could have been prevented. This article gives you the 10 golden rules to apply risk management successfully in your project.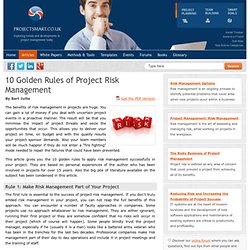 Quantitative Risk Analysis is completed on the prioritized risks from Qualitative Analysis studying the affect of risk event deriving a numerical value. Quantitative Risk Analysis is performed to access the probability of achieving specific project objectives, to quantify the affect of the risk on the overall project objective, and to prioritize the risk based on significance to overall project risk. The inputs for Quantitative Risk Analysis are: Organizational process assets - Organizational process assets uitilized are any information from the project archives on project of a similar nature, any study by risk specialist on a similar project, and any available proprietary risk database. Project Scope Statement - The Project Scope Statement provides information on whether the project is a new and exciting endeavor with a significant change in process. These types of project have high levels of risk.
Quantitative Risk Management by AntiClue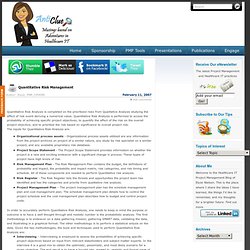 Review April 20, 2011 06:00 AM ET Computerworld - You may not think you've got much in common with an investigative journalist or an academic medical researcher.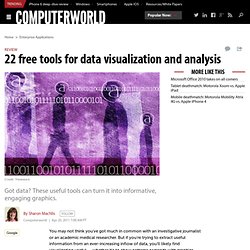 Glasgow City Council Homepage
The balanced scorecard is a strategic planning and management system that is used extensively in business and industry, government, and nonprofit organizations worldwide to align business activities to the vision and strategy of the organization, improve internal and external communications, and monitor organization performance against strategic goals. It was originated by Drs. Robert Kaplan (Harvard Business School) and David Norton as a performance measurement framework that added strategic non-financial performance measures to traditional financial metrics to give managers and executives a more 'balanced' view of organizational performance.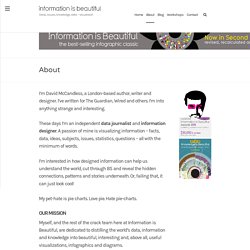 Hello I'm David McCandless, a London-based author, writer and designer. I've written for The Guardian, Wired and others.
Dashboard Design - Solutions - Business Analytics
Excel 2010
Scottish Government, devolved Government Scotland, devolution, Scottish Executive, Scottish Office