Cute Ideas
DIY | mason jar cookie mix favor » Something Turquoise. I absolutely love Mason Jar Cookie Mix gifts, I love getting them and I love giving them.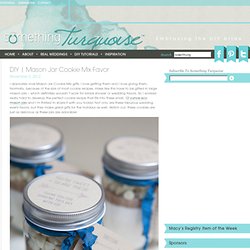 Normally, because of the size of most cookie recipes, mixes like this have to be gifted in large mason jars – which definitely wouldn't work for bridal shower or wedding favors. So I worked really hard to develop the perfect cookie recipe that fits into these small, 12 ounce eco mason jars and I'm thrilled to share it with you today!
Not only are these fabulous wedding event favors, but they make great gifts for the holidays as well. DIY Woven Chain Bracelet. Chain link bracelets, with colorful threads woven through them, have been popping up here and there.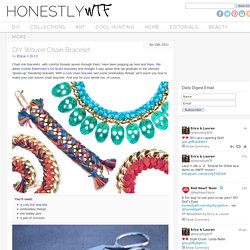 We adore Aurèlie Bidermann's Do Brazil bracelets and thought it was about time we graduate to the ultimate "grown-up" friendship bracelet. With a curb chain bracelet and some embroidery thread, we'll teach you how to make your own woven chain bracelet. And one for your bestie too, of course. You'll need:a curb link braceletembroidery threadtwo bobby pinsa pair of scissors Cut 2 sets of 15 strands of embroidery thread, with each strand measuring four times the length of the bracelet. Cabled Bracelets.pdf. Spoon ring tutorial. A Matching Game (A Tutorial and Download. I'm starting to think about holiday gifts…and so I'll be sharing a bunch of ideas for handmade holiday gifts over the next few weeks.
I made this cute little matching game using wood craft disks and Citra Solv. It's easy to make, inexpensive and the recipient will love the handmade quality! Packing Tape Image Transfers. I love image transfers.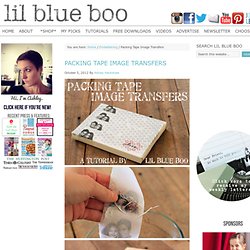 It's something I'm always using in my journals but there are so many other fun uses for them. All you need to make a transfer is a photocopy of an image or words and packing tape. Paper crafts for gifts: mini book photo tutorial. Mini Book Photo Tutorial My advanced bookbinding class last spring took on the big project of coptic stitch books and so to reward them for all their hard work and patience as I worked out the kinks of teaching a group of people a very tricky stitch, I made everyone in the class these fun little accordion books!
Here's a step by step photo tutorial. Coffee Filter Rose Tutorial « Emmalee Elizabeth Design. I've had some requests to do a tutorial on the coffee filter roses I made for my wedding.
So here it is. Like I said they really are easy once you get the hang of them. A bit of practice and you'll have beautiful roses in no time. The supply list is simple. Pop up flower. How to Marbleize Paper and Cards. Immediately after removing the paper, place it in a pan, and pour water over it.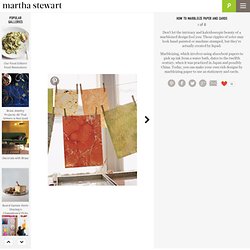 Hang paper to dry, marbleized side up. Do not touch the paper until it is dry (typically within 2 hours, depending on humidity levels). Decide whether to keep or discard your solution (it can be used several times). To change paint colors, lay strips of newsprint across the solution's surface, then remove; repeat with clean strips until the solution is clear. Pyntade småstenar – Decorated pebbles. Jag ville göra något mer av de stenar jag plockade på semestern och då kom jag ihåg en pysselidé som jag sett på bloggen GardenMama, nämligen att använda gnuggisar (skrapmotiv/rub-on) på stenarna.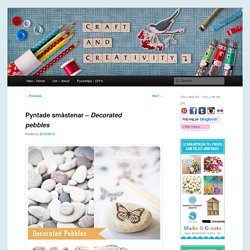 Hur enkelt som helst. Gör så här: Klipp ut en gnuggis, gnugga fast den på stenen med en träpinne (t ex glasspinne) eller liknande och sedan är du klar. Wind-up paper butterflies are my fave (guest post from amelia) I had a baby so I've invited some fave guests to take over for me while I spend time with the little guy.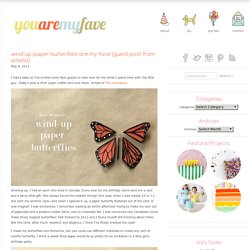 Today's post is from super crafter and cute mom, Amelia of The Homebook. Growing up, I had an aunt who lived in Canada. Every year for my birthday she'd send me a card and a fancy little gift. She always found the neatest things! One year, when I was maybe 10 or 11, she sent me another card—and when I opened it up, a paper butterfly fluttered out of the card. How to Make Clothing Buttons from Shrink Plastic… This tutorial is an old one of mine that's too good not to share again.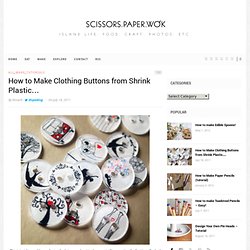 Since posting the first time, I've had lots of questions about these buttons which will hopefully be answered in this revised post. Equipment. In words and pictures: Indoor Tabletop Water Garden. As far as the backyard garden at casa de radmegan goes, most of my vegetables have ceased production for the season. The pitchers on my carnivorous plants are browning. My sweet little alien-like conophytums and lithops were covered up last week to protect against too much rain.
On the whole, my garden has closed up shop for the winter. I'm not a person who enjoys being told what to do (you're not the boss of me Mother Nature!!) Scrap Project Roundup. I have been trying to finish up all of my Holiday crafting, so I got behind on my scrap fabric projects last week. To make it up to all of you, here are a bunch of super cute scrap fabric projects I found on Pinterest! Above you will see a fabric scrap Memory game, found at Babble. This is a great wall art project using fabric scraps and embroidery hoops, from The Purl Bee. While this project just uses fabric swatches, you could certainly do some embroidery on your scraps to add even more visual interest. Here are some garden flags from Design Sponge. Tutorial-Credit Card Holder. I just finished a giveaway at Tatertots & Jello & Jen was kind enough to let me guest post on her super blog!
Now I can very proudly add one of those buttons that goes......I was featured on;) Well here is how to make Mini Lauren.............a trifolf credit card holder with a trigger clip:) 4.5"(12cm) wide x 3.5"(9.5cm) high when closed 9"(23.5cm) long when fully open including the flap. The slots are 3"(7.5cm) by 4.5"(12cm) each. Serendipity (otherwise known as a diy laundry bag) Paper Flowers – Anyone Can Do That | FindInspirations.com. Japanese Kusudama, this tutorial is featured on Craftuts Anyone can do that, I assure you. The proof: I can, just take a quick look at my result below. And, believe me, I am neither meticulous nor particularly patient. You could even say I'm the opposite. Below you can see my very first attempt to create paper flowers. Everyday Mom Ideas: Scrap Paper Tree Centerpiece Tutorial (Featured guest blogger) A Fun DIY Idea To Keep Kids Entertained At Weddings | Bridal Musings.
Book Clutch!! | conduit press. Crocheted Doily Rug. Circle Zip Earbud Pouch Tutorial - Dog Under My Desk. Happy Hippity Hop!
---