Body & mind
Psycology: Know Thyself. WHAT YOU ARE ABOUT TO READ IN THE NEXT PARAGRAPH IS COMMONLY BELIEVED, BUT NOT TRUE – You read by recognizing the shapes of words and groups of words.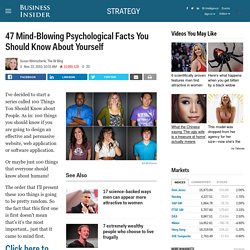 Words that are in all capital letters all have the same shape: a rectangle of a certain size. This makes words displayed in all uppercase harder to read than upper and lower case (known as "mixed case"). Mixed case words are easier to read because they make unique shapes, as demonstrated by the picture below. OK, NOW THE TRUE STUFF STARTS — When I started this article the topic was supposed to be why all capital letters are harder to read. Self Control. In a life-or-death situation, human beings are capable of incredible feats of bravery and self-control .
One of the most remarkable ever recorded was that of Leonid Rogozov, the medic at a Soviet Antarctic research station who was forced to remove his own appendix. I write about the incident at some length in ; to my delight, I've discovered that Rogozov's son has recently published a paper providing even more details on the case. Tony Robbins asks why we do what we do. 30 Habits that Will Change your Life.
Developing good habits is the basic of personal development and growth.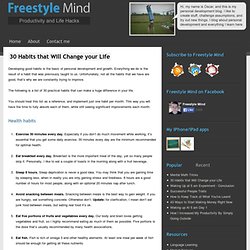 Everything we do is the result of a habit that was previously taught to us. Unfortunately, not all the habits that we have are good, that's why we are constantly trying to improve. The following is a list of 30 practical habits that can make a huge difference in your life.
---