Body & mind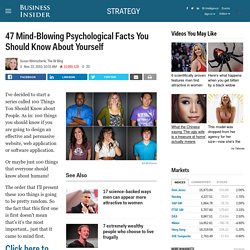 WHAT YOU ARE ABOUT TO READ IN THE NEXT PARAGRAPH IS COMMONLY BELIEVED, BUT NOT TRUE – You read by recognizing the shapes of words and groups of words.
Self Control
In a life-or-death situation, human beings are capable of incredible feats of bravery and self-control . One of the most remarkable ever recorded was that of Leonid Rogozov, the medic at a Soviet Antarctic research station who was forced to remove his own appendix. I write about the incident at some length in ; to my delight, I've discovered that Rogozov's son has recently published a paper providing even more details on the case.
Tony Robbins asks why we do what we do | Video on TED.com
Developing good habits is the basic of personal development and growth.