Intereses
..::MOVILNET::..
Edición del martes, 28 septiembre 1971, página 13 - Hemeroteca - Lavanguardia.es
Théodore de Banville (n. 14 de marzo del año 1823 en Moulins, en Allier, Francia - f. 13 de marzo de 1891 en París) fue un poeta, crítico dramático francés y uno de los principales precursores del Parnasianismo. Vida[editar · editar código] Fue hijo de Claude Théodore Faullain de Banville (1785-1846) y de Zélie Huet (1799-1876). Realizó sus estudios en el liceo Condorcet. Victor Hugo y Théophile Gautier le animaron a que escribiera poesía y pronto se convirtió en una figura destacada de este arte. Colaboró como crítico dramático en distintos periódicos y diarios como le Pouvoir (1850) y le National (1869), convirtiéndose en miembro de la Revue fantaisiste (1861), donde también aparecían poetas que darían origen al movimiento parnasianista y otros movimientos del siglo XIX.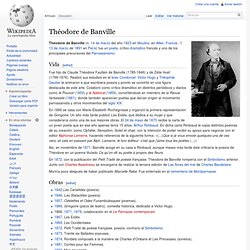 Théodore de Banville
Théophile Gautier. Biografía[editar · editar código] Durante toda su vida Gautier viajó por varios lugares del mundo, entre los que destacan España, Italia, Turquía, Egipto y Argelia.
Théophile Gautier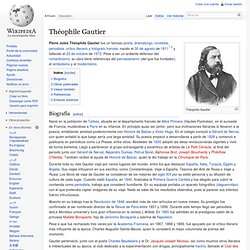 Stéphane Mallarmé (París, 18 de marzo de 1842 – ibídem, 9 de septiembre de 1898) fue un poeta y crítico francés, uno de los grandes del siglo XIX, que representa la culminación y al mismo tiempo la superación del simbolismo francés. Fue antecedente claro de las vanguardias que marcarían los primeros años del siguiente siglo. Biografía[editar · editar código] Fue bautizado con el nombre Etienne Mallarmé. Al perder a su madre en 1849, fue tutelado por sus abuelos.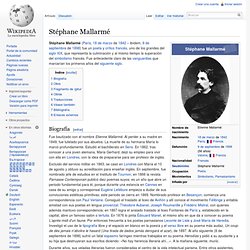 Stéphane Mallarmé
Welcome to my personal teaching site. If you are looking for a bdsm educator with experience in both educating, I have 2 master degrees in education, and professional bdsm & bondage experience, you have come to the right place. I am comfortable teaching 1 on 1 as well as small & large group situations ranging from 2 - 200+ people. New to the "scene" & veterans alike. I have presented to all types of clubs & organizations around the country & my passion is sharing what I have learned from others. Besides being a professional Dominant & bondage rigger I am also a professional bondage & fetish photographer & will teach you or your group how to look at your bondage & play with an artist's eye.
unnamed pearl
Revista Realidad
De-Demonizing Gaddafi